Whether you need a budget-friendly present or a grin-worthy stocking stuffer, we've got the best gift ideas.
Read on for stocking stuffers that will deliver smiles without emptying your wallet.
The Morakniv Rookie is a 2.8-inch stainless steel blade with rounded safety tip and finger guard to prevent slipping onto the cutting edge. The barrel-shaped birch handle is sized for smaller hands, and at 1.8 ounces, youngsters can confidently handle the knife. The Rookie comes with a polymer sheath for safekeeping.
This is the perfect first headlamp for kids. It has a CPSIA-certified child-safe closure, breakaway elastic head strap, and the lamp aims correctly when worn upside-down. Two LEDs put out 30 lumens at full power, and there are two modes: dimmed and strobe. The Wiz is water resistant (rated IPX-4) to splashing from any angle, comes in three fun colors, uses two AAA batteries, and powers down after two hours to prevent accidental battery drain.
The 550 Paracord Utility Line is an adventure must-have. This 30-foot length of tough nylon cordage is endlessly useful. Secure a shelter, make a clothesline, or hang food in the backcountry. You never know when you'll need it but will always be glad it's there. It packs down small while providing major utility.
Spread some holiday cheer with simple, tasty, real training food from Skratch Labs. This non-GMO dry cookie mix, when combined with eggs and butter (and anything else craved), makes for a mid-workout treat that is nutritionally similar to most bars. Not only do these cookies taste amazing, but they're also easier to eat and digest, having more moisture and fewer excess ingredients. And just in time for the holidays, Skratch Labs released a Limited Edition Gingerbread Cookie Mix!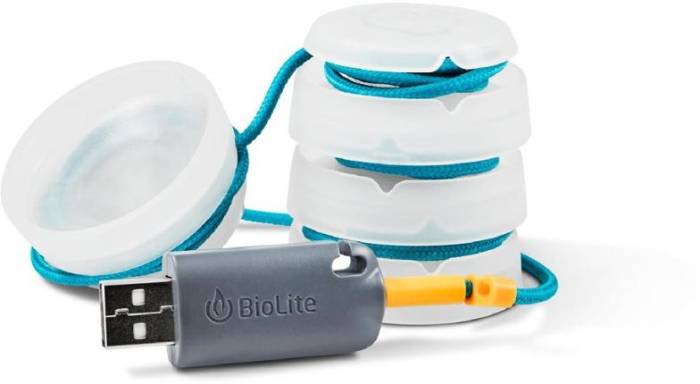 The BioLite SiteLite Mini is a string of four LEDs on a 10-foot cord that provides 150 lumens of light and ambiance through any USB power source. They can be daisy chained together, and the cord can be wrapped around each lamp and held in position to help you get the perfect configuration. The entire string of lights is dimmable when used with BioLite's PowerLight or BaseLantern. It's perfect for the romantically inclined adventurer on your list.
The Snow Peak Titanium Spork (or a set of them) can be an excellent stocking stuffer that will last forever. The Titanium Spork is available in four brightly anodized colors and represents the pinnacle in aesthetics for the most practical culinary tool ever conceived.
Organization nuts can never have enough stuff sacks. And Kammok Burro Bags are a deluxe version. Coated with polyurethane and DWR-treated, these highly water-resistant sacks fold into themselves when not in use, and a clip loop provides safe keeping. The bright-orange color keeps them visible both in camp and inside packs and duffel bags. Available in five sizes ranging from 1 to 16 L.
Perfect for that handy McGyver friend, the Leatherman Piranha ingeniously fits seven versatile tools into a flat, 3.87-inch-long piece of heat-treated stainless steel. This small EDC multitool contains a scraper, bottle opener, 1/4-inch hex bit driver, medium screwdriver, English open-end wrench, metric box wrench, and a box opener. The TSA-compliant Piranha includes a Phillips #1-2 and 3/16-inch screwdriver bit that stores in the body of the tool.
Have a friend or family member who claims to be an expert in "bushcraft" but always fails to get a fire going? Bail them out with the UCO Behemoth Sweetfire Match Kit. The kit contains 5.5-inch-long strikeable tinder sticks, which are made from sugarcane-based materials and will burn for 15 minutes. The Stormproof tip lights up consistently in driving rain, heavy winds, and falling snow and will relight even after being submerged in water. This gift set houses nine of the Behemoth Sweetfire Matches in a reusable tin.
Let's face it, most outdoor enthusiasts rarely leave their cellphone behind, as it provides photos, navigation, and communication when in range of cell towers. The Nite Ize Hitch Phone Anchor and Tether minimizes risk by attaching the phone to a coiled tether that extends up to 24 inches. The anchor system fits between the case and phone and works through the charging port without interfering with charging. Both ends of the leash have double-gated locking MicroLocks, allowing quick detachment and options for securing to the body, pack straps, harness gear loops, pant belt loops, and more. Keep your loved ones doing it for the 'gram.
Wine in the woods is awesome until someone breaks a glass. Keep your wine aficionado friend or relative full of cheer with an OtterBox Elevation Wine Tumbler. The internal copper liner keeps the vino at the perfect temperature, and the stainless steel withstands burly handling and packing. Each Elevation Tumbler holds two standard pours and is available in five pleasing powder-coated colors.
Got a little adventurer on your list? They always need water, and the EcoVessel Frost uses premium 18/8 stainless steel and TriMax Triple Insulation Technology to keep fluids cool for 36 hours. An inner silicone straw and flip spout make for easy drinking, and the lid has a clip point for loss-free toting. The 13-ounce bottle is BPA and phthalate free, comes in six kid-oriented designs, and carries a 100-year warranty.
Trekking poles are handy when the going gets tough, saving energy and reducing impact on the legs. Problem is, they are often expensive. Kelty has an affordable option with their Upslope 1.0 Trekking Pole. The 6061 anodized aluminum pole adjusts from 35 to 54 inches with twist locks and has an EVA foam grip, padded wrist strap, and carbide tip. The pole is compatible with a snow basket and comes with a trekking basket and a rubber tip for use on pavement as well as travel.
Frequent use and washings can deteriorate DWR coatings on outdoor clothing and gear. Nikwax has been helping restore water resistance and waterproofing since 1977, and it can continue to support your family and friends whose equipment is in SOS status. TX.Direct Spray-On restores water resistance and breathability, both determining the performance of waterproof/breathable garments. Help that special someone stay dry and comfortable this winter season with the easy-to-apply Nikwax TX.Direct Spray-On.
Don't forget your four-legged furry friends this holiday season. The Gnawt-a-Rock toy's natural latex rubber design dispenses treats, massages gums, and bounces irregularly for hours of happy puppy play.
It's challenging to find dehydrated meals that are both healthy and truly tasty. Good To-Go meals are crafted in Maine by an award-winning and NY Times four-star-rated chef without the use of preservatives. All meals are gluten free and low sodium, and Good To-Go offers vegan and vegetarian options. Give a gift that warms the soul and brings a smile after a long day or night in the backcountry.
The GUTR Flex is the answer to saturated sweatbands, annoying drips, and compromised vision. The Flex is a light, hygienic, and flexible polymer channel that directs sweat away from the brow and eyes, keeping sight and attention intact. This fabric-free technology ensures continued functionality on the longest days, and there's no drying time or washing concerns. The GUTR Flex is made in Texas, and trust me, Texans know about endless sweat.
This double-walled vacuum-insulated bottle will keep things hot (or cold if you'd rather) for hours. The sustainably harvested bamboo exterior adds a touch of class, and the removable infuser makes for a quick cup of tea on the go. Best of all, for every bottle sold, Welly donates $1 to clean water projects around the world.
A good pair of socks can mean the difference between a fun adventure and a blister-ridden sufferfest. Give the gift of comfort with these wool-blend hiking socks and never again worry about drooping socks or sad feet. FITS Hiker Socks have just enough cushioning to keep feet happy while still fitting easily in hiking boots. And they're available in a range of patterns and colors for both men and women.
This versatile reflective marker with four bright LEDs uses powerful magnets that easily secure to clothing, hats, bags, or just about anywhere you want extra visibility. Available in a variety of colors, the TagLit can be set to glow or flash, includes a replaceable battery, and is weather resistant.
Made in Minnesota, these beanies will keep your head warm all winter long. The 100 percent cotton knit hat is delightfully soft and wonderfully warm. Best of all, though, the brand donates 50 percent of net profits to fighting childhood cancer. Feel good giving this warming gift.
Stanley's Go Bottle with Ceramivac offers a new kind of insulated bottle with a fired ceramic finish. Your mouth contacts no steel, just lips on smooth ceramic (think a coffee mug) as you sip. Give this to someone who carries a morning coffee out the door — the 16-ounce leakproof vessel will be used (and loved) day after day. Made for hot or cold beverages. A low-profile silicone footpad keeps it in place when set on any surface.
Say hello to the last charging cable you'll ever need. With nylon construction, the Neve is built to withstand plenty of use. The integrated reflective technology means you'll always be able to find it in the dark. And at 10 feet long, you'll have plenty of wiggle room.
Looking for more gift ideas? Check these out: