Green Guru upcycles outdoor gear waste into new products, keeping used products like tires and fabric scraps out of landfills, while employing manufacturers in Colorado.
Founded inside a small warehouse in Boulder, Colo., a few dedicated individuals set out to make the outdoor and cycling industries more sustainable With the help of Ecologic Designs – Green Guru's private-label sister brand – large companies such as Patagonia, Nike, Shimano, Petzl, and many more have become partners in the change.
Today, Green Guru makes products like bike panniers and backpacks from used inner tubes, convention banners, billboards, and fabric scraps. It sells its own products, and even manufactures upcycled products for third-party brands.
Green Guru: Fast Facts
Founded In: 2005
Home: Boulder, Colo.
Mission: Provide outdoor bike enthusiasts with upcycled gear that helps protect the natural environments where we recreate.
Buying Tip: Because these products are upcycled, most will have a one-of-a-kind build and unique look. Expect some variation from product photos.
Fun Fact: To date, Green Guru has recycled over half a million pounds of outdoor gear waste — used bike inner tubes, vinyl banners, wetsuits, climbing rope, and even old tents — into high-quality gear for bike adventures.
Green Guru: Best Selling Products
The Dutchy pannier is an easy-access "trunk" for a bicycle. Modeled from Dutch-style bike panniers, these bags haul groceries, gear, and more. Plus, this pannier incorporates a universal mount system that fits any rack. And when the ride is over, remove the bag and use it as a tote with a haul handle and shoulder strap. They are made from upcycled billboards and banners from all over the United States.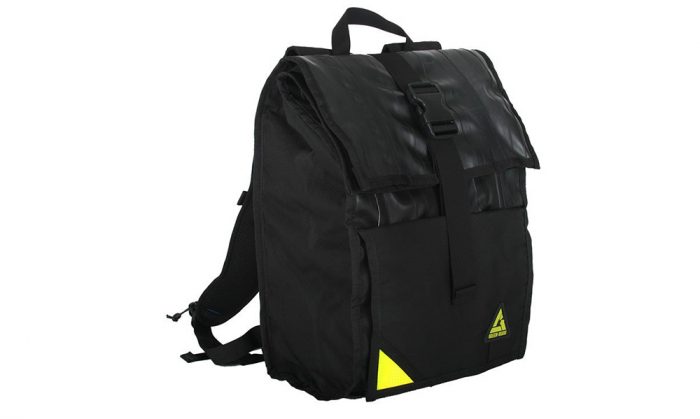 The Commuter is a light, streamlined backpack for day-to-day travels. Green Guru makes this pack from upcycled bicycle inner tubes and nylon. The result is a water-resistant pack for quick hikes, bike rides, or commutes.
A simple storage solution, these rubber pouches use upcycled bicycle inner tubes, so your stuff stays protected and dry. The X-large Zip Pouch has a soft fabric liner that protects electronic devices, first aid kits, tools, and more.
Green Guru: Brand Spanking New
With a triangular shape, the Gripster fits into the seat-tube corner of your bike frame, great to store a light jacket, some tools, or snacks. It mounts with straps to the frame, and is narrow enough to be non-obtrusive, easily available storage. And it's water-resistant, made from upcycled industrial tent fabric.
The Hauler Bike Packing Bag converts from saddle to messenger bag. It carries a substantial amount of cargo on a bike, and doubles as a messenger once at a final destination.