Nothing, not even a pandemic, can stop Coree Woltering from running. Only now, it's less about the accolades and more about the true joys it brings.
Coree Woltering's life was already running at a brisk pace. Triathlete turned pro ultrarunner for The North Face, Woltering has been a professional athlete for about 8 years, snatching up podium positions with ease.
And then came COVID, and everything ground to a halt. Events were canceled and race calendars were cleared.
Instead of taking a pass for the season, Woltering cashed in his training chips and newfound free time to chase a personal project: running the historic 1,000-plus-mile Ice Age Trail in Wisconsin. And the running world took notice.
Following Woltering on social media and other online resources — a lone dot on the trail — the running world watched as he steadily chipped away at the trail's fastest known time (FKT).
The finish was a nail-biter. In the final hours, Woltering ran night and day, squeezing his record-breaking time just under the wire. He bested the previous FKT by a mere 5 hours.
Not even a month later, the rest of the world met Woltering up close after Amazon released Eco-Challenge Fiji, where he raced with Team Onyx — the first all-Black team in expedition racing. While Team Onyx had to drop out of the race, it was Woltering's kind spirit and good nature that captivated viewers.
In an instant, Woltering went from a 1,000-mile foot marathon to a 3-month media marathon.
"I didn't ever think it would become this," shared Woltering. "I'm a small-town kid from Ottawa, Illinois."
This is to say, Woltering is a very busy man in uncharted waters. But he manages it all with a smile.
---
Being an outdoor professional would be a dream job for many of us. But it doesn't come easy. Follow along as we go directly to the source and learn from pros like Coree Woltering about their success, careers, families, and passion projects "In Real Life."
---
Coree Woltering: Motivated to Run
Catching up with Woltering is like grasping the tail of a comet, rapidly soaring toward the limelight. Everyone wants to catch some of his time. By the time we chatted, he'd already been on a string of Zoom calls for some 6 hours.
"Today wasn't too bad. Some days I'm recording podcasts for 10-12 hours," Woltering revealed in a chipper tone. "I'm really bad at saying no because I enjoy doing this!"
The pace hasn't let up since his FKT. In fact, Woltering was chasing down the final miles of his FKT when Eco-Challenge called. They wanted him to hop on interviews for the Amazon drop the day after completing his FKT.
Since July, his adventures have been covered by media juggernauts like CNN and the New York Times. But he's just as happy to hop on a call for smaller outlets.
"I haven't had this experience in the past. But I like to do as many of the interviews as I can," he said. His newfound fame gives him a platform to speak about what he's passionate about in life.
When COVID first hit, Woltering raised $13,000 for small businesses and frontline workers in his hometown by running every street in Ottowa, Illinois. His FKT raised an additional $33,000 for Feeding America, a community-based food bank serving over 46 million in need.
"Running with a purpose is fulfilling. It gives you something to think about when you are running for that long!" Woltering said.
An advocate for the LGBTQ community and bringing more people of color into the outdoors, he's more than happy to trade his time on the trail for a seat in front of the mic.
At least for a little while.
Love Yourself
Still recovering from his FKT, and with no major events on the horizon, these days Woltering can balance his coaching and social awareness projects with lighter runs. "Training hasn't been a super-high priority of mine. If I run, great, but if I don't, no big deal," he shared.
Come November, Woltering will back off his media engagements, refocusing his energy on running with gusto. That same sense of compassion for others carries over to himself during the thick of his training.
Working with his coach, Jason Koop (head coach for CTS-Ultrarunning), Woltering tracks his workouts by time, not miles. Time-blocking workouts protects his schedule from getting too crazy.
And if he's having a bad day? He listens to his body and permits himself to take a break.
"One of the things that plays to my strength," explained Woltering, "is if I'm not feeling good, I'm not afraid to call a workout and say, 'OK, we can revisit this later.' Or I'll let it go and not even worry about it."
It would be easy to assume leading the pack adds a lot of pressure to overtrain. But that's not Woltering's style. "I don't find racing to be stressful," he said, brushing it off.
"I think a lot of that comes from knowing that I put in the hours, I put in the work, I've studied the course … racing is more of a celebration of all the hard work and maybe some of the sacrifices I made going into the race!"
And at the end of the day, there's always a bowl of ice cream. "Nothing fancy — just vanilla," he said.
His approach appears to be paying off: "In the last 8 years, I don't think I've had an injury that has taken me out for more than maybe a week just from being able to listen to the body and being flexible with the training."
Advice for Others
Confidence and self-empathy come from years of Woltering's experience.
"In a race, lows usually come down to 'I'm hungry, I'm tired, or I need a drink'," Woltering detailed. "If it's mental, I take comfort in my past racing experiences to build confidence in knowing I can perform."
His advice for others who have fewer miles under their belt? Start small by setting smaller goals. If you don't have a good excuse to not run, start with 20 minutes. "After that, give yourself permission to turn around, or maybe give it another 10 minutes. That gives you an hour!" he suggested.
Woltering is a master at deconstructing the complex into smaller tasks. For running, "it's as simple as 10 seconds at a time. You can do anything for 10 seconds." Woltering makes it sound easy: "You string enough 10 seconds together, you'll get it done."
He channels his inner coach and reinforces that there is "no distance too small to hike, run, cycle. It doesn't have to be a glorious run because the training schedule says you have to. A 15-, 20-, 30-minute run is just as good as an hour run if you are just going to skip it altogether."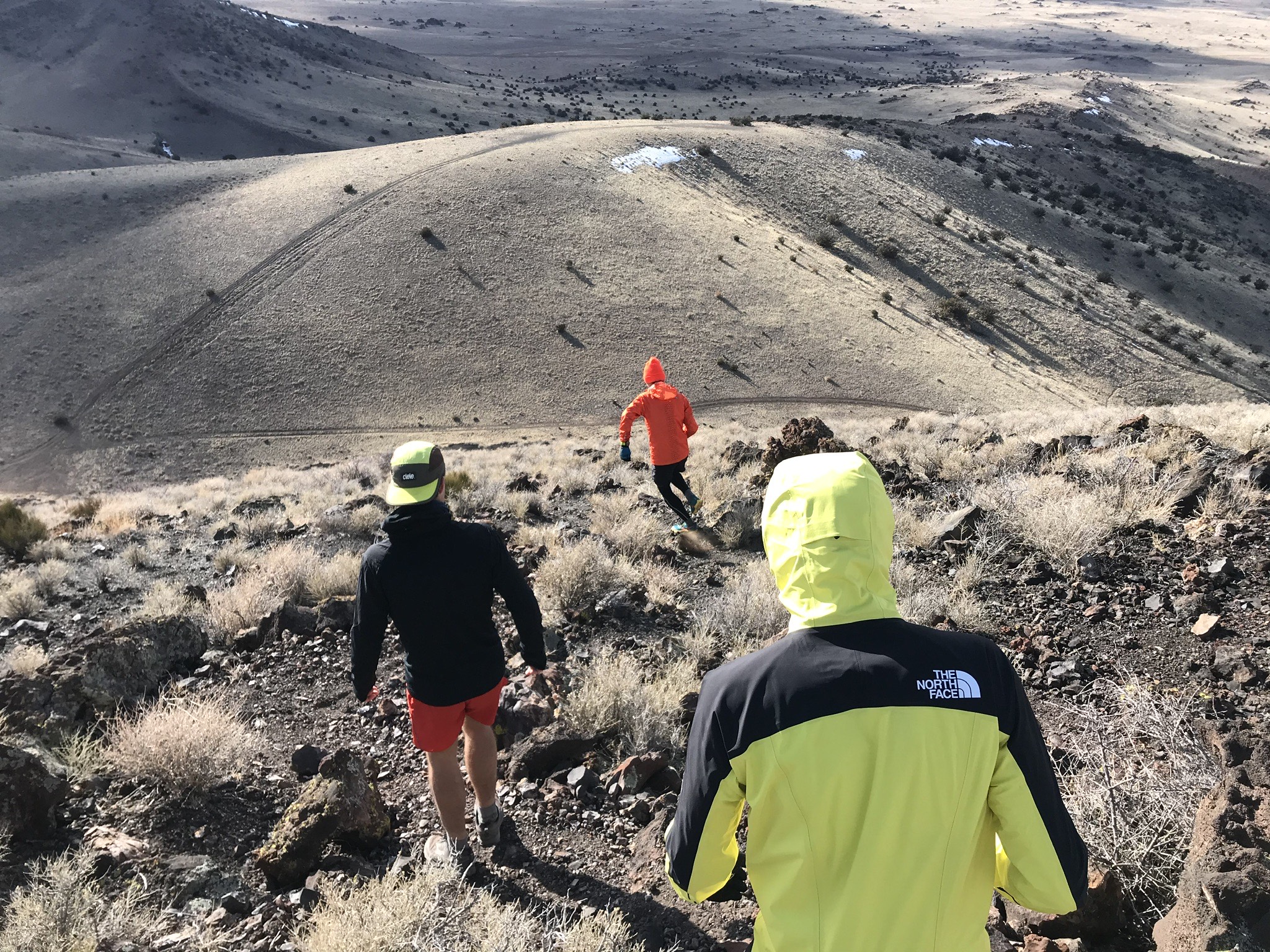 A Sense of Community
A full-time coach, Woltering starts every morning checking in with his athletes. These connections help center his life daily: "Some of them are athletes I've coached in the past, but we still talk daily to see what's up. It's become a natural, organic part of my daily routine."
Even while deep in winter training, when exhaustion and burnout threaten to creep in, Woltering makes it a priority to see his friends. And that doesn't stop when he's on the road.
"For Black Canyon, I went out to Flagstaff 6 weeks before the race to train. I was in a new place, and I knew I would be there for a while," he shared. "I met some friends through Instagram. The next thing you know, we're going for Saturday and Sunday long runs together and eating lunch together afterwards. It was great camaraderie."
Meaningful friendships — even if he doesn't get to see them all the time — is core to Woltering's self-care.
Coree Woltering's Happy Workspace
Every job is more enjoyable with the right equipment. It's no surprise that, for Woltering, it starts with his shoes.
Woltering has been running in a prototype shoe by The North Face. He was cautious not to give too much away, but he shared, "I think it will be one of the best trail shoes that comes out for quite a while." He then quickly followed up that he loves the FUTURELIGHT material so much, it made him a convert to a membrane shoe.
The path to a professional runner is paved by hard work. It's easy to become rigid and fixed on goals and results. Woltering reminds us to follow what you love and be present in the moment. And above all, be kind to yourself. You are your best support crew.
Honor this advice, and the rewards will follow.
To keep up with Woltering, you can follow his activity on Instagram.
---
The ideal drop bag for trail runners at aid stations, the YETI BackFlip Cooler combines the convenient-to-carry design of a backpack with the durability and waterproofness you've come to know from YETI.
You can trust that whatever you pack will stay cold, dry, and protected regardless of what your adventures throw at you.
---
This article is sponsored by YETI as part of the brand's "In Real Life" content series.