Have you been good this year? Like, really good? Well, then you may just deserve one of these dream gifts.
Santa's making a list and checking it twice. And with so many cool gear gifts out there, we sure hope you're not on the naughty list. Here are some of the most drool-worthy mega gifts that will make the outdoorsmen and women in your life jump for joy come Christmas morning.
The Pro Trek WSD-F21HR is Casio's first model with a heart-rate monitor using optical sensors. It has full-color maps with built-in GPS, route importing, and original route creating.
It also offers new apps for running and trail running with customizable interface to adjust priority of app functions. All activity information is saved in Google Calendar, and the watch's soft urethane band is flexible and durable.
Shop Now
Anyone who's ever dreamed of visiting Mount Everest but doesn't want to risk life and limb getting to the top will love this travel adventure.
Spend several days hiking to surrounding villages and see the fabled Khumbu Ice Fall and its towering seracs from a distance. Then hike to the summit of Kala Patar for an unobstructed view of Everest's windblown summit. It's truly a bucket-list experience.
Shop Now
Interactive "connected fitness" comes built into NordicTrack incline trainers, treadmills, rowers, strength towers, ellipticals, and cycle machines. That means workouts are led by a coach onscreen, often set in epic destinations around the globe. The machines adjust speed, incline, and other factors to simulate treks, river rows, and mountain climbs.
We tested the Commercial 2950 treadmill this year with iFit virtual coaching and came away hooked. Lush scenes shot around the world display on the treadmill's 22-inch screen. Budget one of these for a loved one and they'll be fit, coached, and engaged as New Year calories are burned, the miles roll by, and they get started for next year's adventures.
This bike is built to rip. For those not familiar with Yeti Cycles, the brand uses a mechanism that looks like a secondary shock built into the frame called the Switch Infinity. It makes Yeti suspension feel bottomless and also keeps the suspension from bobbing when you climb, even when it's in the fully open position. The SB140 impressed our tester with its versatility and great manners in our review.
Shop Now
Sleeping in a tent usually marks a noticeable downgrade from your actual home. But while the Allak is most certainly a camp tent, it most certainly is not like the tents you're used to. Like everything Hilleberg makes, the Allak 3 stands as a premium, beautifully designed structure.
In our camp gear test, our editor noted the special, tough-yet-breathable Kerlon 1200 outer fabric made it "one of the few true four-season tents we've used." Add in carefully engineered (stronger) pole architecture and rain gutters for drier camping, and you've got a tent to make other campers jealous.
Shop Now
Honestly, any YETI would make someone's dream gift list. But the V Series makes ours because it's the most unique and high-performance cooler the brand has. Oh, and it's $800.
But, when you're the first double-wall, vacuum-insulated stainless steel cooler on the consumer market (and your name is YETI), you can charge that much. In short, this is the cooler that other YETI owners envy.
The YETI V Series will be available for purchase starting Thursday, December 5, 2019.
Shop Now
Cook with Wi-Fi — what more do we need to say? The Traeger wood-pellet grill allows you to control and monitor your steaks, burgers, and ribs while you're running errands. Your phone displays the temperature and all manner of barbecue wizardry. Just make sure you've loaded up the grill with plenty of wood pellets.
We've had several testers try various models (here and here), and they agree: Traeger is great for slow-cooking delicious meals.
Shop Now
Car commercials always show people getting an automobile for Christmas, but it never happens! Well since no one's going to give us one anyway, we might as well ask for the most badass car we can think of: a Ford Raptor. We had the opportunity to test one for a a heartbreakingly short week and fell in love.
It's not "green," it's not practical, and, frankly, it's not supposed to be. What muscle cars did for the streets, trucks like the Raptor — with a nasty 450-horsepower EcoBoost V6 engine and FOX Live Valve Racing Shox suspension — do for off-road adventures. But just because you won't get one doesn't mean you can't go online and configure one (just in case Santa is real).
Shop Now
Don't let those facial expressions fool you, nothing makes you smile like wearing a kimono. At least, that's what we'd guess; we haven't actually tried it. But the Outdoor Kimono, available in waterproof-breathable (left) and fire-retardant (right), looks like the ultimate in adventure fashion — or fashionable adventure.
Think of Gunner as the YETI of dog kennels. The brand builds them with double-wall, rotomolded polyethylene just like those fancy coolers (except the YETI V Series above). We've tested them: They're tough as nails, and the fit and finish are exceptional.
Assembling this kennel at home is a lesson in perfect machining, as each bolt fits just right. The lockable latch is heavy stainless steel. Made in the USA, it'll keep your pooch safe, confined, and even insulated.
Shop Now
If you're shopping for a ski/snowboard shell and money really isn't an issue, then why not go for a jacket that no two people will ever see the same way?
Vollebak's Squid color-shifting jacket incorporates 2 billion tiny glass spheres that scatter and reflect light in almost infinite configurations. It also sports a helmet-compatible hood and three-layer windproof, waterproof construction — in case you were wondering if it actually did anything.
Shop Now
This SUP is made for travelers who love to paddle or anyone with a maxed out gear closet. It's one of the most packable boards around, folding down to half the size of other boards. And best of all, it's also a top-quality, fun-to-paddle board.
The 9'6" Compact packs down into an impressively small backpack. That little backpack also carries a high-capacity pump, durable fins, and a super-adjustable paddle.
Shop Now
Some items on this list carry a high price just because of the brand name they carry or because fashion says so. That's not the case with Filson. The Seattle-based purveyor of old-school, frontier-worthy gear uses tried-and-true materials and designs — like waxed canvas, tin cloth, and, of course, leather.
This waterproof duffle uses vegetable-tanned leather, brass hardware, and wool felt — it basically screams "cowboy." And because it's permanently waterproof and infinitely cool, this duffle is $1,100.
Shop Now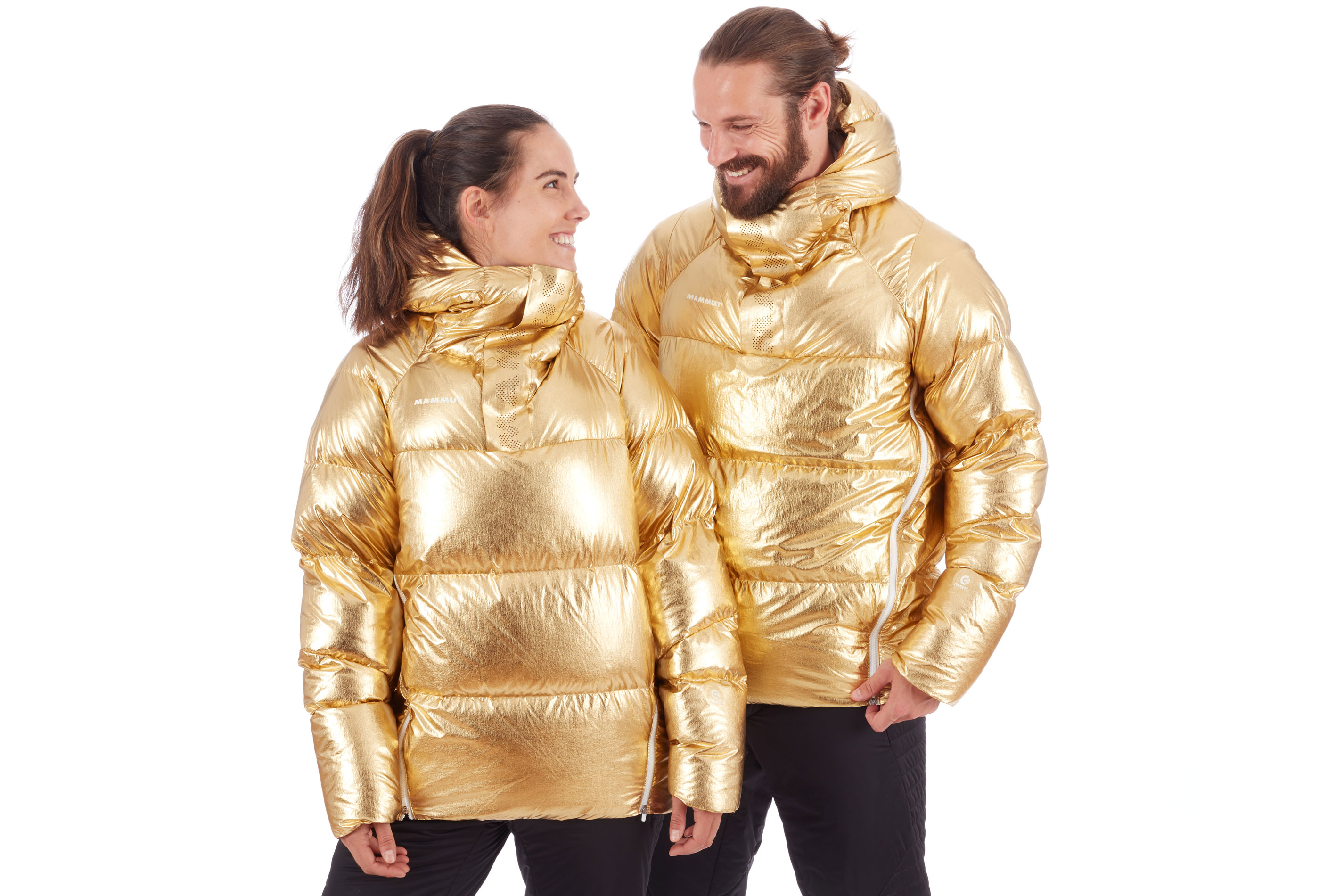 Any time a brand describes its own product as "shimmering" and "futuristic," it automatically enters the Dream Gifts conversation. The IN Anorak from Mammut is not meant for the mountaineering pursuits like its brand siblings are — although it could be.
Part of the Delta X Collection, the IN Anorak is designed specifically for catching eyes around town and keeping its wearer as snug as they look. Made with 900-fill down inside an immodest, satiny poly shell, the IN comes in three metallic colors. But you'd go with gold, because obviously.
Buy one of the unisex jackets for $799, or get two (his and hers) for about $1,600!
Shop Now
How much would you pay to never be cold again? How about $3,000? BlackYak's Watusi suit (cough, onesie, cough) is built for multiday expeditions to 8,000m peaks. And it's designed to keep its wearer warm at all times and vented when they need it. It's loaded with all sorts of tech, including Kevlar, CORDURA, magnets, even an integrated hydration-compatible vest. Want.
Shop Now
Even Batman needs gizmos to see in the night. And there's a good bet the FLIR Scion OTM scope is better than what he's got. Great for hunters, curious wildlife enthusiasts, and Dark Knights alike, the Scion records video and captures stills in six modes that reveal everything hiding in the dark.
Shop Now
---
Looking for more great gift ideas? Check these out: