Move over, big tactical blades — this is the year of the EDC pocket knife. Here they are, the best pocket knives of 2018.
There's no denying it, everyday carry (EDC) gear is experiencing an impressive wave of popularity. And for good reason. The gear you carry day in and day out matters. It needs to work well and fit in your pocket.
The perfect EDC knife is no exception. This is a blade that needs to perform, stand up to regular use, and come in a small enough package. Bonus points if it looks good and doesn't break the bank.
And while we love a good fixed blade knife, they simply aren't practical to carry every day due to size and legal restrictions. Which brings us to the folding knife.
Anatomy of a Folding Knife
Manual knives are legal in most areas, which means they are extremely common. Often, this type of knife is also recognized as a "pocket knife." Spring-assisted knives are roughly the same as manual knives, but they have a spring inside the handle that helps deploy the blade much faster. Spring-assisted knives typically have a thumb stud and/or flipper.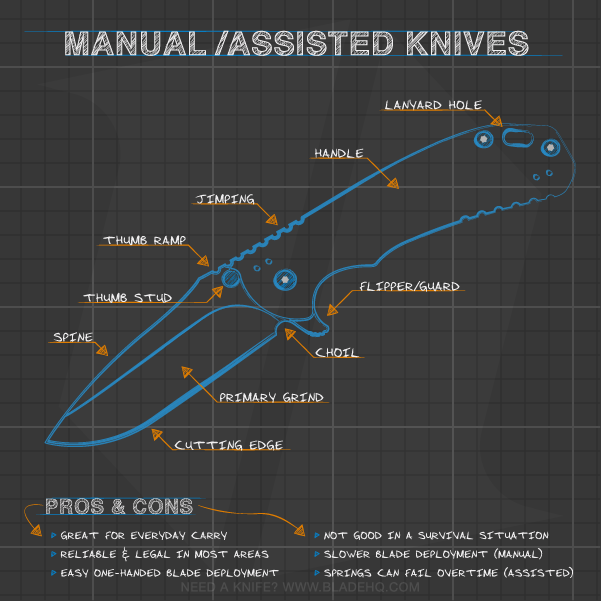 An infographic by the team at Blade HQ
Tips for Choosing an EDC Knife
Price and steel. Consider if you need a high-priced super steel or if something more modest will work.
Know the law. For most urbanites or others who will carry the blade primarily in public places, a blade under 2.5 inches is best due to legal restrictions.
Be honest. Take a hard look at how you will use this knife. Does your reality look more like slicing open packages and less like surviving in the wild? Know how you'll use your folder and choose accordingly.
For more on choosing the perfect everyday carry pocket knife, take a look at this:
The Best EDC Pocket Knives of 2018
Now that we've broken down EDC, folding functions, and how to choose a knife, let's get to the list. These folders were chosen after months of use in all manner of scenarios. We took into consideration steel, size, price, ability to hold an edge, and overall fit and finish.
If you follow knife news closely, you know that Spyderco began to enforce its Minimum Advertised Pricing (MAP) in 2018. This resulted in a significant price increase on a lot of its products (I'm looking at you, Spyderco Shaman).
The FRN Chaparral, which was announced price just before the shift, came out looking even better than its specs would lead you to believe. With a perfect size, weight, and shape, CTS-XHP steel construction, and a great pocket clip, the Chaparral was already a winner. The FRN model being lighter and cheaper only makes it that much more enticing. You'll be hard pressed to find a better knife for $80-90.
Long a manufacturer for other brands, Three Rivers Manufacturing took the leap several years ago and started making its own knives. And the Neutron is its best blade yet. The talented custom knifemaker RJ Martin oversees the application of the final edge, but the quality really starts with the excellent CAD drawing. The Neutron has a very thin yet strong feel in the hand and a great drop-point blade. The steel is 20CV and the price, around $160, is quite reasonable. As a bonus, you can also swap out handle scales with minimal effort.
The community-driven commerce site Massdrop and the talented brothers of Ferrum Forge have teamed up to create a beautifully simple flipper design. But it's a fact that WE Knife actually makes this top-tier knife. With better flipper action than most customs, a great clip, and flawless fit and finish, the Gent is one of the best folding knives out there. If not for the limited availability, the Gent would be headed for total market domination.
No budget blade has caused quite the stir or the sales shortage like Jesper Voxnaes' Pilar design. It marked the first time in modern history a budget knife sold out (and became one of our favorite blades under $50). It was so successful that CRKT released a premium version in carbon fiber and 12C27. That knife sold well too but was a bit underwhelming, as the steel was not a substantial upgrade over the original. Urged on by enthusiasts, CRKT doubled down this year and released a Pilar with the same popular shape and look of the original but constructed of S35VN, a far superior steel. Perhaps best of all, the sub-$100 price stayed true to CRKT's core mission of delivering high-value knives.
For years, SOG folders have been getting larger and less convenient to carry as the brand heavily invested in the tactical knife trend. So everyone in the knife world was taken by surprise when the Terminus XR was released earlier this year. This high-quality knife is stylish, light, and just the right size for EDC. With a CTS-BDZ1 steel blade and carbon-fiber laminate handles, the Terminus has materials a step above the blades made with CR. The fully ambidextrous design has a surprisingly great flipping action and a classic blade shape. Between the Terminus XR and the fixed-blade Pillar, it's safe to say SOG can no longer be dismissed as making only boring big-box blades.
---
And for a refresher on knife blades, check this out: