Multitools are a backbone piece of outdoor gear, something so useful everyone needs at least one.
Pliers, a blade, files, drivers, and more… the modern multitool is requisite equipment for thousands of tasks. Over the years, I have reviewed dozens of multitool models. These picks below have surfaced as the best, including models from Leatherman, Gerber, Spyderco, SAK, and even a Victorinox Swiss Army Knife.
Any of these are great additions to your kit, or to give as a gift during the holidays, or any time of the year.
Going on seven years with this tool in my pocket, I have done all kinds of jobs with the Leatherman Skeletool — landscaping, electrical, woodworking, drywalling, as well as camping and outdoor tasks.
Never once did I wish it had more implements. After years of carry, I feel good in saying this tool has everything you need — a blade, pliers, bit driver, pocket clip and carabiner/bottle opener — and nothing you don't.
Another advantage is its size. In the multitool world, folks tend to like BIG tools with lots of implements. The reality is carrying those behemoths around isn't all that convenient or fun. If you want a multitool that can really work, has every tool you actually need and weighs as much as your folding knife, the Leatherman Skeletool is for you.
Get the carbon-fiber version for the better blade steel (154CM versus 420HC), as there are no actual weight savings associated with the carbon fiber, though it does look more badass.
The Gerber Dime is one of the best values in the gear world. The design of the Dime is first-rate, even if the assembly quality is lacking behind its higher-price competition.
Backing up on this brand, in my tests, Gerber gear has been hit or miss. Sometimes it is good (like the new 39 Liner Lock), and sometimes not (like the Parang, which was recalled twice).
But the Dime is good. It has all the basic tools — pliers, wire cutter, blade, scissors — plus some intriguing inclusions like an implement designed to slice open clam-shell retail packages.
It's tiny and works great as an everyday carry. Some reviews have noted that the Dime is a little flimsy, but at well under $20 online, the Dime is a deal.
There is no single product I have recommended more in the six years I have been writing about gear. The Cadet is slim, has just the right tools, and it is cheap. I have bought them at my local Target. Yet, even on Instagram feeds full of $1,000 custom knives, you'll still see a Cadet show its humble face regularly.
Often these are used to "save" the expensive knife from dirty tasks, which means this is the perfect, inexpensive multitool for those who don't need pliers and don't carry knives just as bling. The Alox handle scales are perfect, showing almost no damage (especially if you get the silver). Simply put, everyone on planet Earth could use a Cadet.
One of the simplest and most unassuming tools on the market, the Gerber Shard is also one of the most useful. At around $6 it is a bargain, but it competes with a lot of the much more expensive one-piece multitools. Additionally, it has a 3D Phillips driver, unique among one-piece tools (one GearJunkie editor has used it to repair a rifle sight and eyeglasses in the field).
It has a bottle opener and a pry function. The sharp tip works great as a box opener or even for cutting fishing line, but it isn't a blade, so it can be carried on an airplane. Finally, the attachment point is nice, allowing for a variety of options, from split rings to 550 cord, to mechanic's cables. This is a good little tool. Full Gerber Shard review here.
The Wave is the Honda Accord of the multitool world — it has a ton of very nice features, but isn't so expensive that it cripples your cash flow. The steel on the blade, 154CM, is better than average in the multitool universe, and the tool complement — blades, pliers, saw, scissors, file, screwdrivers, and more — isn't crazy big, but has everything you really need.
The externally accessible blades are a huge upgrade from the original Leatherman PST design and most competitor's multitools.
There are more feature-rich multitools — the Charge TTi for example — but none are as beloved as the Wave. Fans simply adore the Wave because of its well-rounded features and designs.
It's really hard to compete against Victorinox in the knife-based multitool category.  The Swiss brand has been producing knives in such quantity, for so long, and with so much precision, that rational brands would give up.
Fortunately for knife nuts, Spyderco is captained by Sal Glesser, a man powered by inspiration more than accounting spreadsheets. The result is this gem of a tool, small enough to drop into a pocket with ease, and at a price that competes with the Victorinox Cadet.
I still like the Cadet better, but this is a great little tool that has a 2″ blade, a slot screwdriver, and a bottle opener.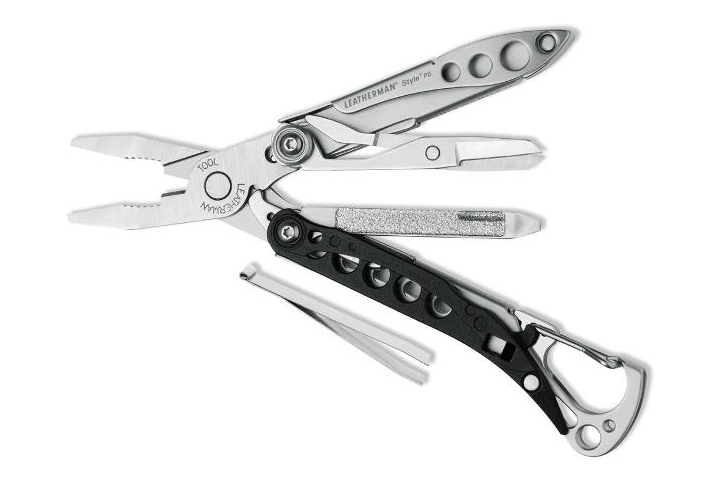 This is not necessarily the best multitool, but it is the only one with full pliers that can travel on planes worth squat. By eliminating the blade, Leatherman has a multitool that is TSA compliant (as of right now).
But the clever tiny scissors don't leave you stranded when it comes to cutting stuff. You just have to take your time.
The combination of pliers and scissors on a mini multitool is always a welcome thing. Add a file, tweezers, bottle opener, and screwdriver, and you've got a handy device that can ride in carry-on luggage.
One issue with multitool recommendations is that the best multitool is technically not available at a production level. The best multitool in the world that I know of is a Robert Lessard modded Victorinox Swiss Army Knife (SAKs).
Lots of folks modify SAKs, but no one does it as well or with as extensive a catalog as Mr. Lessard (known online as SAK Modder). His tools are made to order using parts from existing SAKs. He can make just about any combination of tools you want and even has a few tools of his own design that he can add. Plus, his prices and speed can't be matched.
So if you have $200+ and can get on his list, don't hesitate. It's not a practical option for everyone, but for those who want a one-of-a-kind, top of the heap multitool, Lessard is the best in the business.