The ultimate pop-up trailer, this portable cabin sleeps six and is light enough to tow with a class 1 hitch.
Portable campers have seen a major resurgence in recent years. From off-road teardrops to Airstream's fiberglass Nest, there's no shortage of unique camping trailers. But the Camp365 trailer's size sets it apart from others. More than just a camper, this bad boy quickly transforms into a roomy 100-square-foot cabin.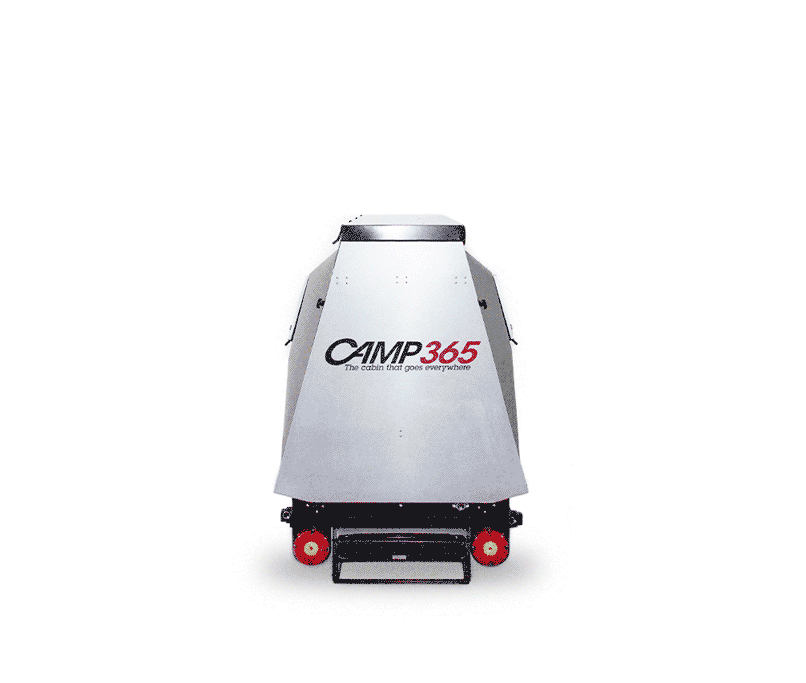 The Portable Cabin
Packed down, it stands just under 7 feet tall and 4 feet wide. This makes for easy towing and even easier storage. Once at your camp spot, the trailer expands into a nearly 100-square-foot cabin. The 12 x 8-foot space offers standing room for six adults.
But you don't need a mega-truck to tow this cabin camper. Weighing in at just under 1,500 pounds, it can be towed by most any four-cylinder vehicle with a class 1 hitch — even a Prius or Mini Cooper!
And with an adjustable wheelbase, you can use most any ATV or UTV to tow the trailer even deeper into the woods. This might seem like a novelty, but just imagine the location possibilities this opens up. Now you can take your cabin off the beaten path and go where no one else can.
In fact, you can even attach skis to the wheels and haul it across the ice. One minute you're sitting in the middle of a frozen lake, and nine minutes later you're happily ice fishing in an insulated, heated cabin. We like the sound of that.
The interior offers a bed that can sleep two and a set of bunk beds. There's also a two-burner stove, power outlets, and fold-out table. And the low-power-draw refrigerator comes mounted on a heavy-duty drawer that is accessible from the inside or outside. Easily load it up or grab a cold one without entering the cabin.
And if all that isn't enough, there's a bevy of available add-ons including solar power, a shower, a television, a three-season porch, an off-road package, and easy-access toy mounts for your kayaks, bikes, and more.
Camp365 Details
12′ wide by 8′ deep
7.5′ standing room
1,500 pounds
Adjustable wheelbase
Sleeps six
Includes a two-burner stove and refrigerator
USB, 12V, and 120AC charging ports
Additional add-ons include solar package, a shower, easy-load toy racks, and a screened-in porch
$23,449
Order at Camp365.com
We haven't had a chance to test the Camp365 yet, but we're intrigued. Sure, it won't appeal to minimalists, and it's not the cheapest way to get outside. But this is a great option for anyone looking for a portable hunting base camp, the ultimate ice fishing hut, or a family-friendly cabin. And best of all, it packs down small for easy storage and car-friendly towing.
---
Looking for more trailer options? Check this out: