The 2021 F-150 has some really clever tricks — like front seats that lay all the way down and interior workspace. Combined, they make a compelling case for camping and road trips.
We got a first glimpse of the 2021 Ford F-150 at the online reveal yesterday. The best-selling full-size light-duty pickup in the world has received a full rework. While the chassis might be pretty much the same, everything else has been upgraded. We don't know pricing, performance, or economy numbers just yet, but we do know the 2021 F-150s should hit dealer lots this fall.
Highlights for the adventure crowd — yep, that's us — are lay-flat front seats, an onboard generator system, a huge range, and even more payload, towing, and performance. The 2021 F-150 will no doubt be a staple at the local trailhead soon.
First Full-Hybrid Truck
The big story with the 2021 Ford F-150 launch is the availability of a full-hybrid powertrain option, across all trim levels. The system is called the 3.5L PowerBoost full hybrid V6 powertrain. It pairs a V6 gas motor with a 35kW (47-horsepower) electric motor. It integrates into a 10-speed automatic transmission that we already know and love.
The 2021 F-150 targets "to deliver the most maximum towing, payload, torque, and horsepower of any full-size light-duty pickup" with this hybrid powertrain. We don't know a ton of numbers just yet, but Ford says it expects at least a 12,000-pound towing capacity. And the brand is targeting a 700-mile range, with a stated 38-gallon fuel tank that works out to about 18 mpg for the new hybrid truck.
Of course, the hybrid option isn't the only powertrain available. In fact, a total of six different powertrain options will be available across the wide 2021 F-150 lineup. Sadly, we're going to have to wait a bit longer for the full-electric Ford F-150 truck. Specifically, Ford said, "Within 2 years, we'll get an all-electric F-150."
First Look
Every body panel on the truck is fresh for the 2021 model year, but it still very much looks like an F-150. A slightly wider track width (three-quarters of an inch wider) offers better stability, both on and off road.
Along with larger wheel arches and "larger-diameter tires" — current F-150's have 31-inch tires — the 2021 truck looks more aggressive and will hopefully have even more off-road capability.
Inside the 2021 Ford F-150
Inside the new F-150, nearly everything has been changed. Storage, lay-flat seats, an integrated desk, and a top-level audio system are the big stories.
The big upgrade for gear-haulers like us is a standard dual glove box and a locking, nearly full-width (perfect for fishing rods) storage bin under the rear seats.
You can lay the storage bins down flat to optimize the insane amount of cargo-carrying capacity of the inside of the cab. The completely flat rear floor helps to maximize that size and optimize space.
It's always frustrating when you're on a road trip, you want to take a quick roadside nap, and the seats just won't recline enough to get comfortable. Ford has addressed this issue with optional "max recline seats," which are available on King Ranch, Platinum, and Limited models. These new front seats recline nearly 180 degrees to make the perfect napping platform.
Ford has also thought about those of us who use our trucks to work while on the road or in the field. It created a desk-like flat surface that folds out of the armrest. Ford calls this the "interior work surface" and offers it as an option on the Lariat, King Ranch, and Platinum; it comes standard on the Limited model. It also works great as a table for food or just a place to prop the laptop and watch a movie away from the bugs on your next camping trip.
We can't wait to hear the new audio system in the 2021 F-150 for ourselves. The top-spec 18-speaker B&O Unleashed system even has speakers in the headliner and front headrests. The standard eight-speaker B&O Sound System should be pleasing to the ears as well.
Adventure-Ready Truck Bed
The big news in the truck bed of the new F-150 is the optional Pro Power Onboard system. This system is essentially a portable generator to power all your worksite or camping gadgets. The system offers in-cabin outlets.
But even better, you get up to four 120V 20A outlets in the truck bed. The system has a 2kW output on the gas engine powertrain trucks. On the hybrid F-150, there is a base 2.4kW system and an upgraded 7.2kW system, which even offers a 240V 30A outlet.
Also available on the new truck is a "tailgate work surface." While designed with construction sites in mind, the flat work surface, integrated rulers, tablet-holder, and cupholder would no doubt come in handy when out camping or on a hunt.
Securing loads while moving or standing still is also important for a truck. The new F-150 gets "new cleats mounted to the sides of the tailgate to act as tie-down locations for extra-long items in the bed" as standard equipment.
The new truck even has "clamp pockets [that] are built into the tailgate of every truck, so customers can hold materials down for precision work." These cleats and clamp pockets should also be useful for securing kayaks in the truck bed or for helping tether a camping shelter in rough weather.
2021 F-150: So Much Tech!
The tech inside the 2021 F-150 is centered around the new infotainment system, which can now be optioned to a massive 12-inch split-screen-capable touchscreen. The new SYNC 4 system is now standard across the entire F-150 range. It can even wirelessly connect your smartphone for "seamless integration of Apple CarPlay or Android Auto compatibility as well as SYNC AppLink apps like Waze and Ford+Alexa."
Another big deal on the new truck is over-the-air updates, a first-in-class feature. This will open up options for vehicle enhancements without the need to go to the dealer for diagnostics and updates, some as simple as navigation map updates. A handy new feature is also a digital owner's manual within the infotainment system, which is great as long as your touchscreen is working properly and has power.
Like all modern vehicles, the latest F-150 will get a full host of driver-assist features. First is the Active Drive Assist system, a hands-free autonomous driving system on certain sections of pre-mapped roads, with the driver's full attention/gaze.
The second is Intersection Assist, which detects oncoming traffic making a left turn and applies the brakes to avoid an accident if necessary. You can also get the 2021 Ford F-150 with Active Park Assist 2.0, which essentially parallel or perpendicular parks the car for you.
To top off all the tech goodies on the new truck, you get the FordPass smartphone app as standard across the entire F-150 line. The app allows you to access and drive the car without a physical key, run diagnostics, and even control interior and exterior lighting.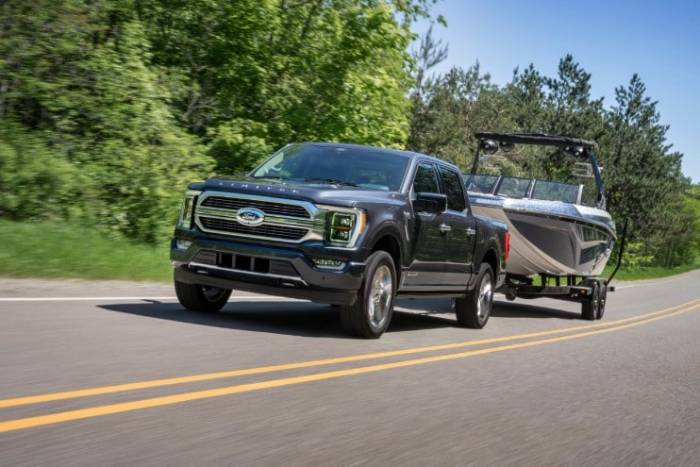 2021 Ford F-150 Tows With Ease
We can't forget towing, as that's something full-size trucks are generally quite good at. The new F-150 is no exception and offers a suite of trailering tech to make towing a breeze.
Much of this tech is carried over from the Heavy Duty F-Series trucks, which are the real towing workhorses. In particular, Trailer Reverse Guidance uses cameras to display a graphic on the infotainment screen and help you back up the trailer or the truck to the trailer.
Pro Trailer Backup Assist makes backing up a trailer as easy as turning a dial. All in, the 2021 Ford F-150 should be a great light-duty towing machine.
There's a 2021 F-150 Out There for You!
With six powertrain options, 11 different grilles, 13 different wheel designs, and a variety of tailgate appliques, there should be an F-150 out there perfect for your truck needs. No doubt the aftermarket will have a field day with this new truck and offer up even more personalization options.
We can't wait to get behind the wheel of the new truck and see what it's all about for ourselves. The Hybrid and full-electric powertrains are obviously the most exciting and likely the highest-performing. Electrified road trips in a big, comfortable, feature-rich American truck is no longer just a dream.