Your REI dividend has arrived! Here's how to spend it. With top outdoor gear picks and a bit of history thrown in, this is our guide to the REI dividend.
Everyone can save during the sale, and REI Members also get 20% off one full-price item and 20% off one REI Outlet item. Use code MEMPERKS2020 at checkout. The sale lasts through April 6 and gear is limited, so shop early for the best selection.
Everything is on sale from camping gear to packs, clothing, and more. Below we've highlighted some of our favorite deals, but be sure to check out the entire sale for the full selection.
Shop the entire REI Dividend Sale
How to Spend the REI Dividend
The Losi 2 has a minimal trail weight of 4 pounds 15 ounces. But it packs enough space and comfort for two campers and their gear to earn a 4.75-star rating on REI.com.
We've used NEMO tents a lot, and they continually impress us with thoughtful design at very light weights. And at 35% off, this three-season tent will get you on the trail this summer at value pricing.
It's hard to beat the comfort and performance of a wool sock. And these babies are no exception. Thanks to the merino wool, they're naturally breathable, sweat-wicking, quick-drying, and odor-resistant.
Can't decide between a hammock or a tent? With the QD Air Hammock, you don't have to. It's roomy, quick to set up, and works as both a tent with cover or regular hammock.
As our reviewer wrote, "It's a good choice for campers and short-distance backpackers. Those looking for comfy camping shelter should consider it."
This durable duffel does it all. The rugged ripstop nylon outer is super durable. And the compression strap system easily locks down full loads.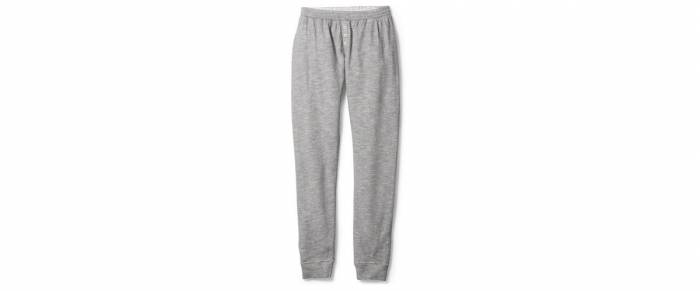 Get comfy at home with these plush lounge pants. The double-knit fabric is warm and soft. And the waistband drawcord allows for a custom fit. There are also plenty of comfy men's pants on sale, so grab a pair for the whole fam.
REI Co-op Groundbreaker Jacket — Men's & Women's: $32 (60% Off)
This is a crazy-good deal on a puffy jacket. It repels water thanks to a DWR coating, and REI makes them with Bluesign-approved materials. Complete with three pockets and elastic cuffs, it will keep you cozy all year long.
History of the REI Dividend
If all this dividend hoopla reads like a fantasy football conspiracy, here's the gist. REI is a massive cooperative (one of the largest) with millions of members. You don't need to be a member to shop at REI.
But for $20, you can join REI for life and reap membership benefits, which include getting 10% back on your annual purchases through the aforementioned dividend.
We caught up with REI to drill down on the dividend's history.
GearJunkie: How did REI's dividend get started?
REI: The dividend got started in 1938 when Lloyd and Mary Anderson formed the co-op with 23 members, who each paid $1 for a lifetime membership. Not wanting to make money off of their friends, Lloyd and Mary gave dividends back to all members.
In the first several years, the dividends were distributed on a quarterly basis. But by 1948, the co-op transitioned to the annual dividend that we all enjoy today.
And enjoy it we do! Has it always been a 10% dividend?
In 1938, the co-op gave back either 5% or 25% of the total spent, depending on what each member bought. By 1947, quarterly dividends were consistent at 15%; a year later, the co-op began to use the annual 10% dividend that we're familiar with.
Who all can be listed on a membership?
Only one name can appear on the membership, but friends and family can make purchases using the same member number — though the dividend is always issued to the individual who's listed on the membership.
Members cannot share one membership number or transfer the membership number to another person. There's nothing that says only one membership per family, so we see many families where each person has their own membership to earn their own dividend and coupons.
What if you've got everything you need (never said by a gear junkie)? Can you donate your dividend to a higher cause?
Many members have nothing to spend their dividend on or would rather donate their dividend than purchase gear. In these cases, members have the option of donating their dividend to the REI Foundation, which is a separate 501(c)(3) focused on connecting the next generation of adventurers and environmental stewards to the outdoors and promoting the benefits of the outdoors among diverse audiences.
[In 2015], the foundation invested in the Outdoor Industries Women's Coalition and made a multimillion-dollar, multiyear commitment to the National Park Foundation in support of this year's centennial.
REI Dividend: Get Your Gear Now
Dividends have an expiration date: Annual dividends are good for 2 years after issued and expire on January 3. The brand issues refunds for unredeemed REI credit card rebates.
Finally, it's worth noting REI pairs the dividend release with an annual sale — make a purchase with your dividend on or before April 6 and get an additional 20% off a full-price item and an outlet item. So act soon to make the most of your dividend.