Stay healthy and eco-friendly with these simple adventure accessories at home and abroad.
Adventure travelers play a huge role in the long-term enjoyment of wilderness and water. Each year, 7 million single-use plastic bottles are handed out via adventure travel businesses, according to the Adventure Travel Trade Association. That's enough to fill the Empire State Building three times.
Depending on those disposable plastic bottles for health safety reasons, or due to limited water refill sites in remote places, can be frustrating. But a growing number of durable, lightweight, and easy-to-use travel accessories can help you stay fueled from the airport to the trailhead including reusable bottles, purification systems, and cooler packs.
As a full-time outdoor and travel writer, I beat up this equipment on multiday paddles, ice climbing, and backcountry ski trips in Colorado's Rocky Mountains. It came with me on countless monthly flights across the U.S., Europe, and Canada, and on a jungle mission in Central America. Conditions ranged from 0 to 90 degrees Fahrenheit.
No one is perfect when it comes to zero waste, but we can all make a few easy changes to do a bit better. Hopefully, this guide will equip you with a few tools to keep you healthy and nourished on the go, while creating a smaller footprint and saving money at restaurants, shops, terminals, on scenic mountain passes, or in the sky.
Single-Use Plastic: Not Just Water Bottles
Beyond plastic water bottles, travelers can consider replacing other single-use plastic items including bags, straws, and coffee cups, which can take hundreds of years to decompose.
Life Cycle of Plastic
Plastic bag: 20 years
Coffee cup: 30 years
Plastic straw: 200 years
6-pack plastic rings: 400 years
Plastic water bottle: 450 years
Coffee pod: 500 years
Plastic cup: 450 years
Disposable diaper: 500 years
Plastic toothbrush: 500 years
Source: World Wildlife Fund
Bottles, straws, stirrers, food wrappers, and shopping bags comprise the majority of marine debris, which harms more than 800 species and has caused a global economic loss of more than $13 billion, according to the United Nations.
Best Reusable Utensils and Gear of 2019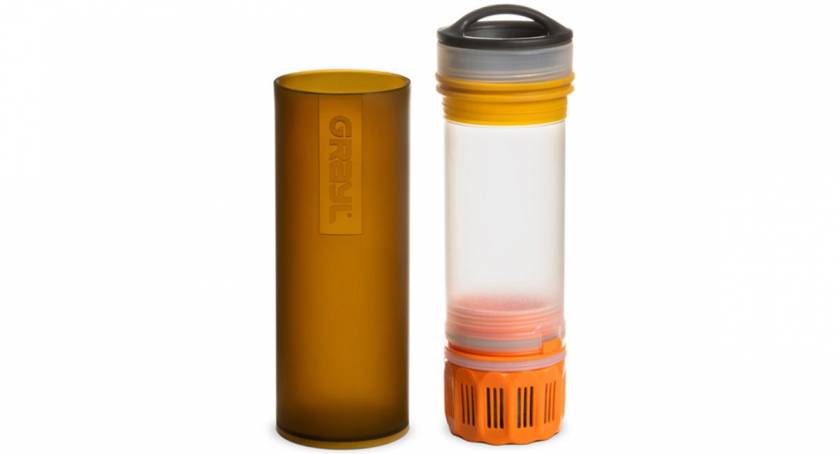 There are many types of water purification, and each complements a specific type of trip whether it's international train hopping, backpacking in the rainforest, or a high-altitude trek. The Ultralight Purifier is particularly helpful if you want to travel with minimal weight and bulk because it's a streamlined water bottle and purifier in one.
The bottle is durable and transfers well between indoor use and wilderness. I've used it to fill up in airport bathrooms and food-stop sinks across Europe and Central America.
I also took it on a jungle mission in Belize, on a solo trip to summit the tallest peak, where I was able to fill up at streams every few miles in 90-degree heat and 85 percent humidity. I'd filter the water, drink that 16 ounces, then filter another to take with me.
The ease of use and simplicity of this filter helped me stay hydrated during extreme conditions. It takes some muscle to push down the filter into the bottle, but it's fast (about 15 seconds), and there's no hassle with batteries, risk of hose contamination. or running low on tablets. The purifier cartridge is replaceable and rated for 300 independent cycles with a 10-year shelf life.
It protects against viruses, bacteria, protozoan cysts, pesticides, chemicals, and heavy metals. It's pretty easy to filter and pour the clean water into other containers, which I've done for trail partners. Due to capacity, this might not be the most practical for long backpacking ventures in arid environments where fill-ups are few, but it's an excellent purifier for many types of adventure travel.
See the GRAYL Ultralight Bottle
Traveling can get expensive and wasteful when eating out. But these handy food-grade silicone bags easily handle leftovers. The small snack-size bags are great for a little mid-flight trail mix, and the half-gallon bag is large enough to hold an entire meal. They're heat- and cold-tolerant, so you can microwave, bake, or freeze them.
As long as you get all the air out when sealing, they close tightly and don't leak. Best of all, they serve double duty. Not only can they hold food while traveling, but you can keep small gear items organized or separate wet items from the rest.
These bags wash up easily and can even be thrown in the dishwasher. They don't tend to retain odors, but if your curry just won't wash out, try a little baking soda and a slice of lemon.
On international trips, I prefer to bring one backpack for nimbleness and travel ease, so space is coveted. But the Ultra-Sil allows me to bring an important utility item that prevents me from using plastic bags. And it compresses to the size of a tennis ball.
For flights, I'll pack extra shoes or dirty clothes inside of it. At my destination, I use it for shopping, short-to-medium hikes, boat rides, and beach walks.
It doesn't have any cushion but is waterproof, so I carry a camera or journal without worrying about rain or splashes. I use it stow wet swimwear or camp towels, so other apparel doesn't get damp. And the siliconized CORDURA fabric is super durable. It's never ripped and even helps shield odors.
See the Sea to Summit Ultra-Sil Day Pack
Whether packing your lunch while road tripping or preserving leftovers while traveling, Bee's Wrap is a great option. A plastic wrap alternative, it's made from organic cotton, jojoba oil, and beeswax. We've had this set for a couple years now, and it's still going strong. The sandwich wrap has a string and button so you can secure everything tightly. And it works just as well for wraps.
The smaller wraps work well for snacks, or use them to preserve that half-cut apple or onion. It's especially useful when staying in a rental. You can avoid buying plastic wrap, keep food fresh, and save money by eating out less. These pack down super small and are endlessly useful.
They're easy to wash — just remember not to use extremely hot water. You don't want to melt the beeswax and shorten the lifespan of the wrap.
A plethora of streamlined, attractive reusable bottles exists now with a range of sizes. Hydro Flask is one, and I like the standard 21-ounce size because it easily fits in cupholders and pack holders. With the flex cap, I've never had spillage.
The vacuum insulation keeps hot liquids hot when I ice climb, backcountry tour, or winter camp in 0- to 10-degree temperatures in the Elk Mountains outside of Crested Butte or in the San Juans. And it preserves iced or cold liquid in 90- to 100-degree hot yoga classes.
I haven't experienced any smell or taste stains. Bonus: The stainless steel is solid enough that I use it for "foam" rolling in airports or hotel rooms. It's worth noting that this bottle has no inherent filter, so be sure to confirm international or regional water sources are pure and clean for refills.
See the Hydro Flask 21oz Bottle
Many National Park Service concessioners have signed on to be straw-free to tackle waste created by single-use plastic straws. This set from S'well is super durable — they're made from high-grade stainless steel — so I can mindlessly stow one in a backpack pocket without it getting bent or broken. And I like that it comes with a cleaning brush.
The ergonomic design has a flexible neck that bends rather than being completely straight. The straw works with hot or cold liquid, but given it's metal, it's a conduit for those warmer temps.
Cons: It doesn't include a case, which would be better for hygienic travel.
It can take 500 years for a plastic toothbrush to biodegrade. Switching to bamboo is an easy alternative — at home or on the road. This four-pack has smooth handles and even comes in a biodegradable package.
The bristles are comfortably soft while still getting teeth clean. With more than 1,200 happy reviews on Amazon, it's clear these are a fan favorite.
I've tried a handful of coffee cup styles on the move with my fair share of drippage, stains, and burns. What I like most about the Purist Mover is the bomber screw-top: Not a drop gets out. And a crescent-shaped, pop-up lever helps you tighten the closure and easily twist it back off.
I toss this bottle into my pack's side-holder, push it under the airplane seat, and don't worry a bit. Plus, it's attractive, streamlined, and easy to pack.
On multiday trips, it works well for hot or cold liquids. Though, I have noticed a lingering hint of previous coffee has stayed in the bottle. One drawback: The lid isn't easy to remove for a drink if you're in the driver's seat.
The first time I used these utensils, I was not a fan of the texture — which is smooth but different than the at-home silverware I'm used to. But after a couple meals, I quickly adapted.
Now, this streamlined, aesthetic pack is essential for road trips, car camping, traveling through airports, and going overseas. This entire set — a fork, spoon, knife, and chopsticks — feels lighter than a Clif Bar. And while it looks flat, the spoon actually swoops soup.
The soft holder, a recycled plastic that feels like canvas, keeps them all clean and collected. And after many hand-wash cycles, none of the wood shows signs of stains or odors. Plus, at that price, there's no reason to not carry this simple, pleasing set.
---
Have a favorite reusable utensil or accessory? Let us know in the comments for future updates to this article.