[leadin]The Eiger is an iconic mountain, and one of its most difficult routes is 'Magic Mushroom' (7c+, or 5.13a), climbed this week by American Sasha DiGiulian.[/leadin]
DiGiulian became the first woman to climb the route, completing the Swiss free climb on Saturday with fellow American Carlo Traversi.
The duo were also the first Americans to climb this difficult route on the North Face of the Eiger.
To put it into perspective: To scale "Magic Mushroom," climbers ascend about 2,000 feet of extremely steep and difficult rock to a 13,020-foot summit. That's 200 stories of vertical climbing, nearly every bit more difficult than possible to the average, fit rock climber.
And there was snow and ice.
After spending weeks with multiple attempts on the wall, the team completed the 20-pitch climb in three days.
"This has been a long journey, made longer by Mother Nature, and we have had to stay strong, positive and open minded," said DiGiulian.
"Free climbing on the Eiger, and standing atop one of the most recognized routes on this iconic peak is an incredible feeling, and one I am grateful to have achieved.  Carlo was the perfect partner. I could not have done this without him and his optimistic outlook and steady reinforcement."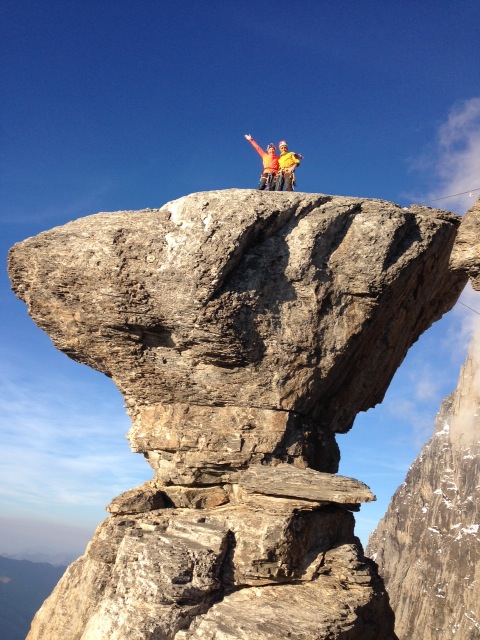 Three-time U.S. National Champion and 2011 Overall World Champion, DiGiulian, age 22, is the first North American woman to climb grade 9a (5.14d), recognized as the hardest rated sport climb ever achieved by a female, which she has done twice.
Traversi, 27, has amassed an impressive list of first ascents, significant repeats, and successful competition results, including the 2011 ascent of The Game (V15), considered to be one of the hardest boulder problems in the world.
"Magic Mushroom" was put up by Roger Schäli and Christoph Hainz in September of 2007, and on August 17, 2011, Schäli completed the first one-day free ascent. Stephan Siegrist and Ralf Weber completed the first redpoint ascent in June of 2009.