No more pinched fingers, black grease stains, or rusted chains — sounds good, but is this no-chain bike too far out?
The basic bicycle design hasn't changed much during the last few decades. Sure, lighter frame materials, gears and shifting, and wheel technology have improved on the pedal-powered machine. But the overall concept has remained the same: cranks move a chain (or belt) that powers the rear wheel.
Enter Sean Chan and the soon-to-be-launched "Chainless" bike. With dedicated tungsten gears, pedals on the rear wheel, and a frame that lets you steer with your butt, his invention breaks a lot of bicycle conventions.
Chainless Bicycle
First, the elephant in the room: There is no chain on this bike. Instead, both the seat and pedals position in line with the rear wheel. This eliminates a lot of familiar bike features: bottom bracket, down tube, rear triangle, chainrings, and cogs for example.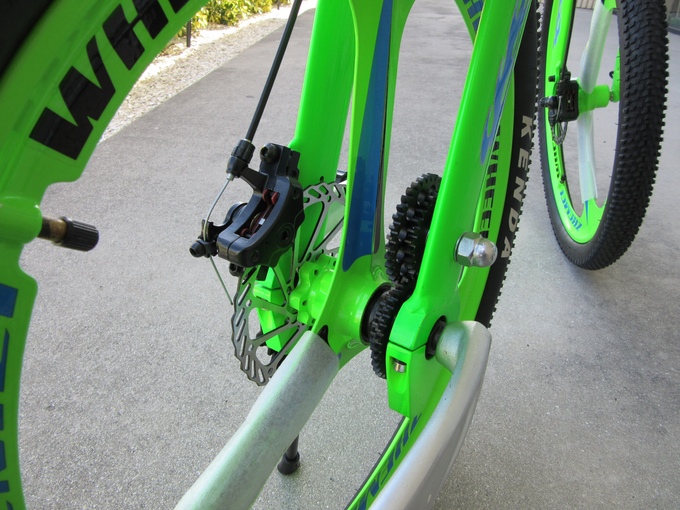 Instead, the cranks connect to a series of tungsten gears that directly power the rear wheel, like a differential. Why do this? According to Chan's website, the chain is a common source of problems for most bikers. Chains stretch, wear out, sometimes slip, make noise, rust, and of course, gobble up shoelaces and pant legs.
The tungsten gears on the Chainless are less exposed, rust-resistant, and harder than titanium, so they should outlast chains and cassettes. Plus, the bike has sprocket wheels, so it coasts.
According to Chan, the design allows for pedaling that "more closely emulates walking."
But ditching the traditional drivetrain adversely affects the bike's form. With the entire bottom bracket assembly gone, the wheelbase shrinks to just 31.5 inches.
What's more, the bike — and rider — are free to truly bend the rules of biking. A Shimano shifting lever on the bars controls a Rapid Turning System (RTS). When engaged, the rear wheel unlocks from fixed to swiveling. This allows the rider to steer the rear wheel with their bum and execute turns impossible for a traditional bike.
The seat also takes on a new personality. With the old seat tube gone, remember the saddle is directly atop the rear wheel here, seat adjustment had to change. So Chainless has an integrated sliding seat post and horizontal seat track. Riders can adjust the saddle up and down, and front to back.
---
Chainless Bike: Good Idea?
Chan's Chainless is primed to go live on Kickstarter, but he's still soliciting feedback. So, would we buy it?
No-chain bikes are not new. Bicycles powered with a gear shaft exist and, though not common, are purportedly smoother, quieter rides than their cog-and-chain counterparts.
However, they're still not popular. It would take a massive industry shift to switch over to a non-chain bicycle design. And for that to happen, there would have to be significant benefits driving demand. Evidently, driveshaft bikes haven't been the key.
But the combination of Chainless's weird-but-not-too-weird look and the tight-turn feature mean it has a chance. In particular, bike polo players would surely love a bike that pivots on a dime.
It's going to have to be the convenience of no grease or trouser-tearing drivetrains that make or break this ride for the public. Up to now, people seem chained to their old bikes.
The Chainless uses an aluminum frame and will feature both folding and non-folding designs. Both weigh 25 lbs. and come with a removable kickstand, fenders, and magnesium alloy wheels. It will expectedly retail for $1,000.