The Recon Survival Tool was conceived when creator Shane Ward realized he was packing a hammer, saw, hatchet, machete, and multiple knives into his backpack. There had to be an easier way.
He decided to combine all these tools into one hatchet-size multitool dubbed the Recon Survival Tool.
Reminiscent of military entrenching tools, the Recon combines the functions mentioned above and sports an added hook for clearing brush. And it has a bladed point for keeping hungry predators (or the undead) at bay.
Full Tang
The stainless steel Recon weighs less than two pounds, and the full-tang construction should be durable and provide for balanced weight.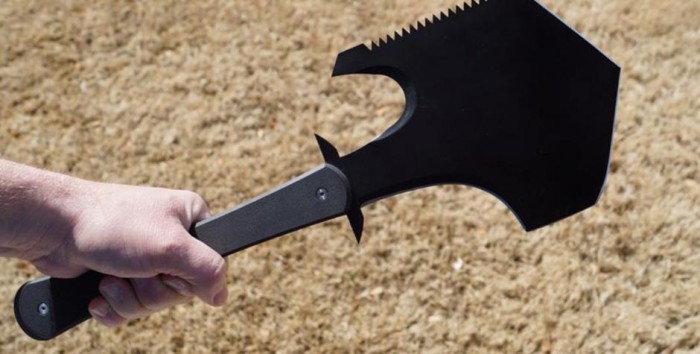 The saw blade on the opposite side of the axe seems redundant and tough to use for serious cutting, but we'll give it to them. It's a brute of a tool and could be useful for the right person.
Survival Tool?
At two pounds, it's likely going to be too much for the lightweight backpacker. If you're more of a "build your own shelter" than "bring a tent" kind of guy, this could be a way to save weight and pack space.
But we wouldn't recommend it as an EDC, unless you're a cast member of The Walking Dead.
If you fit into either of the above categories, check out the Recon's Kickstarter page, where it's available for $55.