Adventure riders the world over can be a tough audience to impress, sticking to tried-and-true brands. Will Ducati's new V4 Rally make a few switch allegiances?
The 2023 Ducati Multistrada V4 Rally's new features are intended to lure "great travelers." With adjustable off-road modifications, longer fuel range, and overall better comfort for both rider and passenger, does the 573-pound V4 come with enough practical extras to warrant ADV status?
2023 Ducati Multistrada V4 Rally: Decades in the Making
The V4 Rally comes 2 years after the launch of the fourth-generation Multistrada V4. So technically, the bike is just a pimped-up, beefier version for rougher terrain. But we'll take it.
The more bikes like this on the market, the better the design and engineering. Ducati seems to be on the ball with the V4 Rally upgrades.
V4 Granturismo Engine
The V4 Rally version comes with 170 horsepower and 89 pound-feet of torque. You don't really need all that power in the loose stuff, so Off-Road mode engine adjustments can be made to rein in those ponies to a more controllable 115. Other ride modes on offer are Sport, Touring, and Urban with varying parameters.
'Easy-Lift' Self-Lowering Feature
Usually tall bikes, Ducati has integrated an "easy-lift" self-lowering modality in the suspension to make things easier for those of us who are height-challenged and for lifting off the side stand.
Suspension travel is 7.9 inches, front and rear, giving the V4 Rally 9.1 inches of ground clearance.
The Minimum Preload Function allows the rider to lower the bike when stopping or riding at low speed, limiting preload on the shock absorber. There is also an auto-leveling function for when the rider, passenger, and luggage weight differ.
Speaking of Passengers
The Multistrada V4 Rally seems to be an ADV bike that might actually be comfortable riding two-up.
Different seat heights mean the person on the back isn't leaning out, making the ride harder to control.
Passenger footpegs come with rubber inserts to reduce vibration. Incidentally, the rider can adjust the footpegs for off-roading, and no tools are necessary.
A longer tail at the rear gives passengers — or extra gear — more room, and the top case attachment has been moved back.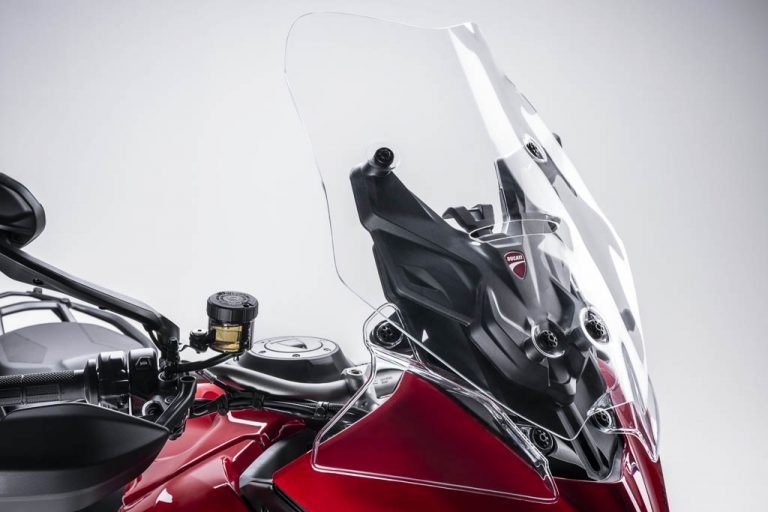 Deflectors reduce wind noise for both rider and passenger, and the windshield is also higher and wider than the original V4.
V4 Rally Mods & Upgrades

The V4 Rally comes with reinforced engine guards and a center stand for easier luggage loading and repair work.
ADV riders will be glad to see 19-inch front and 17-inch rear spoked wheels and a 7.9-gallon fuel tank — an improvement from the 5.8-gallon cell on the original V4.
A 6.5-inch screen will connect to your smartphone's GPS.
It's All Under Control
The Rally gets three different radar trims, cruise, traction, and wheelie control, blind spot protection, and LED mirror warnings. ABS and ABS cornering are standard on the V4.
Switchgear and brake pedal adjustments can be fiddled with for off-roading, along with impressive suspension that can be fine-tuned.
2023 Ducati Multistrada V4 Rally: Availability & Pricing
Travelers, brace yourself. The V4 Rally basic model will start at $31,495 MSRP for the Ducati Red color scheme. The Brushed Aluminum & Matte Black combo will cost slightly more.
North American markets can expect to see these motorcycles hit showrooms in May 2023.