Are you pouring fuel stabilizer in your tank and locking your bike up in the shed for the season? Wait! With this gear, you can keep riding in the cold, wet, dark months ahead.
Being cold while riding a motorcycle is utter misery. But there's another issue altogether; even if you're (wo)man enough to brave the cold, do you really feel safe? Are you in top form for quick maneuvers if necessary? Is your brain working properly?
Our top 10 product list for the best cold-weather motorcycle gear can help extend the riding season safely and comfortably. We'll assume you have the basic essentials already, like a riding jacket and pants with protection from crashes, cold, and wet weather, and build out your winter riding system from there.
10 Best: Cold-Weather Motorcycle Riding Gear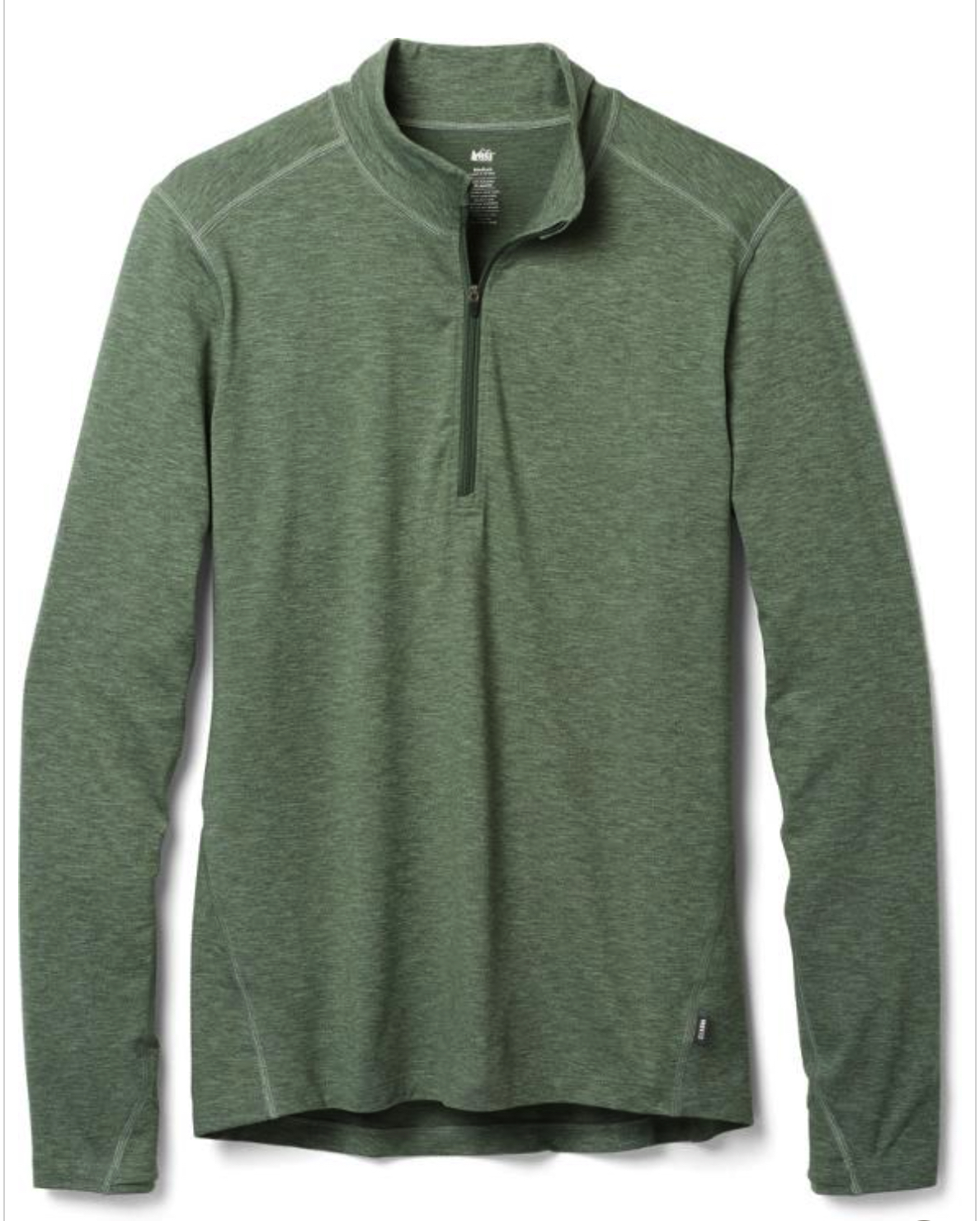 Cozy up to some quality base layers. Layering is the building block for keeping you warm all day long. In colder months, always keep cotton away from your skin. If cotton gets wet from sweat or the elements, it can chill you to the bone and actually set you on your way to hypothermia. The best solution is a synthetic or wool base layer.
A favorite of mine, which has lasted many years, is the REI Co-op Midweight Base Layer Half-Zip ($60). I like these half-zip models because if I ride aggressively off-road or hike to a point where I am warming up, the zippered portion by my neck allows for ventilation. If I do sweat, the moisture is wicked away from my skin to keep me dry and comfortable.
Get the matching REI Co-op Midweight Base Layer Bottoms ($55) to keep your bum and legs cozy as well.
Check Price at REI
A heated vest (or jacket) is a must-have cold-weather motorcycle gear addition for keeping your core warm. A tried and true heated vest that has been popular for decades is the Aerostich Windstopper Electric Vest ($197).
One reason your fingers and toes get cold is that your body is trying to keep your core at a survivable temperature. When your core stays warm, your blood keeps circulating and your circulatory system works in regular mode rather than survival mode. Put another way: a warm core means more warmth (through blood flow) to your extremities.
Check Price at Aerostich
Want a low-tech solution for keeping your hands warm and dry? Hippo Hands Motorcycle Hand Covers are just that. With Hippo Hands, your hands are sheltered from the elements while still giving you access to your controls.
I tested the Backcountry Model ($129) and was very impressed with how well they worked, even while standing on the pegs. They also offer other models for on-road motorcycles that give even more coverage.
Check Price at Hippo Hands
If your riding jacket didn't come with a zip-in insulated liner, you'll need to come up with a midlayer to help hold in core warmth or opt for the heated vest above. Hands down, my favorite is the Patagonia Micro Puff ($280).
This jacket is my go-to for all of my outdoor activities. It stays warm if it gets wet, is extremely lightweight and compact when stowed, and is comparable to down in terms of keeping you toasty.
Remember this winter riding rule: You can always take layers off and put them in a pannier or backpack if you get too warm, but if you don't have it with you when it gets cold, well, you're going to be cold.
Check Price at BackcountryCheck Price at Patagonia
If you've ridden on cold days, you know the very first thing to get frigid is your fingers. Many times I've had to pull over and warm my hands by the muffler to get feeling back enough to use my brake and clutch. That's true desperation.
The Apollo Heated Grips from Koso ($145) offer a solution to this problem. These heated grips are a nice piece of gear for cold-weather motorcycle rides. They have an integrated switch built into the grip. That means your hands remain in place while you turn on the grips or adjust the heat to one of five different temperature settings.
Check Price at ProCycle
Why not stay warm from the inside during cold weather? There is something truly comforting about remembering you have a hot beverage waiting for you at your next rest stop, wherever you may be. The 24oz Standard Mouth insulated bottle from Hydro Flask ($40) will keep your hot cocoa hot and ready to serve for up to 6 hours. These bottles are made of durable stainless steel and last for years.
Check Price at REICheck Price at Backcountry
The space above your jacket collar and below your helmet is a vulnerable area for the cold to sneak in. Wrap it in a Merino Fleece Neck Warmer by Buff ($42). These neck warmers are great cold-weather motorcycle gear because of their versatility.
You can even pull it up over your nose if your face is cold. Or, wear it like a hat when your helmet is off or you're in a sleeping bag. Merino wool is not itchy and is actually quite soft to the touch, not to mention warm.
Check Price at Amazon
I can't stress the importance of keeping your hands warm and dry. After trying several gloves that eventually soaked through or weren't very durable, I was thrilled to find a solution that really stood out among other options.
The Klim Badlands GTX Long ($250) gloves offer durability in a gauntlet-style glove that extends over your jacket sleeves. Because they feature GORE-TEX, you can rest assured they are waterproof. These gloves are not cheap but are worth every penny on those wet, miserable days.
Check Price at Klim
After cold hands, another problem area can be cold feet. Smartwool Classic Extra Cushion Socks ($24) can help keep those little piggies toasty.
Wool has been used for decades because of its warm-in-wintertime properties. It has durable fibers that stay fresh and insulated under miserable conditions, plus thick socks create an air gap in your boots that your body warms through circulation.
In addition to keeping you warm, if they get wet, the natural wicking fibers have the benefit of keeping odors to a minimum — nice when you share a tent or hotel room after a long day of riding.
Check Price at BackcountryCheck Price at Smartwool
Sometimes simplicity is a beautiful thing. Let's say your bike broke down or you had electrical issues that rendered your heated grips or heated vest useless. Chemical hand/toe/body warmers from Grabber are a smart idea to keep as a backup plan in your tank bag just in case you need them.
The Grabber Excursion Pack ($25­­­­) gives you eight of each of their Hand Warmers, Toe Warmers, and Peel and Stick Body Warmers. The heats generally last up to 12 hours, according to the company's website.
Check Price at AmazonCheck Price at Backcountry
Cold-Weather Motorcycle Gear: It's Not Just About Warmth
Warmth isn't just about comfort while riding — it's also a safety issue. When you're cold, you tend to stiffen your muscles, especially your arms and shoulders. That can be problematic when trying to control your bike in trickier sections or emergency situations. It can also lead to fatigue, another unsafe riding condition.
Staying warm means riding safer and more comfortably, no matter the temperature. Buying specific cold-weather motorcycle gear can be a godsend.
Note: With all this plug-and-play gear, you'll want to be careful you're not overloading your bike's battery. Make sure to turn everything off and unplug items from outlets when your motorcycle isn't running.
Now get out there and ride warm!