Thru-hiking the Pacific Crest Trail is a feat in itself. Hiking the 2,560-mile trail and remaining dedicated to picking up every single piece of trash along the way, that's a whole other ball game. Here are 5 items the 'Packing It Out' crew use daily to clean the trail from Mexico to Canada.
---
Article written by Seth Orme, a 'Packing It Out' founder.
Just about every conversation I have about the outdoors ends up covering the topic of gear. Whether I'm trail running, kayaking, mountain biking, or backpacking, everyone wants to discuss the "kit." These conversations seem to crop up most frequently in the sport of long distance backpacking and thru-hiking.
Not only do you have to carry everything you own on your back, but you use these items continually for months on end. Extras are unnecessary and every piece of gear serves at least two purposes. Everything in your pack is important.
As much as I would like to give a nice long list of everything we carry during these adventures, I've decided to forgo that temptation. Most of the things we carry look similar to what other hikers are carrying and with one Google search you will quickly see why I've decided to avoid adding another piece to the growing tome of repetitious gear lists.
Instead, I would like to focus this article on just five pieces of our kit. These pieces aren't essential for you to be successful in the backcountry, but the rest of the crew and I find these pieces of equipment to be indispensable during our long distance backpacking efforts. In no particular order, let's take a look.
1. DIY Butt Pad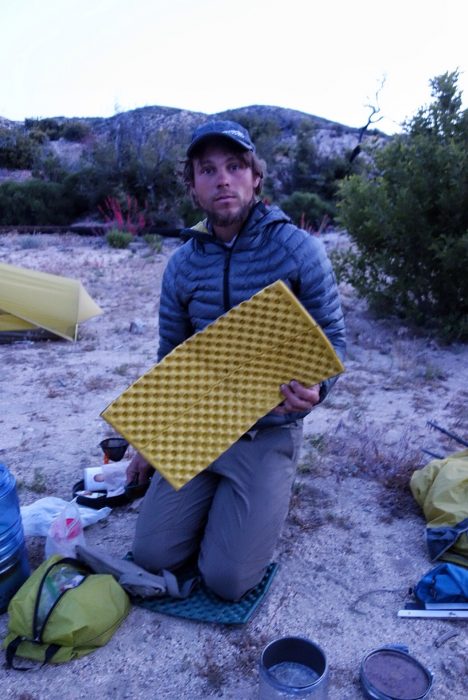 This badass piece of engineering speaks for itself. Not only is it free, after harvesting the foot section of your sleeping pad, but this puppy has more uses than I know what to do with. For starters, you just sit on it. Whether the soil is sandy, muddy, cold or hard this piece will literally save your butt. We never knew what we were missing until we started using this piece. Did I mention that it weighs only a few ounces!?
Some other solid uses for the butt pad include shielding the wind from your canister stove, adding a frame sheet for more backpack support or signaling helicopters in mountain rescue situations. This small item is a jack-of-all-trades. Did I mention it is practically free!? Literally, go find your foam sleeping pad, chop it down a notch, and then just be happy as a pig in mud. Enough said, you are welcome.
2. Air Bag
I don't know where to start with these humble little bags. The Granite Gear Air Bag has found its way into a variety of places in our kit. In many of our pictures you will see these bright sil-nylon bags hanging from our hips or tied to the top of our packs. As a lightweight reusable trash receptacle, they work exceptionally well! Before starting the trail, this was my only intended use for the bags.
I quickly realized how great they are for many other things besides just holding other people's trash. Obviously, a number of these bags are dedicated to "trash only" uses, but a handful have made it into our packs for snacks and clothing storage. I personally use one of mine as a pillow each night. The cost, weight, and function of these puppies are pretty darn sweet. We have a number of these bags on us at all times during this year's PCT thru-hike.
3. Mobile Mummy
If there was an essential piece of gear on this list, it would be this baby. The Sierra Designs Mobile Mummy is a game-changer in the world of sleeping bags. No longer is the sleeping bag just an item for inside the tent. This bag essentially transforms you into a mobile cocoon of epic warmth. The pee break during the middle of the night is no longer a dreaded task. In fact, I've found that my overall stargazing ratio has increased with this addition to our kit.
At just over 2 pounds for the 20-degree down model, this bag stays competitive with others like it. The two arm ports on the sides stay sealed exceptionally well when not in use and the two-way zipper allows users to vent the footbox while retaining core warmth. All in all, the added functionality of this warm bag makes it one of our most used pieces of gear.
4. Golf Ball
Yes, you are reading this correctly. A golf ball. What do you think this is for? Throwing at animals!? Sorry, try again. Putting eagle on a Par 5!? Closer, but not quite on it. To be honest, we find ourselves carrying a golf ball to help recover at the end of the day. During our hike of the Pacific Crest Trail we backpack well over 20 miles a day, every day, for roughly five months. Golf balls are an effective tool for massaging deep into the muscle tissue of the legs and feet.
Granted, this item is not truly essential, but after a series of marathon mileage days, digging deep into your sore legs with a golf ball helps us better tackle tomorrow's marathon day. Key spots we focus on while using this item includes the arches, calfs, and quads. Massaging around the beltline does wonders for tight hips, as well. If there was one item from this list you could opt to leave at home, it would most definitely be this guy, but I can't guarantee that it won't become a lightweight staple in your pack after a couple uses. Don't take my word for it, give it a try.
5. Trash Grabber/Scale
Ok, this one won't apply to most folks. As far as I know, we are the only thru-hikers on the Pacific Crest Trail using these items, but it might be nice if others started employing them too!
With the trash grabber weighing in at just over 6 ounces and our digital scale at 2 ounces, this 8-ounce kit is our primary workhorse on long distance cleanup efforts. The trash grabber allows us to remain as sanitary as possible when removing trash from the trails. It also saves our backs by allowing us to remain upright. Doing squats with a loaded pack will definitely give you some strong legs, but after about 150 squats for the morning, having the convenience of an extended arm is a welcome relief.
The purpose behind the scale is self-explanatory. We want to remain honest and legitimate with the pounds of trash we remove from the trail. This tool lets us do just that. Though to be honest, we hardly ever weigh the heavy things before carrying them out of the backcountry. We wait until after we get them removed to see how much the behemoth on our backs weighed.
Knowing the weight of the steel chunk on your back and how far you still need to carry it can mess with your head a little bit. So why not just avoid knowing as long as possible. This combo has remained critical in our cleanup efforts and at the end of the day, it has pretty much become a set of items that defines Packing It Out and what we are trying to accomplish.
I hope this list gives you some insight into what we like to carry on the trail. While we care about weight and have on more than one occasion found our packs weighing in at only 8 pounds, we don't find ourselves focusing too much on pack weights this year. Maybe this sentiment is because we are used to carrying additional trash weight or maybe the allure of hot coffee every morning has finally taken hold. Regardless of the reason, the five items above will continue to stay close for the rest of our journey north on the Pacific Crest Trail.
–Follow the crew on our 'Packing It Out' page. To date, the group has hiked 652 miles from the U.S./Mexico border to Walker Pass near Lake Isabella, Calif. Connect with Paul, Seth, and Chris on Instagram, Twitter, and their blog.