Jamming out on a bike commute or softly serenading by a campfire… the Buckshot Pro is my go-to portable speaker.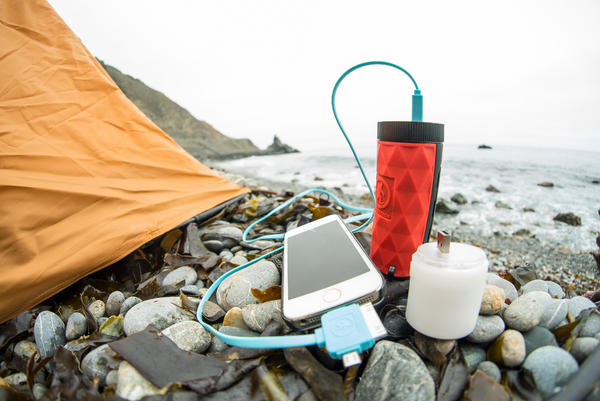 At $80, the Buckshot Pro is an ultimate electronic "multitool" for people serious about their outdoors fun — it plays music via a wireless Bluetooth connection, charges gadgets with an internal battery, and it has a light.
I reviewed it over several months and through all kinds of weather and situations outdoors. The product has become a favorite accessory in my pack.
Bluetooth Breakdown
The Buckshot Pro is a smaller device than your standard Bluetooth speaker; the sound quality, life, and range are likely not as good as your UE Boom, Beats Pill, or even Outdoor Tech's sturdier wireless musical standby, the Turtle Shell.
But that's not the point of the Buckshot Pro, which is lighter and more durable than at-home speakers. It's an on-the-go sound system ideal for mounting to your bike handle (durable rubber mounting band included) or sticking in your backpack for that night's campsite.
Add a light (which I found a little cumbersome) and a powerbank to make this something of a biking and backpacking multitool, and the sound quality is pretty darn good, too, especially given the Buckshot Pro's versatility.
Loud, Clear, Music
Sound quality was good given the tiny size of this speaker. Maybe my ears aren't trained to discern the extra crispness of a $200 speaker, but I never thought "oh, this sound quality could be better."
The volume went loud enough to fill my apartment with the Grateful Dead's "Throwing Stones" and to hear clearly every riff of "In the Evening" as I biked along the Mississippi River. The sound is directional, coming out of the end facing me (a nice feature that will maximize enjoyment while cutting down on noise pollution for other bikers, runners, etc.).
It also has a built-in mic, so you can hop on that conference call from whatever neck of the woods you find yourself in.
Light, Portable & Durable 
At less than six inches long, two inches wide, and seven ounces heavy, the Buckshot Pro is easy to pack and takes up about as much room in your backpack as a small flashlight.
Its rubber exterior is shock-resistant if you drop it, and it's rated IPX5 water-resistant, which means it will handle well in the rain but isn't cut out for SCUBA diving.
It seems durable, and lived through the rigors of use outdoors for several months of testing.
Light and Powerbank for Camping, Biking 
Attached to the end opposite the speaker is a USB port, where you can charge a phone, watch, headlamp, etc. in the backcountry. I was able to recharge my iPhone (a 4s with discharged battery) twice in addition to playing music for two hours and lighting up the tent for another hour while camping in sub-40-degree temperatures.
The light, which attaches to the USB port, has settings for lantern (handy to light a tent if you hang it from the upper netting), flashlight (bright enough to illuminate potholes on your bike ride) and strobe (vibrant enough to alert even texting drivers to your presence, or to confuse and subdue roommates when combined with EDM over the Bluetooth).
With a long turn-on time and toggling, it isn't your most convenient lighting option compared to a headlamp; I also found the rubber cover of the light moved easily, which put the pronounced spot for the power button and the actual power button, underneath, out of alignment. I had to futz with it to get it back in place.
Still, for the versatility of the device, the lighting options did quite well enough. Likewise, the power bank isn't the biggest or longest-lasting on the market; but those both, along with the speaker, work pretty well for an all-in-one package this small and sturdy.
Range, Battery Life Decreased
One note that might only resonate with original Buckshot users: the Pro's Bluetooth speaker has a shorter play/talk time (10 hours) and smaller range (32 feet) than that of its predecessor (16 hours and 33 feet). Again, the tradeoff is its versatility and the added features of a powerbank and light, which the original model lacked.
Bang For Your Buck
The Buckshot pro won't be the best speaker you've ever owned, or the brightest light, or the longest-charging powerbank… but that's not what Outdoor Tech was going for. The brand wanted a device that contained all three of those functions in an easy-to pack, super-durable package.
The company delivered with a remarkably good speaker at the helm. For under $80, this is a great value for anyone serious about camping and biking with music.
–See more at Outdoor Tech, where the Buckshot Pro sells for $79.95.