If you own an iPhone, there's a very simple way to make the device much better for night use. Read on to learn how to save your night vision by turning your screen red or green.
Three taps and my iPhone goes from normal to all red. I've used it this way dozens of times to maintain good night vision. It works for navigating digital maps in cars at night. It's great in any low-light situation. And the mode certainly eases stress in our marriage when my wife reads on her phone late at night.
Basically, it's one of the iPhone's best little-known features.
Here's how to use it for yourself.
iPhone Night Vision Screen Setup
The iPhone color shift is kind of hidden among menus, but you can set it up in just a few minutes.
Go to Settings > General > Accessibility > Display Accommodations.
Once you're in "Display Accommodations," you'll see "Color Filters." Click that, and you'll see a little line of colored pencils. Once you toggle the Color Filters icon to On, it gives you a few choices below.
Click "Color Tint" (shown below). Then, scroll down until you see the "INTENSITY" and "HUE" sliders. You can't capture the effect in screen grabs, but as you move the sliders to the right, it'll look a lot like the image on the right below.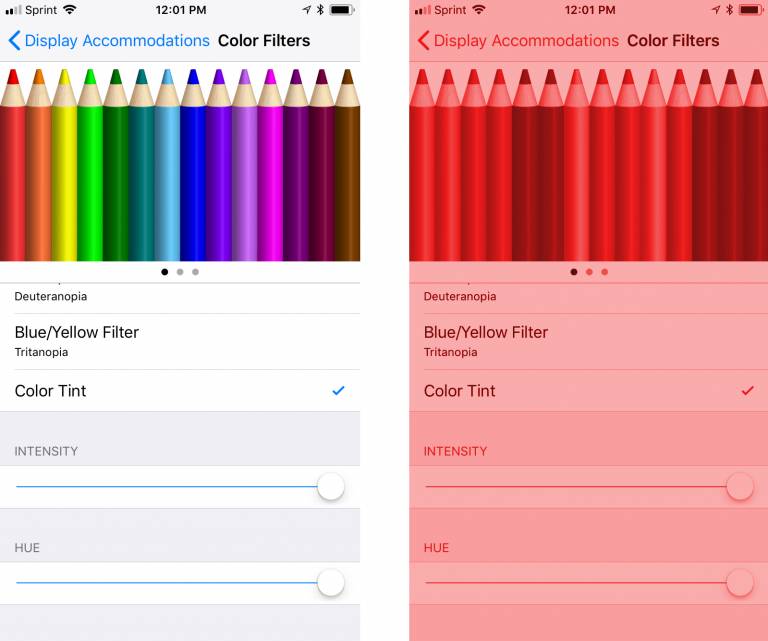 Now everything on your phone will read red, which is considered the best option for seeing at night. Green is another strong option and provides good color acuity. Pick whichever you like. Everything will look pretty weird, but once you get accustomed to it, the phone is entirely useful in this mode.
It's worth noting some icons won't show up or will appear strange. But I still have no trouble navigating the phone.
In this low-light mode, your eyes will not get shocked by a bright screen. Use it when walking a trail at night, sailing at dusk, reading in a shared tent, and any activity when you don't want to be blasted back to day mode.
So now that you've explored the mode a little, it's time to make it easy to access.
How to Create an iPhone Night Vision Shortcut
The instructions above are kind of a pain and hard to remember. So I set up this shortcut on my phone so I can use this every time I'm out exploring after dark.
Fortunately, it's easy as this: Go to Settings > General > Accessibility.
Go all the way to the bottom. Click "Accessibility Shortcut" and choose "Color Filters."
That's it! Triple-click your Home button (or the Side button on iPhone X), and it'll hop over to red (or other selected tint).
If you're like me, you'll find this feature extremely useful at night. Use it to let your partner sleep undisturbed as you use your phone at night. Keep your night vision, and enjoy the view of those stars!