---
Editor's note: We had this early sample board in testing for only one week, which isn't enough time for a full review. But we do have one planned, so stay tuned!
---
At some point in life, every one of us has been (or will be) a beginner when it comes to paddleboarding. And whether you jump on a board for the first time when you're 5 or 50, typically, and whether you have tons of other experience on water or none, that initial experience is the same for most:
Wow, this is fun!
This inflatable SUP feels wobbly.
Ah, this is peaceful.
OK, how the hell do I stand up?
In short: ISLE's latest paddle product is a feat of engineering: an inflatable SUP that mimics a hardboard when it comes to feel, rigidity, and stability. Why does this matter? More rigidity means easier balance, more stability, more efficient paddling, and the ability to paddle longer. And yes, I was skeptical too.
ISLE makes some big claims with its Pioneer Pro series, so I got my hands and feet on one for a first look at the tech. Did it live up to the brand's claims? Read on to find out.
About the ISLE Pioneer Pro
ISLE is claiming that its new Pioneer Pro model has significant, brand-exclusive material and construction changes that make it stand out against all other inflatable SUPs. But how?
The new material is called "Infinity fiber," the brand said. "[It] increases the rigidity of its inflatable SUP by 200-300%."
The material itself falls into the category of fiber-reinforced thermoplastics, which are incredibly rigid by nature. And the new construction, called "Airtech Prolite," of this board along with the material should also "eliminate common pain points" experienced with other inflatable watercraft."
First of all, short of renting a stiffness or rigidity testing machine (like from Inflatable Composites), there's no way I could scientifically test or prove these claims. But confirming those percentages is not really the point.
The biggest goal for me in testing — after seeing the material and how it's constructed in the board — was to see how this felt on the water. Does it feel two to three times more stable?
I wanted to (and did) touch it, stand on it, push on it, load it up with gear, and enthusiastically jump up and down. (Picture the trampoline scene from Big but on 5 square feet of paddleboard.) I wanted to be sure this new board material was significant enough to feel different, i.e. more rigid and thus better.
Because that's the only thing that will matter to the people who decide to buy this board.
Did it feel more rigid than the average inflatable SUP? Was it more stable underfoot? Was this paddleboard able to prevent the "taco" effect (when inflatable boards tend to sag or fold like a taco at the widest and weakest point, typically in the middle under the rider's weight)? We tested it to find out.
Pioneer Pro On-Water Stability Test
In the first testing session, I set my heart on focusing just on the rigidity of the board. I didn't need to go paddling very far to do that. So I replicated the testing scenario that ISLE had shared when it calculated rigidity: inflating the Pro board to 15 psi, putting it in a flatwater environment (no surf or waves), and jumping up and down.
Especially given the recommended lower psi, I was impressed. Jumping on the board and shoving off the shore, I was able to stand up automatically. And it felt good. I don't know how to quantify that other than (1) it definitely felt more rigid and stable than other inflatable boards, but (2) it still felt like an inflatable.
If I closed my eyes, I knew — beyond the comfort of the brushed EVA deck pad — that what was underneath was air, and not wood, fiberglass, or grass.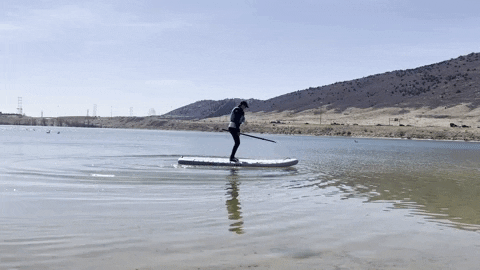 The next few times I took the board out, I was mainly paddling on it to get a better feel for its balance and stability. I also wanted to know if paddling on the board was comfortable and efficient (the more rigid the board, the more efficient each stroke is) and how the board performed after being out all day in the sun.
"I'd say it fell right between a standard inflatable SUP and a hardboard," commented one of GearJunkie's editors, Will Brendza.
"I could definitely tell it was more rigid (especially at a lower psi) than my regular inflatable SUP (at a higher psi). It didn't feel as rigid as a solid board, but for being an inflatable, I'd say I was impressed by the initial experience."
ISLE Pioneer Pro Construction
I've already mentioned the overall construction of this board, with the Infinity fiber material and Airtech Prolite construction. Basically, ISLE uses an inner rail, welded (not glued) overlays, then the Infinity fiber, then an external fabric (the outer rail). Outside of the rails, there's a pretty typical drop-stitch fabric, with Infinity fiber added in a strip along the top and bottom of the board.
Finally, I'll make a note that I did notice some blemishes, unevenness, and imperfections on the surface material of the board, specifically along the rails. Because I received an early demo/beta sample from the brand, I can only hope that the first production run of boards will be smoother when it comes to the fabrics and welded materials along the trim.
While the main purpose of the new materials and construction (welding versus glue, for example) is for user experience and rigidity over time, this also has other perks.
Ultimately, more rigid boards that can withstand more weight or longer use will also increase the product lifespan and keep materials like drop-stitch fabrics, plastics, glues, and laminates out of landfills. And, of course, this reduces the need to manufacture, sell, and ship new boards as often.
Final Thoughts
Overall, this board did feel much different than the standard inflatable SUP, especially in terms of its rigidity at a lower psi. Both myself and another editor were surprised when we read the recommended psi was 15. (And because ISLE did all its internal testing at 15 psi, so did we). I typically inflate boards to at least 16-18 psi, especially if I have more weight or gear on board.
Another important note here in testing is that I've reviewed and used multiple versions of the ISLE Pioneer (regular) and was able to do a direct comparison. I've also used several other boards that incorporate different welded overlays, as well as the most common material addition to inflatable SUPs for performance — carbons stringers (on the deck) or battens (on the rails).
Compared to these, namely the Red Paddle Co. Voyager MSL, it was harder to tell the difference as to which was more stable. That being said, looking at the construction, ISLE has done everything possible not just on the rails, but on the surface of the board to minimize any knocks to stiffness.
Jimmy Blakeney, VP of Product at Isle, even commented that adding the Infinity material fiber specifically to the rails is what gave the board "a dramatic increase in rigidity."
I anticipate that usage of the Pioneer Pro over time (frequent use, under a more constant or heavier weight) is where we'll see the real construction changes and benefits of this board's claimed rigidity.
I do look forward to seeing an option like this on the market for all the taller, heavier paddlers out there who want a better-riding inflatable option in general, and for all the performance-minded paddlers out there who don't want to sacrifice anything, but still want a small, easy-to-store SUP package.
Pioneer Pro Availability
The Pioneer Pro Series comes in three lengths (9'6″, 10'6″, and 11'6″) and will retail starting at $895. We tested the middle-size board, which has a max weight of 325 pounds; the 11'6″ option can hold up to 450 pounds. There is also a longer Explorer Pro model line with 12-foot and 14-foot models.
The new ISLE Pioneer Pro models are available as of May 2, 2023.
Check Price at ISLE