Whether heading into the backcountry or lighting up the night while car camping, we've found the best camping lanterns for every use and budget.
A good camping lantern is an outdoor essential. It's a major help while cooking, is great for nightly camp games, and sets just the right outdoor ambiance. Sure, you could just use a flashlight, but a lantern lights up the entire camp and makes two-handed tasks easier.
While there isn't a single best lantern for every camper, we've broken the list into handy categories to help you identify the best lantern for your use. If you're totally in the dark about what you're looking for in a lantern, check out our buyer's guide and FAQ section to better inform your decision.
Scroll down to see all of our top picks, or jump to the category you're looking for:
The 11 Best Camping Lanterns of 2022
Do you need a pint-sized lantern that packs a big punch? The Ledlenser ML6 ($100) is just the thing you need. We've been testing this packable light for over a year, and it has continually impressed.
At 7.8 inches tall, it easily fits in the palm of your hand. And it can pump out a powerful 750 lumens. That level of light is great for precise tasks, but generally, we use it at a much lower light level. This means your battery will last much longer.
The ML6 charges quickly via USB. It takes about 5 hours to recharge, and we get a solid weekend of camping on a single charge.
We also really like the varied options for hanging this lantern. You can choose from a metal hook on the bottom base plate, or use the malleable rubber loop on top.
That rubber top loop can come undone, which is nice for easily hanging it on a branch or rope. But since it can become removed completely, beware of misplacing it.
Lastly, the ML6 earns top marks for durability. My toddler is very fond of this light and has repeatedly dropped it. Despite this rough handling, it still shines brightly and functions perfectly.
At 100 bucks, it's not the cheapest option around. But, if you're looking for a bright, portable, long-lasting lantern, this is a winner.
This palm-sized light has continually surprised and impressed us. It has reliably worked every single night for many months and pumps out a comfortably bright 350 lumens.
The bungee cord makes it easy to hang in any location. And the small size means you can quickly grab it to use as a flashlight when needed. Hold the button on the side to brighten or dim the light.
You can also switch between a strobe setting and a colored-light option. It takes a few tries at first to move through its dimming and other settings, but it's easy enough once you get the hang of it.
There is an app you can use to control the settings on the Cairn XL ($100), but we honestly haven't used it much. I'd rather not be on my phone while camping and much prefer the simple button on the side of the light.
You don't have to worry about rain or dirt, as it has an IP65 waterproof rating, and it has proven very durable while testing. We've repeatedly dropped it and have seen no damage or loss in performance. It also doubles as a charging station, with a USB port and the ability to charge a phone up to four times.
All in all, this is a feature-rich lantern in a small package that's great for car camping, van dwelling, or backyard hanging.
Check Price at AmazonCheck Price at Backcountry
This tiny lantern packs a big punch, yet goes surprisingly easy on the wallet. Weighing in at just 3 ounces and measuring 3 inches around, there's no reason not to bring it along just in case. It runs on three AAA batteries, and the dimming switch allows you to make quick adjustments.
With a 100-lumen max, it's not the brightest light on the list, but the Moji lantern ($25) gets the job done. It not only stands up to rain, but it also can be fully submersed and will keep on ticking.
Per the manufacturer, it lasts up to 70 hours on low. But don't expect to get that much out of a single battery supply, as you'll surely want to use a higher setting in camp.
This little lantern is our top pick for hanging in the tent. Its lowest 4-lumen setting makes a good nightlight, too. Whether backpacking, car camping, or looking for an ultrapackable emergency light, the Moji is a durable and useful bargain.
With more than 5,600 reviews, it's clear that this battery-powered lantern ($26) is a fan favorite. It runs on three D batteries and has a max output of 1,000 lumens. Plus, it has four lighting settings, and you can remove the cap to make it smaller or shine a more directed beam of light.
We've splashed water on it without any issues, but we don't recommend letting it sit out in the rain or become submerged completely. At a little over 7 inches tall and about 3.5 inches wide, it won't take up much room in the car or tent.
The nice thing about a battery-powered lantern is that you don't need to worry about charging it up. The downside is it burns through batteries if used often. It ran anywhere from 10 to 14 hours during our testing before needing a fresh set of batteries.
If you plan to use it infrequently or use rechargeable D batteries, it's a great option. But if you plan to use it every weekend, a rechargeable or solar lantern is probably a better pick.
Best Solar Backpacking Lantern: Goal Zero Crush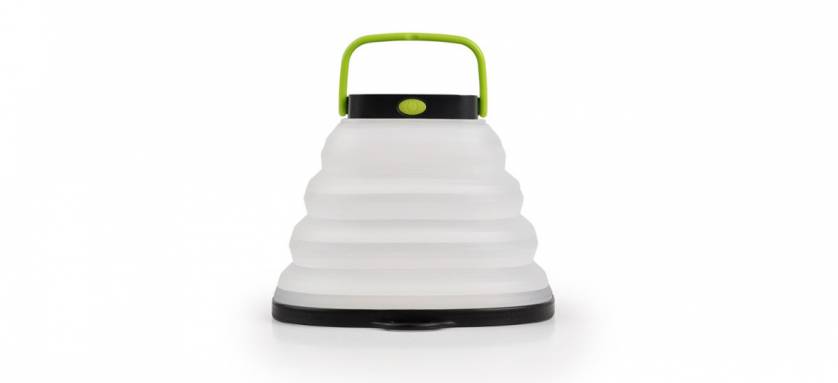 Looking for a packable solar light that won't break the bank? Then it's time you met the Goal Zero Crush Light. At just 20 bucks, it's a great value. The 60-lumen max output isn't wildly bright, but it offers a pleasant, useful glow around your camp.
It weighs 3.2 ounces and collapses neatly to take up very little space in your pack. And you can recharge via USB or simply set it outside and let the sun work its magic.
It has a claimed max run time (on the lowest setting) of 35 hours, but the longest we've gotten is 28 hours. It's never been a problem camping, though, as we just set it out each day to top off the charge. The Crush Light is a solid solar light and a great choice for backpacking.
Best Lantern Flashlight Crossover: EJ Case XTorch
With humanitarian roots and a utilitarian design, the XTorch ($56) is a unique illumination option for use at home or a campsite. We have been testing it for about 2 years and are happy to report the product has held up to use and abuse. It's a handy light that does double duty as a lantern and a phone charger.
The company, based in Minnesota, calls the product a "tough, reliable, solar-powered flashlight, lantern, and back-up cell phone charger for off-grid and just-in-case emergency use." That's a bit of a mouthful, but it sums up the hybrid product's feature set.
The design is clean despite the bells and whistles. The manufacturing is high-quality, with smooth lines and strong materials like silicone USB covers and a polycarbonate case.
XTorch lights are used around the world with nonprofits and other organizations involved in disaster relief, refugee aid, and humanitarian outreach. The company donates 25% of its annual profits to help fund donations to international partners.
The LED flashlight has multiple modes, including a 400-lumen high beam that cuts a path into the night. Set the light on its end and you can use the side lantern, a small 100-lumen LED that brightens a room.
Rugged and water-resistant, the unit is 8.5 inches tall and weighs about 9 ounces. A solar panel on the side lets you charge it in the sun.
Check out the XTorch for a neat hybrid option. It's a quality product that's also involved in a good cause.
This little candle-powered lantern ($30) is a must-have for your emergency kit, bugout bag, or go-to camp kit. It's extremely easy to use — just slide the glass down and light the candle for instant light. The included reflector clip directs the light where you need it most.
A single candle burns for nearly 9 hours, and the spring-loaded system keeps the flame at a consistent height. It does get hot, so use caution when extinguishing or moving. It packs down to 4.25 inches long and weighs just 7.2 ounces.
The neoprene case keeps everything protected during transport and makes it a convenient addition to your camp kit. We've used one exclusively at camp when desiring a classic, soft firelight. And it's always in our chuck kit just in case.
It's also a top pick for emergency preparedness. Whether you live in a hurricane zone or have frequent blizzard-induced power outages, it's a good idea to have a backup light available. The UCO Candle Lantern is an affordable, easy-to-use, reliable option for both camping and emergencies.
This has quickly become one of our favorite camping lights ($50). Ten individual light pods are spread across 18 feet of braided nylon cord, allowing you to light up a large area. It charges fully in about 8 hours via USB or 16 hours via solar. We recommend charging it up prior to camping and then using solar to keep it topped off throughout.
We particularly like the way these lights store in themselves. Simply wrap the string lights into the solar base and twist closed. Pro tip: Be sure to avoid too many overlapping bulbs or it will become too bulky to close.
We've used these string lights nearly every day for many months, and they're still going strong. The color is a pleasing, warm light yellow, and we've been impressed with how bright it gets on the highest setting. A favorite option for adding a bit of camp ambiance or brightening up the backyard.
This handy little lantern ($70) runs on isobutane (just like your favorite backpacking stove) and doesn't take up much room. It weighs just 7.4 ounces and measures about 4.5 inches around.
We found the light output particularly pleasant, yet plenty bright to complete all our camp chores. It has a max output of 490 lumens and will run about 10 hours in warm conditions. Similar to stoves, the run time decreases in colder weather.
It began raining while we were using this lantern, but it never went out or had any issues. Being made of glass, it is susceptible to breaking if dropped. But the included hard carrying case will keep it safe when packed.
We used it for a week straight while renting camping gear and appreciated the easy light piezo ignition, warm light output, and easy packing design.
Check Price at BackcountryCheck Price at Amazon

No lantern review would be complete without this classic Coleman lantern ($40). If you've never used a gas lantern, it's important to make note of a few things. First, in lieu of light bulbs, it uses mantles that fill with fuel and burn brightly. The glass can become extremely hot, and caution should be used when handling it.
That said, it's a solid lantern that will last for years. And it clocks in at just $40. The dual-mantle design pumps out 1,000 lumens on high. It will run for nearly 7 hours on high before needing a new fuel canister. The green propane cylinders run $43 for a pack of four. While this isn't outrageously expensive, it does add up and should be a consideration when lantern shopping.
We found it easy to thread the light onto the propane cylinder and appreciated the footed base that prevents tipping. It's worth noting that you will need a match to light this lantern.
If you don't mind paying a bit more for a version that comes with a carrying case and an autostart piezo igniter, check out the Coleman Deluxe PerfectFlow with Carrying Case ($55).
Check Price at AmazonCheck Price at Walmart
Why You Should Trust Us
While putting this list together, our lead tester was living off-grid and relying on a lantern every single night. To determine the best of the best, these lanterns underwent months of testing and thousands of light hours logged. The lanterns featured here are the top picks that will stand up to constant use and abuse, from the rigors of packing and unpacking to the perils of rolling around in the back of a car.
While testing, we paid particular attention to light output, battery life, and ease of use. We also kept an eye on durability, packability, and overall value.

Buyer's Guide: How to Choose a Camp Lantern
Electric vs. Gas-Powered Lanterns
Choosing between an electric and a gas-powered lantern comes down to what features you prefer. Electric lanterns are quiet, lightweight, and safe to use inside a tent.
However, alkaline batteries lose about half their capacity when temperatures drop below freezing, and rechargeable batteries may not last on multiday trips without a recharge.
Gas-powered lanterns are bright, have a long burn time, and work well in sub-freezing temperatures (the runtime drops, but not as much as when using alkaline batteries). Because they use a live flame, they are hot to the touch, need to be used away from flammable materials, and require ventilation. They are also more fragile than electric lanterns.
Lumens
Lanterns need to be bright enough to light up an area, but not so striking that they'll temporarily blind you if you accidentally look at them. Most lanterns have a lumen output somewhere between 200 and 500 lumens. This is more than enough to light up most camping spaces.
If you're looking for a more pleasant glow, 60 to 100 lumens will work well. Electric lamps under 60 lumens work well for use inside a tent.
Weight and Packed Size
Consider how you will be using your lantern. For car camping, weight and packed size are not going to be an issue. If you plan on packing your lantern into the woods, however, you're going to want something lighter that won't take up much pack space. If you're going backpacking, look for a small or collapsible lantern.
Many backpacking lanterns are also lightweight, so you won't have a problem finding one that weighs under half a pound. Quite a few in this list fit those categories.
Battery Life
If you're going with an electric lantern, battery life is a consideration, especially if you're going to be in the woods for a few days or more. Many lanterns will give you 5-10 hours on high, with longer times in the lower settings.
It pays to carry extra batteries on your trip if your lantern uses disposable batteries. If you have a rechargeable battery, bring along a portable battery or solar charger to top off your lanterns between uses.
Ease of Use
For the most part, electric lanterns win the prize for ease of use. They turn on with the push of a button and the brightness is simple to adjust. Gas-powered lanterns require a bit more work with applying the fuel canister and lighting the wick.
Extra Features
Many lanterns offer additional features, such as the ability to charge your electric devices and doubling as a flashlight. These are perks but aren't real game-changers when choosing a lantern.
The most important features that we've found are ones that enhance the lantern's main function. Look for lanterns that are water- and dustproof, ones with multiple dimming settings and integrated solar chargers.
FAQ
What Is the Best Camping Lantern?
The best camping lantern is the one best designed for how you plan to use it. Look for a lantern that's bright enough to illuminate your camping space and one that is simple enough to use after a long day of hiking.
For backpackers, a lightweight lantern that doesn't take up too much pack space is ideal. Also, an electric lantern should be able to give you several evenings of light without requiring a recharge.
How Many Lumens Do I Need for a Camping Lantern?
For most campers, 100 lumens or above is enough to light up many camp spaces. If you prefer a more gentle glow, 50-75 lumens will be enough. Electric lanterns under 50 lumens are good for in-tent use.
What Is the Best Lantern for Power Outages?
For occasional use, a brighter lantern with replaceable batteries will work well. Replaceable batteries are ideal for situations in which an external charging source is unavailable. Candle lanterns will also work well, as they don't require any fuel besides the candle.
What Is the Best Coleman Lantern?
We're fans of the classic Coleman Lantern. For $40, Coleman has made a solid lantern that will give you years of use. It produces 1,000 lumens on high, and it will run for 7 hours on high before you need to switch containers.
What Is a Lantern Mantle?
Lantern mantles are ceramic mesh sacks that encase the flame in gas-powered lanterns. They keep the flame small and contained inside the lamp.
How Long Do Lantern Mantles Last?
If you take care of it, a lantern mantle can last years. You can lengthen the life of the mantle by not dropping or shaking your lantern excessively and by not exposing it to strong wind without the globe attached.
---