Festivals? Group Camping? 'Polyslumbering?' These tents zip together, and sport built-in air mattresses and sleeping pads. Build yourself an ever-expanding camp tunnel!
With a name like RhinoWolf, you'd expect a brand to make something gnarly. Well, this product certainly is… interesting.
Live on Indiegogo, the RhinoWolf modular tent claims to take the "hassle out of camping" by integrating an air mattress and sleeping bag into the design. And with its unique ability to zip onto other RhinoWolf tents, it helps relieve that other camping nuisance: Privacy.
RhinoWolf Modular Tent
On paper, the RhinoWolf looks like an adequate tent. It's a one-person sleeper made of 15-denier ripstop nylon. It measures 85″ x 27.5″, sports 38″ of headroom, and weighs about 5.5 lbs.
It uses only one pole, which is interesting/questionable, and doesn't have a rainfly. The tent body is "wind proof and rain proof." Two large mosquito net doors offer cross breeze and have covered vestibules.
Then you find out it also has a built-in Klymit Static V air mattress, advertised to inflate in "just 10-15 breaths." It happens to be a great sleeping pad. We've tested the insulated version, and loved it.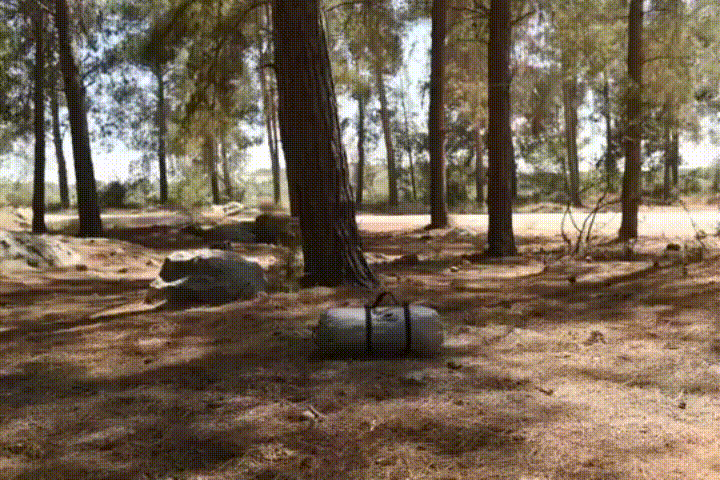 Which is good, as the pad plays an integral part of the tent. The instructions for setting up the tent suggest the air mattress is crucial to the integrity of the tent's construction:
 Unpack and unroll RhinoWolf.
Thread the one rod through the loops.
 Inflate the air mattress.
That's not all, RhinoWolf also throws in a duck-down sleeping bag. OK, actually, according to the brand, "The RhinoWolf sleeping bag isn't really a bag at all. It's more of comfy blanket that zips right in, putting you in snug town."
That sounds delicious — next stop, Snug Town! The sleeping bag comfy blankets come in 40, 25, and 14-degree F ratings.
Now, all that hyperventilating and snug town talk probably has you crossing the sparkle bridge to Dreamland. Don't worry, RhinoWolf has just the thing to keep you from snoozing through your entire camping getaway: Sharing your tent with an unlimited number of friends and family!
The RhinoWolf's modular design lets users zip them together with other RhinoWolf tents. So where once you were shielded from the elements in a cozy nylon cocoon, now you have a potentially endless tunnel of other people to keep you company.
All joking aside, the RhinoWolf probably has a market among "festifarians," backyard sleepovers, and possibly groups of friends and families. It's live on Indiegogo now at nearly 50-percent off its retail price — which is a lot. Depending on the temp rating, RhinoWolf will retail between $539-$619 ($359 for the tent with no mattress or blanket).
Sweet dreams everyone! Now who's snoring?