I took the White Duck Regatta Bell Tent to elk camp and put it through all the rigors of three hunters eating, sleeping, and working for 10 days straight. Should you want one? In a word, yes.
Around midnight, the rain really picked up. I lay on a cot at 12,000 feet and could hear the rain lashing against the cotton fabric of the 13-foot White Duck Outdoors Regatta Bell Tent. And frankly, I felt like garbage.
I'd already been elk hunting for 6 days straight of a 10-day trip. My buddy brought a cold with him to camp, and sharing is caring, right? I had a sore throat and runny nose. But as I lay there on the cot, a Portable Buddy heater glowing in the dark, I felt comforted to have a dry, spacious, strong abode to fend off the storm.
If you've never camped in a canvas tent or "wall tent," these are a much heavier version of the common camp tent that most people use for backpacking or even car camping. And they've been around forever.
But with modern innovation and materials, tents like those made by White Duck Outdoors provide shelter like nothing else. Rock-solid, tall, and durable, these tents let you walk around, use chairs, or even have a fire in a big ol' stove. Welcome to "glamping," even if that's not your goal.
In short: The White Duck Outdoors 13-foot Regatta Bell Tent ($800) is a rock-solid structure. It repels wind, rain, and snow with no problem. The obvious downside is weight. This tent tips the scales at more than 70 pounds.
White Duck Outdoors Regatta Bell Tent Review
Tents from White Duck Outdoors scream quality. Just unpacking the Regatta Bell Tent for the first time, our crew noted heavy-duty materials. The tent stakes are nearly as thick as rebar but sharpened to a point and curved perfectly to hold a rope.
The rope supports are thick and reflective but attach to the tent with elastic, a smart touch that reduces stress on the tent.
The tent fabric itself — called "Dynaduck" by the brand — is an 8.5-ounce army duck cotton canvas with a water-repellent, mold-resistant, and UV-resistant finish. It feels tough but soft to the touch.
Two heavy metal poles, one in the center and one above the door, keep the tent standing. Many guylines hold the tent out and secure it to the ground.
To test the tent, I slept in it for 10 straight days with two buddies while elk hunting in Colorado. Nights dipped below freezing while days were generally about 60 degrees Fahrenheit.
We faced rain, heavy winds, and hot sun.
The White Duck Outdoors Regatta Bell Tent we reviewed was nearly flawless. We had no condensation inside, even after a long night of rain. A Portable Buddy heater kept the tent plenty warm enough to remove the chill in the early mornings and late evenings.
We tested the 13-foot model, which proved about perfect for three guys sleeping in cots. We also worked in the tent during the day, sitting at camp chairs while making calls and working on computers. It made for a good workspace.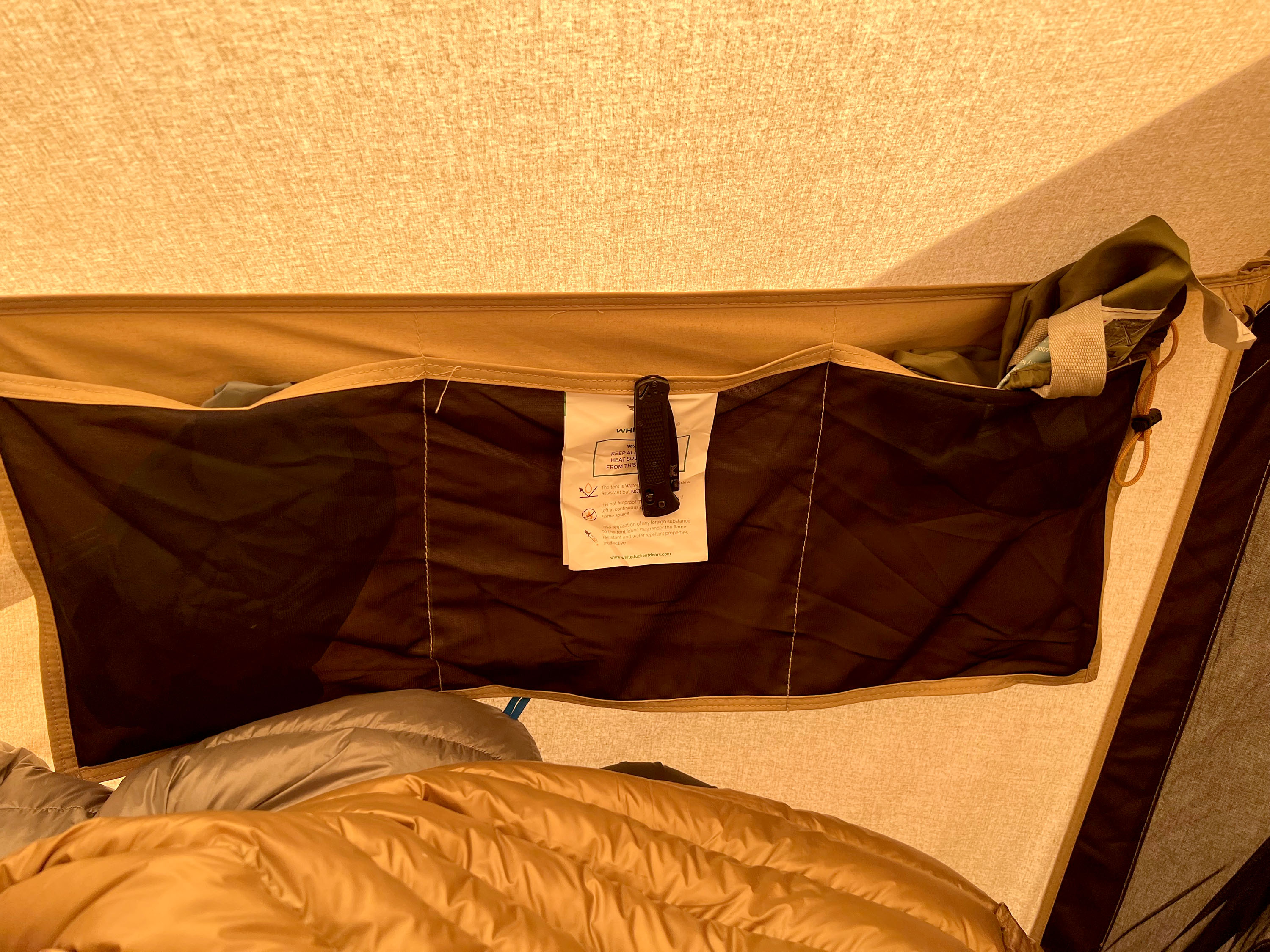 Without a full-size wood stove, the 13-foot model would work for four people sleeping on cots. Any more people and you'd probably want a larger model, especially if you have gear to stow in the tent.
Regatta Bell Tent Awning
We also tested the optional awning ($200) for the Regatta Bell Tent. If you can afford it, this addition is really nice and versatile.
As the brand notes in its instructions, you can set it up in a "multitude of ways." And we did, adjusting the angle and configuration depending on the wind, sun, and precipitation.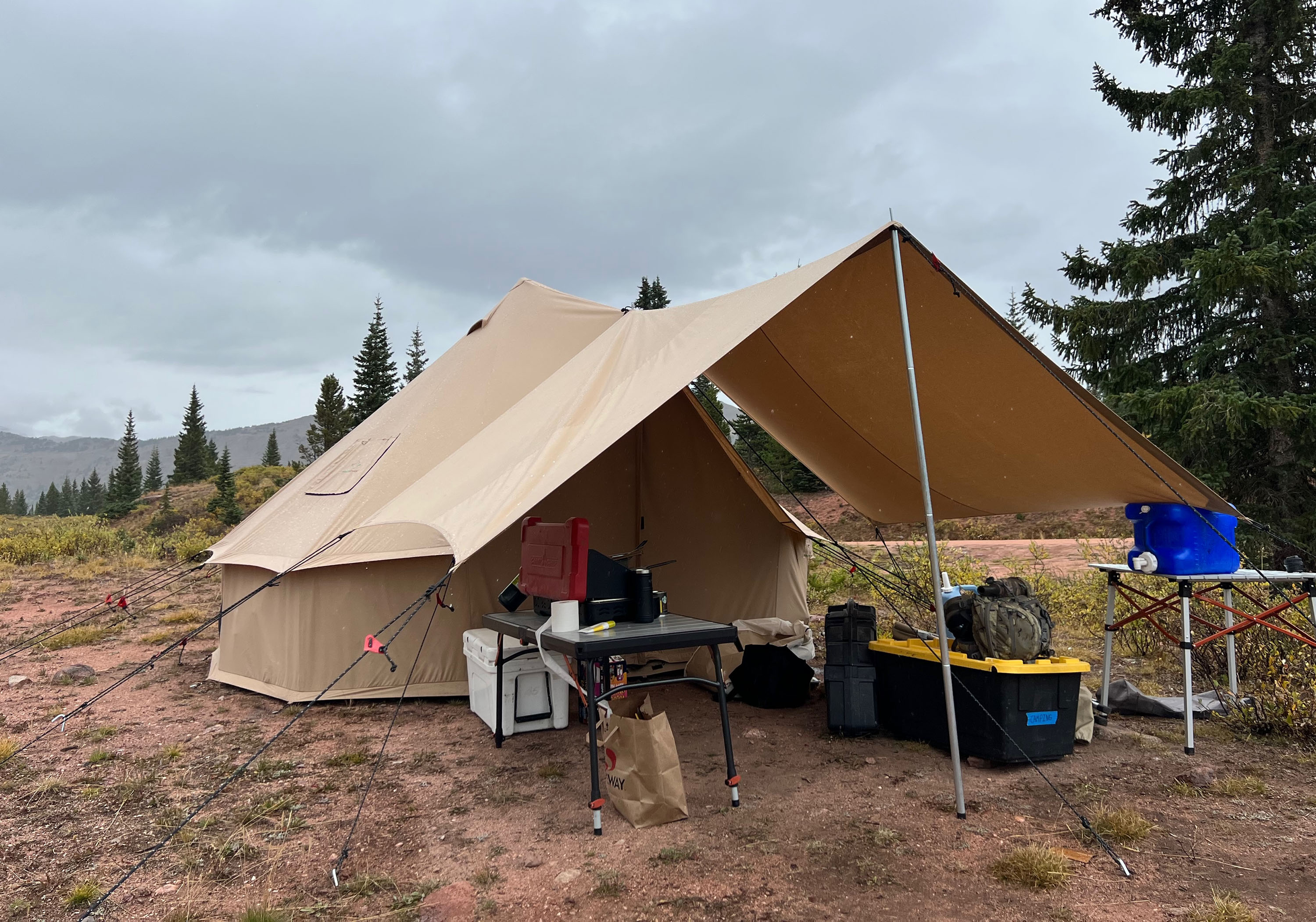 It gave us a large footprint to set up a table for cooking as well as a dry place to store a lot of hunting gear. This helped keep the inside of the tent uncluttered, which was a nice bonus.
You can set up the awning alone, without the tent, thanks to the three included poles. The 13 x 8-foot trap provides a large, useful space.
Camping Tent in a Storm
One night, we dealt with seriously high winds. Camped at a pass around 12,000 feet, a storm blew in and whipped the tent through the night. This did reveal one possible downfall.
Sometime in the middle of the night, the awning caught the wind. We didn't notice until we woke in the morning, but boy, did we notice then!
The awning had pulled a stake loose and flung it about 20 feet across the campsite. The awning was in a pile on the ground. But, thanks to redundancy in the lines, the tent did not come down.
Our primary concern in this situation is that if someone was standing near the tent, they could conceivably be hit by the stake. The large, sharp, heavy stakes could do some damage if flying at high speed.
This is a low-probability issue, but something to keep in mind if you're camping with one of these tents during very high winds.
Outside that long-shot situation, the White Duck Outdoors Regatta Bell Tent is darn near perfect.
We did not use a wood stove during our trip, so we haven't set up the stove jack yet. But it looks like an easy process thanks to the pre-installed pattern on the heat-resistant silicone insert. I'll update this story once we use the jack.
If you're in the market for a heavy-duty tent for hunting, cold weather, or as a glamping yurt, the White Duck Outdoors Regatta Bell Tent is a great option.
It performs a similar task as the REI Wonderland X tent but takes the big abode further with the ability to add a stove, more durability, and more space.
And at $800, this product seems like an excellent value that should last for many years.
Canvas type: 8.5oz. army duck cotton canvas
Fabric options: Water-repellent; fire- and water-repellent
Doors: 1
Windows: 3
Bug mesh: No-see-um mesh
Number of stove jacks: 1 heat-resistant silicone-coated 5″ & 6″ pre-cuts
Floor material: 7.5oz. biodegradable sewn-in PE groundsheet
Guy ropes: Polypropylene UV-resistant reflective rope
Frame material: Galvanized steel center pole & door pole
Door pole: 0.984" (25mm) diameter and 0.047″ (1.2mm) thickness
Center pole: 1.496" (38mm) diameter and 0.047″ (1.2mm) thickness
Roof vents: 4
Zipper: Top-grade waterproof 3-way zipper
Electric cable outlet: Included
Peg type: Heavy-duty solid galvanized steel
Rubber mallet: 1
Center height: 8'2″ (250 cm)
Door height: 6'6″ (200 cm)
Wall height: 2'7″ (80 cm)
Total weight: 66-71 lbs.