The GearJunkie-sponsored Team YogaSlackers competed in Expedition Alaska, a 7-day adventure race held last month, taking 2nd place overall. It was tough, technical, and remote beyond belief. Here's the gear that got them through.
Expedition Alaska delivered as one of the toughest endurance events in recent memory. It included by far the longest glacier traverse in adventure racing history, the most pack-rafting ever, and some of the hardest wilderness trekking in the U.S.
The week-long race included some of the most spectacular scenery, and one of the most wonderful finishes we've ever seen — after six days of constant travel through all kinds of terrain, the final day was spent doing the Mount Marathon Race in Seward, Alaska.
The event, in all, was among the most fun, challenging, rewarding, and beautiful races I've had the pain and pleasure to do. Here's the gear that made it possible.
Petzl Micro Traxion
I wouldn't normally lead a major story with a nerdy piece of rope gear, but it actually saved a life in this race.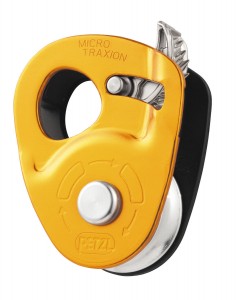 This tiny, 85-gram pulley has a cam to let you pull rope through smoothly and "capture" your progress. In one mode, it's a normal pulley, but with the flick of a switch, it only allows the rope to go through it in one direction. It's a crucial piece of gear for glacier rescue where you need to lift someone out of a crevasse. This is the most important piece of gear that made rescuing Team Vidaraid's Marco Amselem a breeze.
A member of our team, Jason Magness, brought the Petzl piece on a whim — it's usually part of his slacklining kit. We'll be bringing it, probably two of them, on any glacier in the future.

Enlightened Equipment's Revelation Elite DownTek Sleeping Bags
These are sleeping bags filled with specially-treated down that repels water. 
We've sworn by synthetic-fill bags for moisture resistance and warmth for years. We've been terrified that even hydrophobic down would succumb to moisture and lose fill and warmth. Well, no longer. Tempted by the hand-made, fully customizable bags from Enlightened Equipment, we finally took the jump.
We huddled in the bags for four hours (on an awful cliff during a whiteout) with not much cover and on-and-off showers, with no noticeable loss of loft or warmth. We used them a few more times during the race, and we were blown away each time. Our hat is off: Synthetic is dead, long live treated down.

Montane eVent Pullover Shell & Fireball Smock
These are our waterproof-breathable shells and synthetic puffys of choice. 
In combination, they let you stay dry and warm.
It turns out that the weather can kind of suck in Alaska. We braved serious weather of all kinds, trusting this ultralight layering system to provide extreme warmth and dryness when the conditions turned south.

Alpacka Stowaway Drysuit
This ultralight drysuit went with us on the pack-rafing and paddling legs in order to keep us warm in Alaska's average water temperature of about 37°F.
Ankle, wrist and neck gaskets keep the water out, and the warmth in. We even used them when trekking through the sopping-wet bush to keep our base layers bone dry (when crossing waist-deep rivers and bush-bashing for hours on end).
We did layer it underneath an extra waterproof shell top and bottom so that we didn't rip our mission-critical drysuits if we snagged somewhere along the way.

Alpacka Gnu Inflatable Canoe
One of Alpacka's latest inventions, the Gnu is an inflatable two-seater kneeling canoe that can handle class 3/4 whitewater (practice required!).
Super-fast (by packraft standards) on flat water, it stows in about 30 liters of pack space. Weighing in at ~8lbs undecked, they are a bit lighter than everyone carrying their own boat, and much faster.

Osprey Talon 44 Pack
A big, light-weight backpack to carry a lot of stuff. 
Alaska was an unusually gear-intensive race, and as such it required a much larger pack than we're used to racing with.
The Osprey packs we took were light, comfortable, and feature-rich, including ice-axe/trekking pole loops, bedroll straps, a roomy top lid and waist pockets.
The smaller-size members of the team switched out of them for cycling, though — the long torso length made helmeted-riding uncomfortable as the pack bumped up against the lids.

Foam Pads
We hastily chopped up a closed-cell foam camping pad to provide bash-protection for bushwhacking.
We ended up using these ugly blue pads for everything except that. Micro-pad for sleeping, check. Sitting on ice? Comfortable. Hypothermic patient just pulled out of the ice… way better than lying on backpacks and coiled rope. They were so light and handy, we'll probably wind up taking them on more expeditions in the future.

Prana Zion Pants
We've always wanted to test out everyday pants that boast technical features in a real wilderness situation.
Since we needed a technical pant for our glacier traverse, we decided to take the plunge and test the Zions. They are stretchy, abrasion resistant, DWR coated and easily the most comfortable pants we brought to the start line.
We were delighted with how much these "lifestyle" pants delivered when we put them through the wringer.

Montane Prism and Sabertooth Gloves
In this race, we needed both warmth and protection for our hands at different times.
Prism gloves are "puffy" gloves, which are designed to be light and warm, but not durable. The Sabertooths are designed to be moderately warm and very durable.
The Sabertooths were our go-to cold-weather bushwhacking gloves, and they were amazing. Warm when wet, durable, and comfortable. The Prisms came out for backup warmth — incredibly light and warm, but they would disintegrate if you fell on sharp rock.
Ibex Merino Wool Base Layers
No "must-haves" for cold weather would be complete without merino wool base layers.
Much of our kit is merino, which is warm when wet, dries quickly, and importantly for me is odor-resistant. GearJunkie athletes have relied on Merino garments for dozens of races over the years, and once again, it did its job well.
–Daniel Staudigel is a contributing writer and a member of Team YogaSlackers. The Bend, Ore., based squad took second-place overall in the Expedition Alaska Race.