Brooks Running Company teamed up with REI to launch the limited-edition National Scenic Trails Collection. For the last few weeks, we've been testing out the Cascadia 13 Pacific Crest trail running shoe for this review.
Brooks upgraded the stalwart Cascadia trail running shoe for its 13th iteration. Here, it improves performance on the gnarliest types of terrain.
The Cascadia 13 trail running shoe represents the Pacific Crest Trail in the new National Scenic Trails Collection. It sports improved underfoot protection complemented by an attractive design. For this update, it adds more cushioning, a rubber mudguard, and a gaiter hook for when things get dirty.
It's worth noting that, in performance, the Pacific Crest Trail edition is identical to the standard Cascadia 13.
In short: The Brooks Cascadia 13 for women and men offers runners an aggressive outsole best suited for soft soil like mud, grass, and gravel. This iteration has a slightly wider forefoot than the previous Cascadia, allowing for more toe splay. This model continues the popular Cascadia line with another strong showing for trail runners and hikers.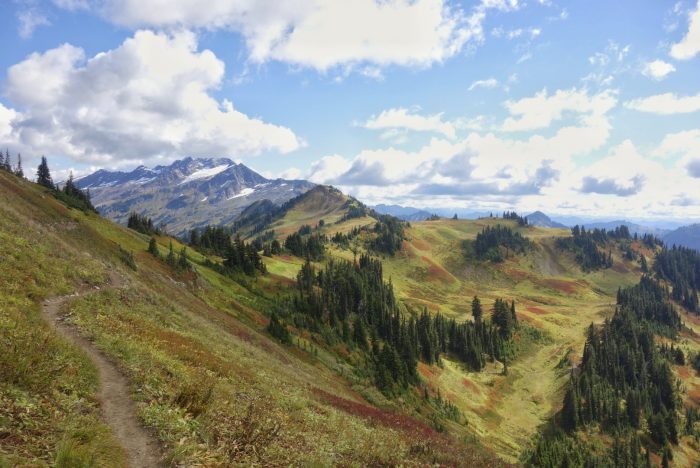 Review: Brooks Cascadia 13
Straight out of the box, these shoes appear made to tackle mountain miles. The thick sole and varied tread seem meant for off-road running.
Brooks integrated a 3D-printed rubber mudguard for extra protection against rocks and debris. The company also improved the fit with an internal saddle that caters to runners with wide feet and high arches. The brand says it made this change in response to feedback from buyers of the previous iteration.
On my first run, the shoes felt comfortable, offered the right amount of flexibility, and provided adequate foot support. They're a touch heavier than the previous model but remain in the lightweight category at 10.6 ounces.
The proprietary BioMoGo DNA midsole cushioning adapts to your stride while the PivotPost suspension system provides for improved toe flexibility when pushing off. The Cascadia 13 delivers a smooth ride with the right amount of softness underfoot. I never missed a step while traveling across grassy, gravel, and rocky trails decorated with tree roots and debris.
Off the Beaten Path
After many days of rain, I took the shoes out for a mud run. In this instance, I appreciated the added gaiter hook feature. The extra space in the toe box allowed for a grippy underfoot feeling.
The lace guard was effective at keeping the laces out of the mud. The mesh upper left my feet soaked after tramping through puddles, but Brooks offers a Gore-Tex version. The shoes navigated twisty turns with ease, and I slipped only a few times. Overall, I rate the traction as high. While not made for the slickest conditions, these shoes perform as excellent all-around trail runners.
No required break-in period was the best part. After a couple weeks of consistent trail running in the Cascadia 13, the shoes felt as comfortable as they had from day one. They also feel very true to size. While I like the widened toe box, the heel area could be a little snugger. (Runners with wider feet are likely not to notice this.)
Brooks Cascadia: Slow Your Roll
I'll be the first to admit: I'm not an ultrarunner. My runs usually range from 5 to 8 miles in length. But I run frequently, in varying weather conditions, and I truly enjoy insanely rugged terrain that makes many runners cringe.
I consider the Cascadia 13 a great choice for my runs, as the outsoles eat up the often muddy, clay-based soils found in my home state of North Carolina. Our local parks are riddled with rocks and tree branches. These shoes grip and propel you forward through debris as opposed to slipping, offering a balance of support and flexibility through the toe box when you push off.
Brooks Cascadia for Hiking
But if you're like me, you spend more time backpacking than trail running. The extreme comfort and out-of-the-box fit inspired me to challenge these shoes on an extended backpacking trip through Linville Gorge. Lo and behold: My hiking-specific Vasque GTXs have met their match.
After 13 miles on the Mountains to Sea Trail complemented by massive elevation changes, the Cascadia 13 remained comfortable and supportive. The rock guard did a great job at preventing sore feet, and there were no stubbed toes to speak of.
I tend to roll my ankles and typically prefer high-rise hiking boots, but these shoes have altered my perspective. The interior provided enough support that I never once encountered this problem.
Let's talk about ventilation for a moment. North Carolina summers are extremely hot and humid, and the mesh upper did a good job of letting my feet breathe. My socks weren't even soaked through — unbelievable! I imagine the Gore-Tex version might be less breathable, but if you run in warm, dry climates, the Cascadia 13 is ideal.
Our packs weighed in at about 50 pounds including climbing gear, and the Cascadia 13 bore this weight with ease. If you're solely a hiker or a backpacker, put these shoes on your radar. They'll get the job done without sacrificing comfort. And their light weight will leave you skipping happily down the trail.
While a 10-mm heel drop might seem like a lot, I'm a midfoot striker and found it fitting for my gait. A forefoot striker may have to adjust their stride, but I imagine all but the most extreme heel strikers will enjoy the steep drop.
Where these shoes fell short was on an approach hike up to Ship Rock across wet, slippery boulders. The rubber doesn't stick like traditional approach shoe rubber. And while they're not designed for this purpose, it's important to note if you're like me and prefer to buy shoes that serve a multitude of purposes. Save your approach shoes for wet boulders.
Run With Purpose
The limited-edition Pacific Crest trail shoe stands out thanks to a blend of bright blue and orange hues, topography lines, and a crest on the heel. The design reminds wearers of bluebird skies, vivid sunsets, evergreen trees, and the Cascade Mountains — all elements associated with the Pacific Northwest.
Purchasing the $130 limited-edition Pacific Crest Cascadia 13, available in women's and men's, supports the spaces where we love to run. Brooks' collaboration with REI includes two other models, the Appalachian Trail Caldera 2 and the Continental Divide Trail PureGrit 7, each for $120. I can't attest to trail performance, but the colors and designs for each pair are fitting.
In the outdoor industry, protecting public lands is a prevalent issue. And Brooks and REI have stepped up to the plate with the National Scenic Trails Collection, serving as a proud contributor to the cause.