Investing in gear can be a big decision. But knowing that a piece of hunting gear is likely to last your lifetime is helpful when shelling out big bucks for products.
Quality versus quantity: It's at the forefront of a lot of the buying decisions we make. Do we buy the cheaper item knowing it's likely to last one or two hunting seasons? Or do we invest in the quality piece that's going to last through an apocalypse?
There are certain products that stand the test of time. And yes, you'll likely shell out more money in the upfront investment.
But as the seasons keep coming and that piece of equipment keeps holding its own, well, the payoff is obvious. Perhaps, if you're lucky, that same piece of equipment will find its way into your children's kit. And their children's kit.
Here are our picks for once-in-a-lifetime buys. And while you're reading this piece, play a little Guy Clark "Stuff That Works" in the background. Just 'cause.
Legendary Outerwear
This company is pretty new — if you're using the entire time scale of the planet. Beginning in 1830, Woolrich began making wool-rich goods. And to this day, they're still some of the most bombproof outer layers in existence.
GearJunkie Editor-in-Chief Sean McCoy still hunts in his great-grandfather's 80-year-old Woolrich knickers. And Woolrich is still making wool gear of crazy-high quality.
The Buffalo Hunting Jacket is a more modern update of the classic wool coat, with a slimmer line and less bulk. Unlike some zippers, the button-up closure ensures the jacket won't lose functionality. Wear this coat and tip your hat to the granddaddy of camo: buffalo plaid.
See the Woolrich Buffalo Hunting Jacket
Y'all can go for GORE-TEX, layer all the midlayers in the world, the techiest stuff out there — and yet, old-school, 100-percent wool still holds up and can compete on many levels. These bibs will hold up through generations and keep you warm even if the things get soaked.
The brand is known for high-end gear that lasts and lasts. And if the Mackinaw bibs aren't up your alley, tool around Filson's site and lock into the right fit for you. And for my ladies, Filson has plenty for you as well.
See the Filson Mackinaw Wool Bibs
Since 1903, Stormy Kromer has been keeping noggins warm for the long haul. These affordable wool caps are synonymous with hunting culture. And they come in a wide variety of options and colors for men, women, kids, and dogs.
And tbh, who wouldn't want to match their pup? Your hat warms your head, your pup's hat warms your heart. And they both last a lifetime. As long as Fido doesn't turn his into a chew toy, it's a win-win.
Campware
Stanley put both "classic" and "legendary" in the name of this beast of a thermos. And it's not wrong. These things last a dang eternity. Plus, they keep your coffee piping hot. Like burn-your-mouth-in-a-treestand hot.
And lucky for you, the 1.1L thermos is 50 percent off on Amazon right now. Other sizes are available as well for whatever best fits your needs.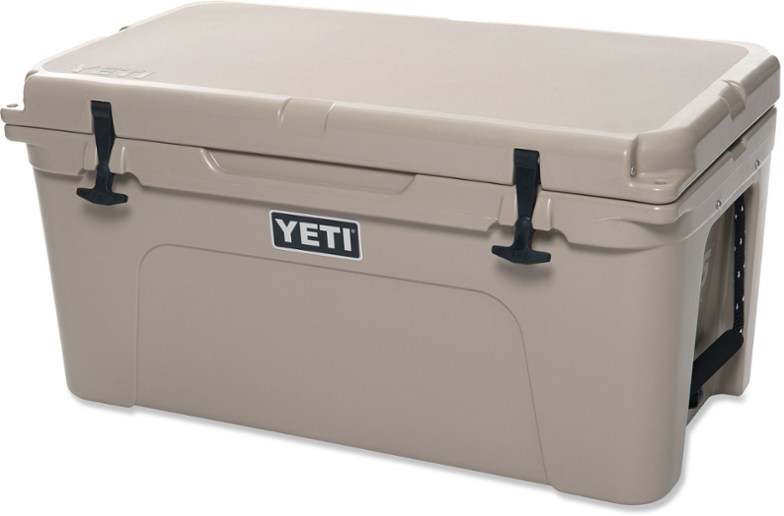 OK, so just a shot in the dark here. You probably haven't heard of YETI. They're a small boutique cooler company out of Texas. They make these coolers that are pretty insane. And I'm clearly kidding.
But YETI coolers are the business. They're not cheap, but they hold ice for days. And they'll be your best friend when it comes to protecting your hard-earned meat.
The stripped-down Tundra looks to be the kind that'll last for decades, but the jury is out with the company only being 13 years old. I've already had one for nearly a decade, and it's still as good as the day I got it.
Tools of the Hunting Trade
For under $1,000, you can put a really nice big-game rifle in your gun case. I've been shooting the Weatherby Vanguard Series II rifle chambered in .308 for 5 years, and I don't see any need to change it up for the (very long) foreseeable future.
Investing in a quality rifle and taking care of it ensures that you're able to fill your freezer in the long run. Or, if you're lucky, you might have a family heirloom rifle that continues to do its job in the woods. A few of my friends shoot guns that are decades old, and they're as solid as the day they were made.
See the Weatherby Vanguard series
The Remington Model 870 is the best-selling shotgun ever, and for good reason: It lasts, lasts, and lasts some more. Change out barrels and chokes, and it can be a turkey gun, a whitetail slug gun, or an upland bird machine.
Whether you buy the barebones version or dress it up, you'll have a great gun. It's available in so many gauges and so many barrel lengths that its versatility is practically unmatchable. And Remington has made over 11 million of them so far.
I inherited my pop's gun, and at 30 years young, the gun is as good as it ever was.
My friend Jared Frasier of 2% for Conservation recently handed me his father's bow. It was the original Mathews compound, and it still shot to perfection. "I'm gonna harvest a deer with it this year," he told me. And I'm pulling for him (pun intended).
It was awesome to see that original bow in such good condition after many years of use. And it makes me even more pumped to be able to do the same with my own compound one day. I'm shooting the Mathews Tx-5 for the first time this year. And with the vision of Frasier's bow in mind, I look forward to growing into it over the seasons.
Of course, the technology will get better, and I will likely shoot other bows. But that original Mathews is still capable. And that in itself proves the investment.
A Handmade Bow: Price Varies
If you're an archer and the trad world is enticing you into its time-honored grip, bite the broadhead and buy a custom-made bow. My favorite personal piece of heirloom-level hunting equipment is a 28-inch recurve I bought from bowyer Chester Floyd's shop RER Bows in Bozeman, Montana.
It's fabulously beautiful, fun to shoot, and effective. I'd recommend RER any day, but you'll find that bowyers like Floyd are often on a waiting list, and there are so many amazing artisans out there.
Loadbearers
I love me a Mystery Ranch pack. They hold up. I know because I've beaten the ever-living tar out of mine. Legendary pack designer Dana Gleason of Dana Design fame started Mystery Ranch, and I've seen 30-year-old Dana Design packs that still do their job today.
The attention to sewing detail, material, and carry comfort is unlike any other pack I've tried. I prefer the heavier, more durably built pack over the ultralight stuff simply because it doesn't fail. There's no skimping on materials to save ounces. And in the long run, it adds up. This is a great pack.
And! Mystery Ranch has a badass repair center that will fix your old pack up to loadbearing par. Plus, both men's and women's harnesses are available in so many sizes. They just kill it, you guys. Really.
Knives
Like guns, knives should be a given. There are plenty of awesome hunting knives on the market. But an heirloom-type knife is worth shelling out the bigger bucks for. And the Pinnacle I Skinner from DiamondBlade is our pick for that knife.
"Made with a process called 'friction forging,' the D2 steel blade is hardened to a crazy 65-68 on the Rockwell scale. That means it'll take forever to dull — and just as long to resharpen," explained Sean McCoy, knife connoisseur and GearJunkie editor-in-chief.
And there are a ton of beautiful options and engraving choices to choose from.
See the DiamondBlade Pinnacle I Skinner
The Pardue comes in at a bit lower of a price point, but it's still a great knife. A collaboration with knifemaker Mel Pardue brought this knife to life. And it has tough-as-nails CPM-S30V steel in a plain drop-point style.
I like fixed blades for longevity simply because there's less room for something to go wrong. Benchmade explains that there's some bushcraft in the blood of this knife, and it's certainly up to the task of hunting, camping, and whatever you'd like to throw its way.
See the Benchmade Pardue Fixed-Blade Knife
Quality Glass
The latest binoculars from the Maven line look to be superb for spot-and-stalk hunters. Investing in good glass (binos, scopes, gun scopes) becomes an obsession once you've sat behind the lens of really good product.
You really do get what you pay for, and setting aside some cash to put some good binos in your pocket can pay off in the long run, for both filled tags and tired eyes. Most of the B.5's are currently sold out, so act fast or wait up if you can.
But if not, Maven has a ton of great glass available on Amazon.
The Vortex Razor line is the brand's highest level of quality. And I have a few pieces of Vortex gear that have withstood the beatings I tend to give gear (i.e., I'm a gosh darned klutz).
What I love about this brand is its dedication to the customer. A friend of mine had a Vortex scope burn in an accidental fire, and the brand replaced it without question.
Plus, the gear is certainly rugged across the board. But if you're looking for that high-end, badass glass that's gonna last on its own — or will be backed by Vortex's very generous lifetime warranty if it doesn't — the Razor line is certainly where it's at.
See the Vortex Razor Spotting Scope
Another company with a killer lifetime warranty, Leupold makes glass that levels up your accuracy.
That certainly can be said with this particular riflescope. It sits at the high end of the brand's line. And if you're going to invest your cash in serious glass, why not invest in the glass that can best help you get it done?
Reviewers rave about the 2x-12x magnification system as well as the "stunning clarity" of this piece of equipment.