A peek at emerging products from the sometimes cutting-edge, sometimes quirky world of gear design.
[roundup-item]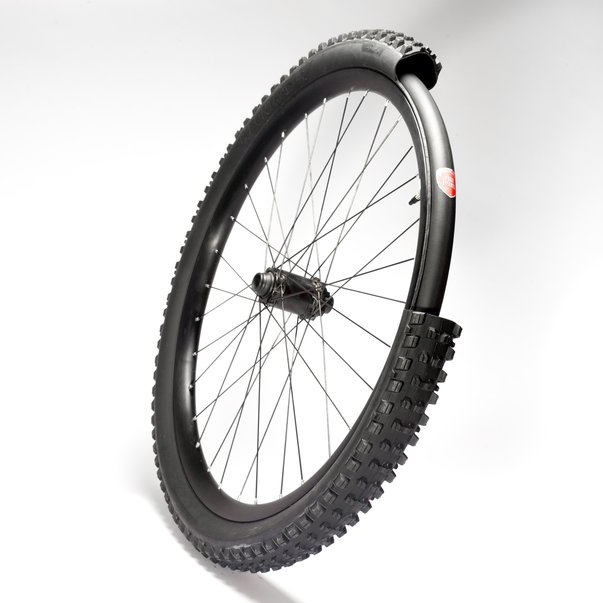 Flat Tire Defender
Crush downhill and enduro races with extra confidence. Co-designed with mountain bike champ Aaron Gwin, Flat Tire Defender is a closed-cell foam tube that sits on the wheel rim. The foam insert helps prevent flats and rim dings. It costs $110-$130 depending on wheel size.
[/roundup-item]
[roundup-item]
Pocket-Size Hammock
Load up to 400 lbs. in a tree-suspended lounger that weighs just 10 oz. Kammok's Wallaby hammock, available now for $65, is made of a light diamond-pattern ripstop fabric and packs up super small.
[/roundup-item]
[roundup-item]
Motorola Phone Walkie-Talkie
Turn your Motorola phone into a walkie-talkie that has a range up to 5 miles, even outside cell-service areas. The Linc magnetically attaches to the back of the Moto Z phone model. It uses radio signals and an app to offer talk and text modes anywhere in the outdoors. The Linc is available on Indiegogo for $100.
[/roundup-item]
[roundup-item]
BC Boot With 'Wiggle'
Tackle ascents on your skis with just the right amount of play. The Salomon S/LAB X Alp is a high-end backcountry boot with a cuff that enables lateral range of motion (12 degrees outward, 23 degrees inward), making climbs and traverses easier. The boots cost $1,000 when available next fall.
[/roundup-item]
[roundup-item]
Dial-Adjust Flashlight
Small and uber-bright at 900 lumens, the TW-950 from TacWare is an admirable torch. All TacWare TW-series flashlights fit in the palm of a hand and have a twist-to-adjust ring for dialing the brightness mode. We tested the mini lights and were mega impressed.
[/roundup-item]
[roundup-item]
(New) Old-Fashioned Axe
Make your ancestors proud using an axe that Grizzly Adams might have carried. The Council Tool "Saddle Axe" is built to be a basic, tough chopper. Small enough to carry in a saddle bag (hence the name) this axe is forged in the USA from 5160 steel. A 23-degree flat grind on the left blade allows shaving and carving, and a 32-degree flat grind on the right performs heavier jobs. Available at various retailers, like this one for $147.
[/roundup-item]
[roundup-item]
'Cabin Camping' In A Tent
Pack the family into a spacious tent big enough to stand in. Kelty aims at campers who want a little luxury in the outback. The $230 Camp Cabin, available in March, is a three-season, four-person tent that stands over 6 foot 4 inches and sprawls 62 square feet.
[/roundup-item]
[roundup-item]
Smallest Camping Lantern
It's 3.5 inches tall and weighs a bit more than 2 ounces. Goal Zero's smallest camping lantern to date, the Lighthouse Micro Flash, is now on the market for $24. The LED unit packs up to 150 lumens and on low-light mode, 170 hours of light with a single charge. We tested it on numerous outings and can attest that despite its size the lantern is enough to light up a large tent.
[/roundup-item]
[roundup-item]
Rolling Camera Backpack
Take your cameras and gear off the beaten path. The Think Tank Photo Airport TakeOff V2.0 is a carry-on roller case with integrated backpack straps. Unlike other rolling backpacks, this $370 modular case has customizable inserts to fit and protect a photographer's gear.
[/roundup-item]
[roundup-item]
Simple Bike Security
Secure your seatpost and wheels with a simple anti-theft bolt. The ABUS Nutfix system requires no special tools or keys. A security cap covers the locking bolt and only disengages when the bike is tipped on its side, which is almost impossible if the bike is securely locked. The $35-$45 Nutfix is available as a quick-release skewer, solid axle, and seatpost collar.
[/roundup-item]
[roundup-item]
Warmest Big Agnes Parka
Keep warm at the crag without breaking the bank. Big Agnes offers its warmest belay puffy yet at just under $300. The vertically-baffled Fire Tower Belay Down Parka has 700-fill, water-repellent down and weighs 680 grams. Available this fall for $299.
[/roundup-item]
[roundup-item]
Shoes Made From Refuse
Reduce litter in the seas with a new pair of kicks. Adidas Outdoors introduces the Terrex Climcacool Boat Shoe, knit with "Parley" yarn, which is made from recycled plastic pulled from the ocean. The shoes are designed to be breathable and grippy. Available in April for $140.
[/roundup-item]
[roundup-item]
Warmer With Less
Stay warm with minimum bulk. ExOfficio designed a family of garments with its SoWarm technology, which it claims has an especially high warmth-to-weight ratio. The women's Kelwona Hoody (pictured) incorporates tiny ceramic particles into the fabric that reflect heat back to the body. The $125 Kelwona, and other SoWarm garments, will be available in August.
[/roundup-item]
[roundup-item]
Bird-Spying Harness
Find and capture elusive avians with ease and comfort. The CCS Binocular and Camera Harness claims to reduce neck fatigue and pain while hauling bird-watching gear. CCS employs a patented lock system in its $189 harness to keep your gadgets secure and ready for quick action.
[/roundup-item]
[roundup-item]
Name That Bird (App)
Stop wondering what those tweets and whistles are. Song Sleuth works like Shazam, for bird songs. The $10 app, launched this month, can identify nearly 200 North American birds and offers curious users information like species characteristics, range maps, images, and sample songs.
[/roundup-item]