Thanks to the ingenuity of Argali's Kodiak belt, I'll never look at a belt the same way again.
Hunting gear is getting more practical and efficient at every turn. And it's the result of other hunters making the gear they've always wanted. These folks try to solve problems not only for themselves but for other hunters.
The Argali Kodiak belt was made with just that mindset. It's an efficient system that's so much more than just a belt.
So, what actually is the Kodiak belt? The Kodiak was designed to be the ultimate backcountry hunting field belt. On top of its lightweight, low-profile design, it also doubles as a knife sharpener. It has three knife-sharpening components and a hook sharpener.
It's fully functional to sharpen up any knife, broadhead, or hook. More on that later. The Kodiak is also equipped with a sleek capture system that ensures no slip.
The point is that the Kodiak will not only keep your pants up, but it'll also allow you to never pack a knife sharpener again — because you're wearing it.
Features of the Kodiak Belt
Lightweight, Low-Profile
A simple but highly appreciated feature of the Kodiak belt is its lightweight, low-profile design. This is an absolute must, especially when it comes to carrying a heavy backpack.
In the past, I've worn regular leather belts underneath the hip belt of my pack and come home with dang near cuts in my hips. That larger belt would dig into my skin with the added pressure of the hip belt on top of it. It would also make for a less than comfortable hike, sometimes even cutting off circulation.
With the Kodiak, that's a worry of the past. It rides fantastic with my pack whether I'm carrying 20 pounds or 80 pounds.
'Iron Grip': Easy to Put on and Take Off
Something unique to me was the Iron Grip Webbing Capture System that Argali has implemented in the Kodiak. It took me a bit to figure out how to actually use the belt buckle as a belt buckle, but once I did, it was super easy.
This system adds to the low profile of the belt and keeps things nice and neat.
All you do is put the belt through the front slot of the buckle. Tighten that to your liking, and the excess just sits there behind the main part of the belt. You can't even see it. It's a sleek and effective design.
800-Grit Diamond Plate
As far as the sharpening features of the belt, I'll start with the diamond plate. This is located on the back of the belt buckle and is 800-grit.
For knives that really need to be reshaped, this is the ticket. The diamond plate is a rougher surface for those more stubborn sharpening jobs.
It's where you'd start if you needed to completely reshape a blade edge.
Tungsten-Carbide Bar
Next — and my personal favorite — is the tungsten-carbide bar. This is located on the top edge of the buckle.
I land here most of the time because it's kind of a 'tweener in my opinion. It's not as rough as the diamond plate but more heavy-duty than the leather strop we'll chat about later.
Keep in mind, I tend to try and stay on top of my edge and not let it get too dull, which is why I usually land here. A few strokes on this are enough to get my blade edge back and put me back in business.
Vegetable-Tanned Leather Strop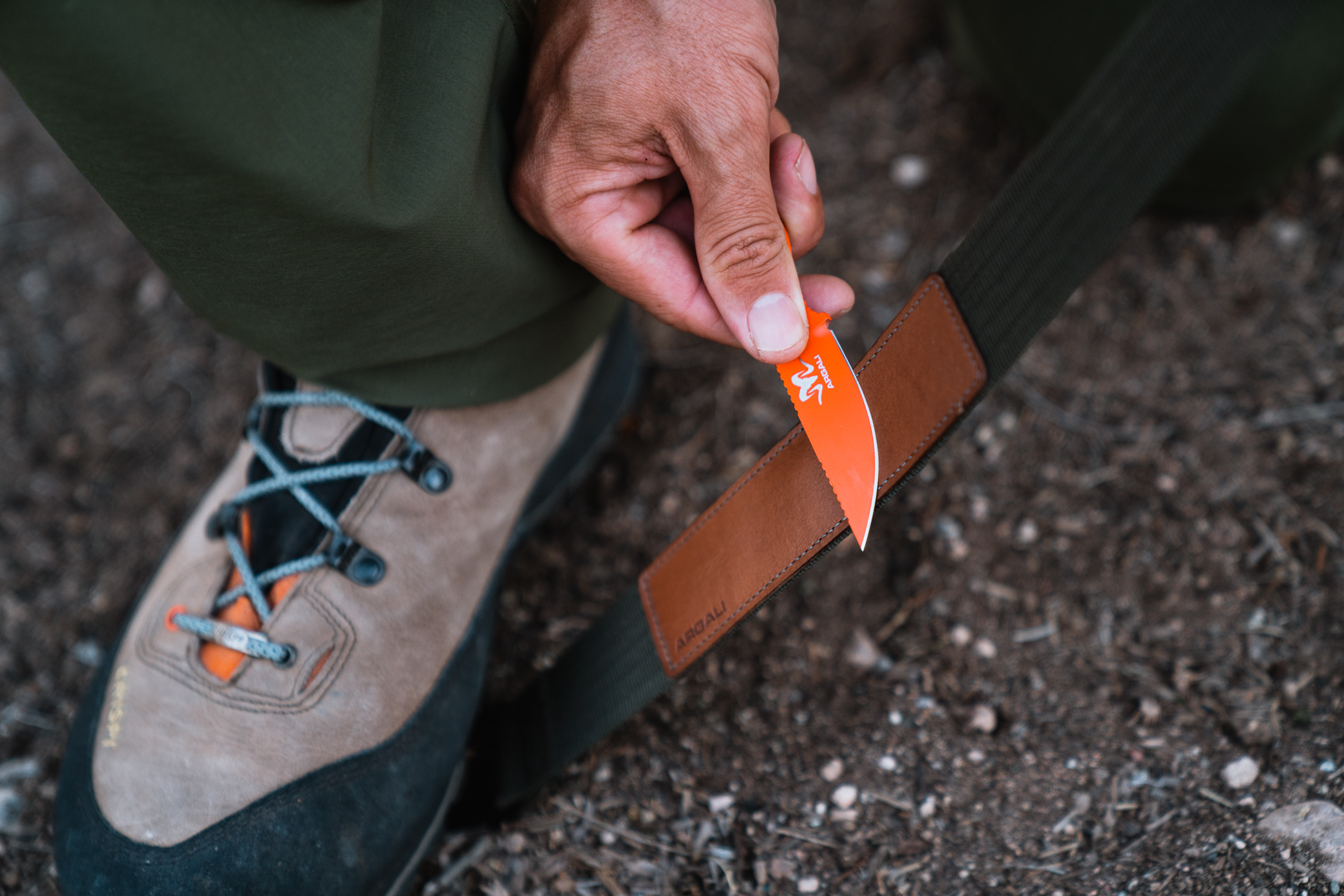 Next is a vegetable-tanned leather strop located on the outside of the belt next to the buckle. It blends in so naturally with the aesthetics of the belt that it honestly flew under the radar for me at first. The leather strop definitely isn't just for looks, though.
This is great for minimal sharpening jobs where one simply needs to bend that blade back to zero. Or it doubles as a fine-tuner after you've run the knife on one of the other surfaces. Either way, it's going to get your knife hair-popping sharp again.
Hook Sharpener
As a bonus, Argali also included a small slot for sharpening a fishing hook. This is located on the bottom end of the diamond plate and is perfect for whenever you might need to sharpen a dull hook out on the water.
Downsides of the Kodiak
Believe it or not, there are some downsides to the Kodiak belt. The first is how it works as a belt. It works just fine, but it definitely took some tinkering to understand how to actually put the belt on. It's not exactly self-explanatory, but once you figure it out, it's a snap.
Another thing to note is the lack of a bevel guide. When it comes to sharpening a knife, bevel angle is incredibly important. Without the right bevel angle, you might do more harm than good when trying to touch up a blade.
So, be sure to know the right bevel angle for your knife and practice achieving that beforehand to get the best results with the Kodiak.
Final Thoughts
When the chips fall, I'm absolutely stoked on this belt. New gear shoots out every year, and a lot of it is great. But it's not often that something truly stands on its own and screams innovation.
The Kodiak does just that, and I daresay it's the perfect belt for backcountry hunting. It's rugged, reliable, and ready. These are three must-haves for backcountry hunting, and that's why the Kodiak will go on more than a handful of adventures with me in the future.