Cockleburs and thistle, sideways snow and blazing heat, mud, sludge, cactus, and cold: the best women's hunting pants take a beating.
Women's hunting pants have to be comfortable while offering protection. They need to move with us while we traverse rugged terrain, keep us warm when the conditions get frosty, and ward off water when the clouds open up. During early season hunts, we require a pant that keeps us both cool and protected, a big ask from a piece of clothing.
You do not need a dedicated pair of hunting pants in the latest pattern from the biggest name. A pair of work pants, hiking pants, or in some cases, yoga pants will get the job done. My mother hunted wearing Levi's, and my father still wears the same style of Wranglers he hunted in when I was a kid.
However, the right pair of hunting pants, designed for your particular hunting conditions, can increase your comfort and capability in the field. The right materials, patterns, and shapes can make your hunt more pleasant and, in some cases, more successful. Be sure to take a look at our frequently asked questions and our comparison chart to help with your decision-making.
Check out our list of favorites for 2022.
The Top Women's Hunting Pants of 2022
Best Overall Women's Hunting Pants: KUIU Attack Pant
KUIU makes women's hunting gear. Not only did it change course from a previous stance of avoiding a women's line, but it changed its stance hard, and it did it right.
The KUIU Women's Attack Pant ($149) is about as solid as a hunting pant for women gets. They have a heavy-duty construction without feeling claustrophobic. The Attack pant stretches and moves with you in a way few others can match. These are not shrunken-down versions of the men's pants, either. They've been retailored with a distinctly women's cut — and for me, they fit and get the job done.
Something we don't often see in women's pants is hip vents — and these have them. If you've never had the pleasure of opening up a vent and feeling a little air on your thigh when the temps get warm, you are missing out.
My first day in these pants was spent on horseback, and after a day of riding through mountains and streams, I didn't think about them once. I think that's the hallmark of a good piece of gear. It did its job to keep me comfortable and protected in such a way that I didn't have to resituate or waste time thinking about them at all.
Specs
Primeflex polyester
Available camo patterns
Early to mid-season
Pros
Cons
Short length; some taller women have mentioned the leg length being an issue
I'm a firm believer that you don't have to break the bank to put meat in your freezer. If you're budget-constricted, the Outdoor Utility Pant ($40) boasts a 4.6-star review average, and folks love them. If you're going out on day hunts occasionally and you don't need something mountain tough, this is a great option.
The one drawback I see to these pants is that they're 98% cotton. If you're going to face inclement weather or get wet, this is bad. Cotton dries very slowly and does not insulate when wet. So these are fair-weather pants only. But these will be great for a sit-in-a-blind, a short spot-and-stalk, still hunts, or day hunts when the weather will hold.
Specs
98% cotton/2% spandex
Available in camo patterns
Early to mid-season
Pros
Affordable
Women's-specific cut
Great reviews
Cons
Cotton; if you end up in a wet situation, you may find yourself in trouble
Check Price at Cabela'sCheck Price at Bass Pro
The Sitka Timberline Pant ($250) has stood out as the go-to hunting pant for a lot of us. It is a workhorse. The reinforced, waterproof seat and knees are phenomenal when you're moving through the nasty stuff.
You feel like you can sit and kneel anywhere without considering being uncomfortable and damp later. In the early season, those perch consideration seconds really can matter. The removable knee pads are a lifesaver for people who hunt in cactus country or those who've had the joy of experiencing a sharp piece of shale or a branch jab into a knee on kneeling.
They have a stretch similar to the KUIU Attack Pant and move with you well. However, I've found after a few years of heavy use — the material tends to stretch out a bit, with the exception of the waistband. This is more apparent to those of us whose waist has expanded with the rest of the pant. It's a seriously minor thing, but something I've noticed.
The only real downside of these pants is the contrasting color of the seat and knees. It's just odd. I know it functions to break up your form, and the material is likely hard to pattern, but it would be neat not to have my knees and butt highlighted in the hills. Green, black, or brown from the timberline pattern would have made more sense.
Overall, these pants are hardcore and will hold up against pretty much any condition. Read our full review of the Sitka Timberline pants here.
Specs
Polyester stretch woven
Available in camo and solids
Early to mid-season
Pros
Unmatched protection
Comfort
Cons
The reinforced knee and seat colors are odd.
Check Price at AmazonCheck Price at Sitka Gear
Merino wool is king. Fight me about it. The First Lite Obsidian Pant ($170) is what early-season dreams are made of. They're practically silent, breathe, are comfortable on the hottest days, and have the ability to resist the funkiest of odors.
The Obsidian feels almost nothing like old-school wool. The construction integrates nylon paneling that gives it a bit more stretch than you'd expect. Because they come in solid colors, this is a choice that can be worn in the mountains and to the grocery store. I love a product that I can use in the field and at home.
It's important to note that merino is more delicate, and it does require some extra care for longevity. We recommend cleaning both merino and synthetics with scentless Active Wear Laundry Detergent. Learn how to better care for your activewear, and it will last for years.
But while a lot of merino is less durable, the Obsidian Pant has proven itself remarkably durable in our testing. That's largely due to nylon threads interwoven into this fabric. The pants we tested in 2017 are still in great shape after five full seasons of hard elk hunting. Check out our full 2017 review of the nearly identical men's Obsidian Pant
Specs
88% merino wool, 2% ballistic ripstop nylon, 1.5% polyester, 8.5% spandex
Available in camo and solid
Early to mid-season
Pros
Breathes
Quiet
Odor-resistant
Cons
Prone to damage
Require special care
Check Price at AmazonCheck Price at First Lite
I've tested a few late-season bib systems. I fell asleep in negative temperatures in a tree stand (harness awareness) in the First Lite Sanctuary Bibs ($325). They are like a sleeping bag you can walk around in. I hate to play into stereotypes, but I'm a gal that gets cold … and I hate being cold. The Sanctuary System honestly made me confused about the outside temperature.
I've worn them whitetail hunting in a tree stand, spot-and-stalk mule deer hunting in the blistering cold, and mountain lion hunting on a snowmobile. These are an oven — the opposite of breathable. I had to unzip the hip vents in both instances for a little air. In the late season, that's exactly what I want.
The Sanctuary bibs have big ol' pockets that somehow are still accessible even while sitting in all that poof. The full zip means you can easily strip down or suit up without taking off your boots. Quick-release suspender clips mean you can take care of business without fumbling around with tricky clasps.
The biggest perk of these bibs, other than the warmth, is comfort. For some reason, late-season bibs tend to feel like you're wearing a loaded diaper. Not the best imagery, but it's real. They all seem overbearing and uncomfortable. I feel like Ralph's little brother most of the time (it's almost "A Christmas Story" season).
This is not the case with the Sanctuary bibs. As far as women's hunting pants and bibs go, these are comfortable and fit much more like a ski bib than a late-season hunting bib. This is huge for me. I still need to be able to move while being warm.
They aren't cheap, but they are worth it.
Specs
Synthetic insulation
Available in camo patterns
Late season
Pros
Cons
Noise: They aren't noisy, but do create more walking noise than their fluffy competitors
Check Price at AmazonCheck Price at First Lite
Waterfowl hunting requires some seriously specific gear. Being cold sucks. Being cold and wet is the worst. The LaCrosse Estuary Hunting Waders ($300) solve the issue by keeping you both dry and warm.
Neoprene is pretty undefeated when it comes to providing both insulation and a water barrier. The Estuary Waders are constructed of neoprene, spandex, Lycra, and Thinsulate. This means not only are you warm and protected, but you also have stretch and mobility.
Obviously, you're going to want to wear a base layer for additional warmth (I highly recommend wool), but the wader itself does a great job keeping you insulated.
This particular wader is tailored with a slimmer fit that reduces bulk while still being roomy enough to move. The fleece-lined hand warmer and plentiful pockets give you ample space for storage and plenty of room to stash hand warmers.
The one complaint is the overall length. If you're short to average height, you should have no problem. If you're on the taller side, these waders might not be the choice for you.
Looking for other options for waders? Check out our article on the best fishing waders for women.
Specs
Neoprene, spandex, Lycra, Thinsulate insulation
Available in camo patterns
Waterfowl season
Pros
Cons
Short fit; may not fit taller women
Check Price at ScheelsCheck Price at LaCrosse Footwear
With a 4.9-star review average, the Pradlann ($170) by Prois knocks it outta the park for a bevy of upland hunters. Designed for action, durable panels take on tough brush, thorns, and burrs with ease. A four-way stretch poly-spandex blend accommodates quick movement through the upland fields.
Articulated knees follow your every bend, and a feminine cut keeps the fit on point. Streamlined pockets and an adjustable waist cut a nice silhouette, and reviewers really can't seem to say enough good things about this pair of pants. Sizing is also generous with XS-2XL and tall versions available.
Something to keep in mind is that many reviewers state that sizing runs large.
Specs
88% polyester, 12% spandex
Available in camo and solids
Early to mid-season
Pros
Cons
Check Price at AmazonCheck Price at Scheels
It's tough to find a budget-friendly pair of women's bibs, but the ArcticShield Women's Classic Elite ($170) gets the job done. These bibs are not bulky but are warm enough to keep you out a bit longer when the temps drop. They're high cut without being a full chest bib, meaning you get the warmth of that higher seal without feeling too much bulk in the chest area.
The Classic Elite Bibs have both rear and front pockets. The leg zips run about halfway up the leg, giving you ample access to your boots, though a full zip would allow you to remove them without removing your boots.
They are waterproof and windproof, making them a solid budget choice for an insulated hunting bib.
Specs
Waterproof polyester, synthetic insulation
Available in camo patterns
Mid- to late season
Pros
Budget-friendly
Waterproof
Windproof
Cons
Without full leg zips, dressing and undressing can be a pain
Check Price at AmazonCheck Price at Academy
Best of the Rest
The Kuhl Freeflex Roll-Up pant ($99) is one of my guilty pleasures. These are clearly not designed to be women's hunting pants. I wear them hiking, guiding, to the grocery store, to meetings, and around the house. I own them in every color. They are cool, comfortable, and everything I want in a pair of pants.
Luckily, they happen to come in some natural shades like Sage and Flint. That means that during the early season (in areas I'm not overly concerned about rough brush), these are my go-to, keep-cool archery pants. The Freeflex pant fits like a dream and is airy and comfortable when the temps get crazy.
If you wander around in the right mountains, you will either find me back at camp with these suckers rolled up above a pair of crocs or out taking my bow for an evening walk.
Specs
Polyester
Available in solid colors
Early season
Pros
Comfort
Lightweight for early season
Cons:
Snap closures get weak over time
Check Price at REICheck Price at Backcountry
The Women's Forefront Pant ($169) from ScentLok is a good mid-season option. It's a bit too much for the early-season heat and doesn't quite have the punch needed to keep you warm when the mercury drops, but it does the job in that beautiful in-between time.
The brushed material is really quiet when you're out moving about. An inner lining of fleece keeps you both cozy while breathing a bit to keep you from sweating to death at noon.
ScentLok is known for its scent control, and these pants are no exception. They are designed to absorb scents without emitting them. Anyone who's been winded knows the brutal reality of the scent game. These pants won't fix the issue, but they might help.
Specs
Polyester, fleece-lined
Available in camo patterns
Mid-season
Pros
Cons
A bit expensive for a single-season pant
Check Price at AmazonCheck Price at Scheels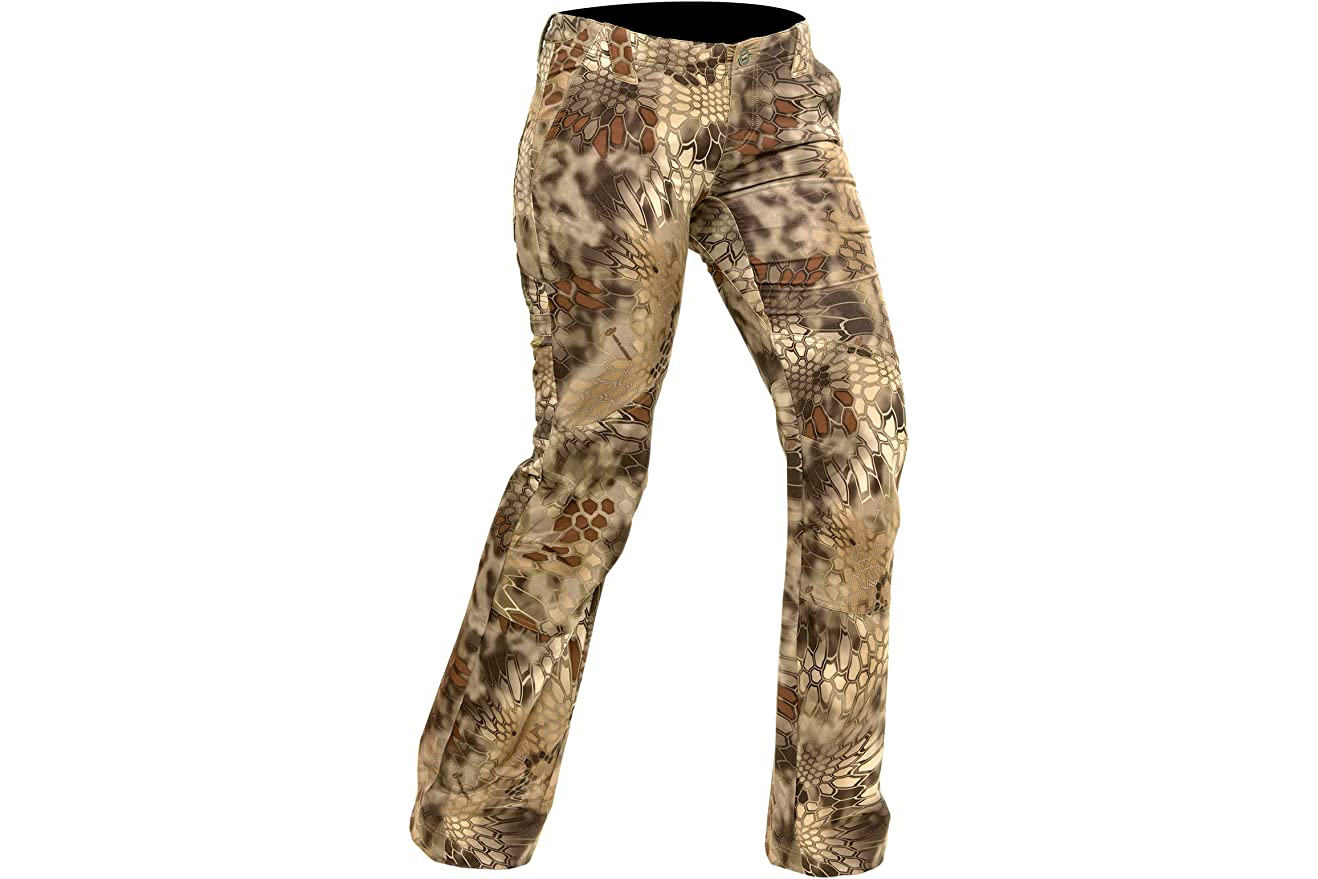 The Kryptek Valhalla Women's Hunting Pant ($119) has become a popular choice, particularly for women who have some height. The longer legs tend to fit where others may literally fall short.
The Valhalla has a total of eight pockets, giving you ample storage to keep things organized. Offered in Kryptek's unique camo pattern, this is a pant that should suit you well in early-mid-season in a variety of terrains.
Some downfalls are fit and durability. These run a bit large, so order accordingly. The real issue tends to be fabric snags. Thorns do a number to the comfortable material and can leave snags that don't appear to self-heal. Just something to keep in mind, pending your hunting terrain.
Specs
88% polyester, 12% elastane
Available in camo patterns
Early to mid-season
Pros
Comfortable
Lightweight and packable
Long inseam for taller women
Cons
Run large
Prone to fabric snags
Check Price at AmazonCheck Price at BlackOvis

Women's Hunting Pants Comparison Chart
| | | | | |
| --- | --- | --- | --- | --- |
| Women's Hunting Pants | Price | Fabric | Color | Season |
| KUIU Attack Pant | $149 | Primeflex polyester | Available camo patterns | Early to mid-season |
| SHE Outdoor Utility II Pant | $40 | 98% cotton/2% spandex | Available in camo patterns | Early to mid-season |
| Sitka Timberline Pant | $249 | Polyester stretch woven | Available in camo and solids | Early to mid-season |
| First Lite Obsidian Pant | $170 | 88% merino wool, 2% ballistic ripstop nylon, 1.5% polyester, 8.5% spandex | Available in camo & solid | Early to mid-season |
| First Lite Sanctuary Bibs | $325 | Synthetic insulation | Available in camo patterns | Late Season |
| LaCrosse Estuary | $300 | Neoprene, spandex, Lycra, Thinsulate insulation | Available in camo patterns | Waterfowl Season |
| Prois Pradlann Upland Pants | $170 | 88% polyester, 12% spandex | Available in camo and solids | Early to mid-season |
| ArcticShield Women's Classic Elite Bib | $160 | Waterproof polyester, synthetic insulation | Available in camo patterns | Early to mid-season |
| Kuhl Freeflex Roll-Up | $99 | Polyester | Available in solid colors | Early season |
| ScentLok Women's Forefront Pant | $169 | Polyester, fleece-lined | Available in camo patterns | Mid season |
| Kryptek Valhalla Pant | $119 | 88% polyester, 12% elastane | Available in camo patterns | Early to mid-season |
Why You Should Trust Us
We hunt in a variety of terrains in a ton of varying conditions, and we hunt year-round. From subalpine to the desert and everything in between, we've tested women's hunting pants in every possible scenario.
After generations of having to hunt in hand-me-down hunting gear that was designed for men or having to fork over the cash for gear not made for us, we're hard on women's hunting gear because we want it to perform. We're critical because we've had to be. We have nearly unlimited options for women's gear now, and we're always elated to put new hunting pants to the test.
I personally am rough on my hunting clothes. They get thrown, balled up, soaked, and soiled, and I don't know that I've ever read a care label. They're stained, snagged, and cut because I actually use them for hunting.
We're glad to beat our gear up, so you know where your penny is best spent.
Women's Hunting Pants FAQ
Any pair of pants that offers you comfort, protection, and the ability to move about in varying terrain can make a great hunting pant. I spent the vast majority of my early years hunting in Wrangler jeans and Carhartts. To this day, I bet I toss on a variety of canvas work pants for quick day hunts more than my dedicated hunting pants.
Much of the reason for this was initially a lack of options. Today, there is no shortage of women's hunting gear available. Just a few short years ago, we couldn't make that same statement.
When it comes down to the best hunting pants for you, it's all about what you're comfortable in.
We gathered up some of the more popular questions about hunting pants, and we hope they help you pick the right women's hunting pants for you.
Are Camo Pants Needed for Hunting?
Hard no. Outside of hunting a species that hones in on movement, like certain bird species (we're looking at you, turkeys) and certain predator hunting scenarios (mountain lion) you're likely fine in a solid pattern that mixes relatively well with your surroundings.
Bowhunting is another instance where camo can definitely be a direct advantage. When you start to hunt close, you need to disappear into your surroundings.
Dense timber or foliage might be another cause for choosing camo over solids. If you happen to be the only solid object in your surroundings, you're going to stick out.
Camo patterns are designed to break up your silhouette and form, so if you can wear them, you should. They exist for a reason. That being said, my family has successfully hunted for generations in jeans and flannels, so take that into consideration.
A big perk, if you really care, is that camo patterns hide stains. If you accomplish what you plan to accomplish in the field, you're bound to get messy. In my case, those stains tend to be camp ketchup and coffee.
Are Wool Pants Good for Hunting?
The answer is yes. GearJunkie's own Sean McCoy has been hunting in his grandpa's 80-year-old Woolrich pants for a lifetime. They're low on scent, high on warmth, easy to fix, and durable. First Lite's Obsidian pant is an awesome pair of early-season pants with modern tech integrated into the old familiar reliability of wool.
However, if you're pressed for cash, go to your local Goodwill, thrift store, or pawn shop. Sift through clothes until you find a heavy pair of wool pants. Just be aware that when it comes to old-school wool, you can get in trouble really quickly if a sudden downpour breaks loose. Wool can absorb a ton of water, and those vintage spun pants can become a heavyweight ice box in a matter of minutes.
How Do You Wash Wool and Synthetics?
If you're spending any amount of money on hunting gear, it pays to take good care of it. Wool certainly needs a gentler hand. And you'd be surprised how much body scent synthetics can retain even after going through your normal laundry routine.
Thankfully, there are simple options that can easily fold into your laundry routine. One option GearJunkie likes is Active Wear Detergent, and you can read founder Stephen Regenold's review on it here.
Two other options come from Nikwax. Nikwax Wool Wash is a machine-friendly option for your merino and other wools. And Nikwax Tech Wash does the same for your synthetics.
Remember to use scentless products to knock out any chance that big ol' whitetail deer catches a Cotton Fresh breeze and decides to book it from your deliciously scented location.
---