The Garmin Alpha 10 device allows you to closely track up to 20 dogs' movement in the field at a range of up to 9 miles. I put a prerelease model to the test with one German Shorthaired Pointer.
Dog-tracking collars are nothing new. Garmin has a fleet of advanced dog tracking and training systems available. Embraced by hunters who run dogs over vast expanses yet need the ability to monitor each dog's behavior, these GPS tracking devices are powerful tools in the field.
Today, Garmin added a new tool to the box with the Alpha 10. And while the Alpha 10 might be the newest, it isn't the biggest hammer in the box.
Instead, the Alpha 10 gives hunters (and anyone else who may want to leverage the power of real-time dog tracking) a versatile, light, effective tracker with trimmed-back features at an attractive price ($400 for the handheld; $650-700 for the handheld plus a collar).
No, that's still not cheap. But compared with models with more robust onboard GPS mapping, it saves hundreds of dollars. So, I put one to the test way off the grid in the Colorado mountains.
In short: The Alpha 10 performs most of the functions of higher-cost GPS trackers at a lower price. The easy-to-use, accurate tool is a great option for hunters who tend to use phone apps for navigation. Finally, the training collar works well for hunters who have trained their dogs on e-collars.
Garmin Alpha 10 Review
I took the Alpha 10 into some big mountains to scout for the upcoming elk season. As it was still a month away, my wife and I took our GSP along to see if we could wrangle up some grouse for practice.
The Alpha 10 unit was pretty easy to set up initially. The instructions outlined everything from charging to pairing and basic use, and most of this was intuitive enough to do just from inspecting the product.
I paired the Alpha 10 with the TT15 Mini training collar. It allows you to communicate with the dog through tone, vibration, and electric stimulation. Thankfully, my dog is already trained to understand these, and it made for a smooth transition.
In my first use, I had the collar figured out in about 10 minutes out of the car. It took a few minutes to understand the menu system and user interface. But once I'd found and scrolled around all the screens, the product was second nature.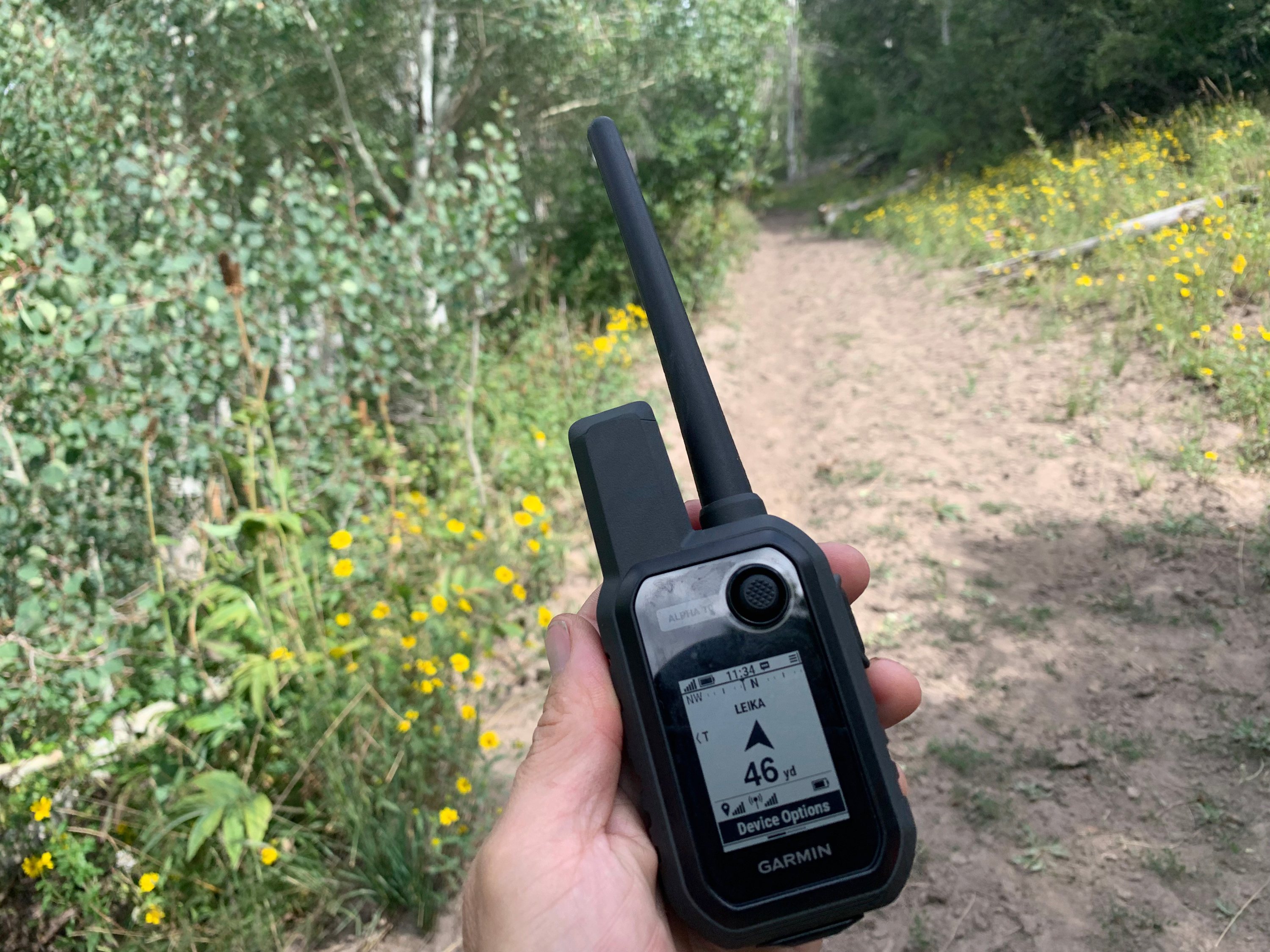 As my pup wove a pattern through the forest and meadows, I could follow her range and direction from the device. It displays an arrow pointing to the dog, and a distance. This makes it very easy to know your dog's exact location.
Garmin says you can do this with up to 20 dogs at once. I haven't tried!
In a quick first use, the Alpha 10 seems like a solid system. It allowed me to monitor my dog. And it tells me when she points, sits, lays down, or trees (more applicable to hounds than GSPs). My dog never ranged more than 200 yards during my use, but the device seemed accurate.
The only thing I disliked about the collar and handheld is that it doesn't come with a hard case to organize the parts. For a product that costs double that of non-GPS dog-training collars from Dogtra, I'd love to see a nice case to keep your investment safe.
Alpha 10 Dog Tracker: Other Features
I got a good first look at the product. But due to its preproduction status, I couldn't test all the features.
For instance, the Alpha 10 will pair with phones. This allows you to use the Garmin Explore app to track your hunts and even monitor dogs or other buddies who have Garmin products — all from your smartphone.
Here's the brand's pitch about these features, which I have not tested.
Mobile Solution
Hunters can pair the Alpha 10 with the Garmin Explore smart device app for enhanced mapping solutions. When paired, users can stow the Alpha 10 handheld in their pack and use their compatible smartphone or tablet to view their dogs' location and track in real-time.
Garmin Explore provides added relevant information, such as hunt replay to relive your favorite moments of the hunt, robust off-grid navigation, customizable tracking lines, and saved hunt collections for easy access when you need it.
Companion Tracking
Alpha 10 users can pair their unit to a companion's compatible Garmin dog-tracking device, such as Alpha 200i, to view their companion and companion's dog location. Once paired, the Alpha 10 operator can make real-time decisions based on at-a-glance information, instead of waiting for verbal communication from the dog's handler.
The two-way connectivity allows the dog handler and Alpha 10 users to view each other's location for enhanced awareness when not in visual contact. Additionally, compatible devices can share predefined messages between units for rapid communication.
Ecosystem Compatibility
Individuals can pair the Alpha 10 with optional Garmin devices, including a compatible Garmin smartwatch, such as Instinct, fēnix, or tactix, using the built-in dog-tracking app.
For in-vehicle tracking, the Alpha 10 is also compatible with the Garmin DriveTrack system.
Also, UTV/ATV enthusiasts can pair the Alpha 10 to the Montana 700 or Tread series for additional dog-tracking capabilities.
Visit Garmin's website to learn more or buy now.