Osprey's packs are built to last. Now, you can grab a new pack for your next adventure for 25-45% off.
Osprey is one of the highest-rated backpack companies when it comes to innovative features and overall quality. The brand built its reputation on durable, versatile packs with its All Mighty Guarantee.
To this day, Osprey will repair any damage or defect for any reason, free of charge.
Osprey Sale: Up to 45% Off
Aether AG & Ariel AG 60, 70, and 85: $217-247 (25% Off)
This backpack was built for long hauls. Packed with features, the Aether (men's) and Arial (women's) are designed for comfort with Osprey's Anti-Gravity technology, a suspended mesh panel that provides breathability and keeps solid loads off your back. It comes in men's- and women's-specific packs, and both are offered in three sizes — 60L, 70L, and 85L — all on sale now.
Shop Men's Aether AG Shop Women's Ariel AG
Why are you still carrying a drawstring pack on your hikes? It's time for an upgrade, and this everyday day-hike backpack offers a practical option. The HikeLite comes with an integrated rain cover to ensure your gear stays dry and a vented back panel to keep your back dry, too. It comes in two sizes and is now 25% off.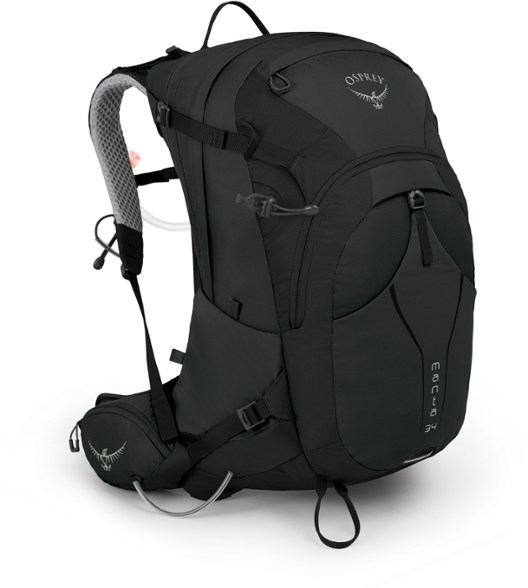 The Manta (men's) and Mira (women's) are Osprey's hallmark backpacks with incorporated hydration systems. Made especially for longer treks, it's designed to sit comfortably on your back with adjustable suspension. This both redistributes weight and adds much-needed ventilation during high activity. Multiple reviews on this backpack highlight its quality and great comfort. Get yours now while it's on sale!
Shop Men's MantaShop Women's Mira
When you're out on the trails, carrying water, keys, and other small belongings can be extremely inconvenient, and this backpack aims to provide a one-stop solution. Osprey designed it to reduce bounce while running. Plus, it comes with an easy-access Hydraulics hydration reservoir, so you won't have to slow down to hydrate. The Duro and Dyna also have room to store essentials such as rain gear in its main compartment or exterior stretch pocket (on larger sizes).
Shop Men's DuroShop Women's Dyna
If you're looking for something even smaller, this sub-12-ounce fanny pack is great for outdoor sports. Whether you're going mountain biking, running, or hiking, this minipack is designed to carry just the essentials. The Talon and Tempest packs strap around your waist, with easy access to two included 570mL water bottles.