Our exclusive look at gear coming to market in 2016 includes new technologies and never-seen designs. It all debuts at the Outdoor Retailer Winter Market trade show in Utah this week.
A handful of products caught our eye from initial press announcements and scoops around the Outdoor Retailer show. We'll be on the trade show floor all week to find the most revolutionary products coming in 2016 and beyond. For now, check out this peek behind the curtain.
'Lightest Ski Pole On The Market'
That is the claim Black Diamond makes with its Helio Fixed Length Poles. They are made for technical ski mountaineering and constructed from 100% inflation-molded carbon fiber. Total weight? 9 ounces per pair, but you'll pay for it at $299.
Light! 150-Gram Harness

Among the lightest ever, this alpine and ice-climbing harness from Petzl (the ALTITUDE model) weighs almost nothing, packs super small, but meets requisite safety standards. Includes four gear loops and "keeper" straps to position ice screws when on the move.
Hover Tent

Tentsile's latest, the Flite model, is the "lightest and smallest two-person tree tent," the company touts. It weighs about 5 pounds, including suspension straps and a ratchet. The part-hammock, part-tent build "hovers" several feet off the ground.
Top-Shelf Shell

At $650, the Helly Hansen Elevation Shell Jacket is in a different category. It has an air-permeable membrane fabric; Recco reflectors built-in; and freeride-specific features like compatibility with a back protector.
Heritage Boot

A sharp design and a retro aesthetic, including traditional D-ring hardware, sets the Sugarbush Waterproof from Merrell apart.
Bison 'Wool' Jacket

United By Blue's Ultimate American Jacket uses a proprietary insulation called B100 Fill, which is a sheet-style insulation made in part with bison wool (see image below). There's also a sheep wool interior vest.
The jacket is mega warm, waterproof, and 100% domestically sourced. Neat for sure, but not cheap. Available via UnitedByBlue.com in March or at retail stores in fall 2016 for $598.
Next-Level Pertex Fabric

We know Pertex fabrics for their lightweight yet durable performance. A new Pertex entry, seen on the Montane Featherlite Down Pro Pull On Jacket (pictured), is called CS10 technology. The brand cites it uses yarns with "unique diamond shaped filaments, which lock together to provide a very stable construction" for increased abrasion resistance and improved water beading. We tested an early-release of the Montane Featherlite and so far are impressed.
New Tech Winter Runner

A built-in gaiter and sailcloth material on the heel makes the Ultra MT Winter by The North Face stand out. Add a Vibram Icetrek outsole for grip on icy surfaces and this is looking like an ultimate winter running shoe.
KEEN Hikers & Boots

The Aphlex Mid boot (at right) has a contoured TPU exoskeleton for lightweight protection and support. Available next fall. KEEN's Versatrail WP (at left), which we review here, are do-all shoes that now come in a waterproof version with a breathable membrane.
Ultralight Airbag Pack

At 4lb. 3oz., Mammut claims its Ultralight Removable Airbag 3.0 is "by far one of the lightest weight airbag packs ever offered" to skiers and riders. It will cost $489.95 when it comes to stores in October 2016.
Shell Pants + Shorts
The Women's Cheeky Pant from Marmot are Gore-Tex ski pants that include insulated shorts to "make the coldest days more comfortable," the brand states. They are removable on warm ski days.
Retro Outdoors Cap

Sunday Afternoons' Shasta Trapper hat includes insulating fabrics, a brim, a chin buckle, and (most standout) earflaps for warmth in winter temps.
Teva Boot

Teva says its Arrowood will "bridge the gap between sandals and a casual boot" as far as comfort and fit. Waterproof leather; available for men and women.
Flashy Winter Running Shoe

With an eye-catching aesthetic, the winter-oriented Icebug Now3 BUGweb shoes have a printed textile upper, fleece lining, and an outsole made to grip on snow and ice.
A Shovel That's Also An Axe
The BCA Shaxe Tech shovel converts to an aggressive alpine ice axe, saving you weight by not having to carry a shaft for both your shovel and your ice axe when ski mountaineering. The curved, fixed-length shaft with stainless steel head and aggressive pick angle is designed for mountaineering duty, while the shovel is there in case of avalanche rescue or for camp building or other snow chores. It also ships with a kit to turn skis into a rescue sled.
'Adaptive' Insulation
Under Armour's UA Coldgear Reactor Hooded Jacket is "the most active insulation ever," according to the brand. UA touts that it adapts to activity level. When you're at rest, it slows heat loss so you stay warm. When you're working, it increases ventilation, so you're not over-heating. The brand claims the Reactor's "V-Lap construction" of the synthetic insulation achieves a higher loft and allows a higher air transport due to its vertical setup.
Next-Level Growler
This isn't going to revolutionize beer drinking, but the double-wall, vacuum-sealed growler from AVEX looks darned nice. Having used the brand's mugs and bottles, we'd expect this to be a really nice model. It has a full-grip handle, double-hinge TPU tether, non-marring rubber bottom, and a powder-coat finish. The wide-mouth insulated lid is interchangeable with all new AVEX products.
'Glove' For Climbers' Feet
SCARPA calls the Drago rock shoe a "sticky rubber glove for the feet." It wraps rubber around the entire front of the shoe. It is aggressively downturned and highly asymmetric. This one's designed for sending that stubborn project, not a long day on the wall.
Osprey Goes Backcountry Skiing
Osprey Packs will introduce a full range of backcountry ski/snowboard packs, including the Kresta, the brand's first women's specific backcountry design. The Kamber 22/Kresta 20 have gender specific fit, a quick-access avalanche safety kit pocket, an easily accessible dry compartment, dual position helmet carry, adjustable ski/snowboard lasso carry, 
and tuckaway ice tool loops. The design is also available in a larger 42-liter configuration.
"Indestructawool" socks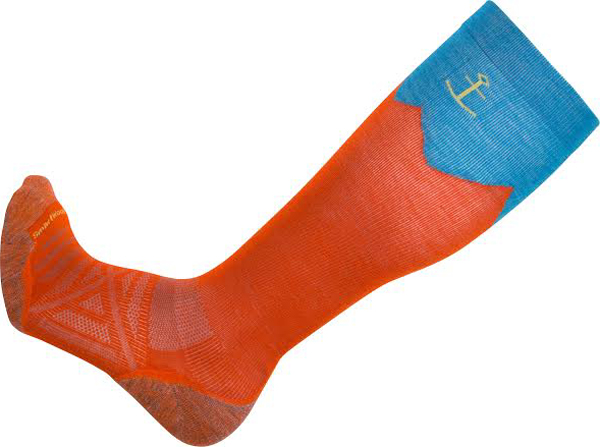 Smartwool's fabric in the PhD performance sock collection has "Indestructawool" durability technology. We're not sure exactly how tough the dense-weave wool is just yet, but with a name like 'Indestructawool," we're stoked to find out. The fall 2016 PhD line includes socks for mountaineering, alpine and Nordic skiing, and hiking, as well as compression socks and sleeves.
Inflatable Midlayer
NuDown has a unique offering in its air-insulation jacket line. This year, the company is launching a mid-layer that it touts can provide "personalized" levels of warmth by pumping up or deflating the jacket.
Lightweight Four-Buckle Boot
Tecnica will introduce the Zero G Collection of boots for backcountry skiers.  The boot has a traditional four-buckle overlap design. Tecnica's goal was to build a boot that offered a competitive weight and range of motion without sacrificing downhill performance. The Zero G Guide Pro is close to 400g lighter than its nearest competitor in the overlap, four buckle category (1530g in size 26.5 men's) and offers 20 degrees more range of motion than competitors.
Camp Candle
Take the beauty of candle lighting on every adventure with the Snow Peak Mini Flame. The Mini Flame creates a protected flame that can be adjusted by rotating the glass and weighs just 5.6oz. It's 1.5 x 1.8 x 4.7″, so it can ride in a pack and runs off the same fuel as your canister stove. It burns for a whopping 24.5 hours on a single canister.
Mountain Runner
The Salomon S-Lab XA Alpine removes barriers between trail running and high alpine boots. A combination of exceptional grip, fit, protection, and light weight will have you "dancing above the tree line confidently," according to the brand. The integrated gaiter is breathable. Throw a pair of crampons on these bad boys to take you even higher.
New Type Of Insulated Shell
The Columbia OutDry EX Diamond Down Jacket uses new "permanent beading surface" technology to put the waterproof layer out the outside, facing the elements, with no additional material. The result is a warm, waterproof, lightweight jacket that proved itself exceptional in our testing so far. Check out the full Columbia OutDry Ex Diamond Down Jacket review.
Outdoor Research 3DFit Gloves
The Lodestar Sensor Gloves are built for being active in cold, dry climates. They use Polartec Power Shield High Loft fabric on the back of the hand for warmth akin to down, but with the wicking properties of fleece. On the palm, the exterior is goat leather and the interior is a grid microfleece lining. A tactile warm glove with lots of articulation, the Lodestar is designed for alpine climbing and backcountry skiing in cold winter environments.
Boa Closure Ski Boot
Super light at 980 grams per boot, the Fischer Traverse Carbon uses a Boa Closure system to save weight. The adjustable Boa closure system with brass pulleys, lace frame system, and waterproof gaiter provides strong heel hold and comfort. Undo the top slider buckle with one hand and the active cuff gives you 80 degrees of rotation to ski uphill faster, with less effort, getting you deeper and higher into the mountains.
Ski Boot With Ankle Articulation
A new kind of articulating cuff design adds flex when the Arc'Teryx Procline ski boot is engaged in a touring mode. The boot allows for not only forward/backward motion like most backcountry ski boots (50 degrees forward and 25 backward) but also side-to-side motion (23 degrees inward and 12 degrees outward).
$50 Action Camera
The Intova Duo camera is downright cheap at $50. The brand claims high performance, with photo with video capabilities that can be used in or out of the water. The removable, compact and rugged housing is waterproof up to 100 feet, floats, and is available in multiple colors. Other key features of the Duo include 720p HD video, a 1.77″ LCD screen, rechargeable batteries, and a wrist lanyard.
Altra Lone Peak Neoshell Mid
We've tested and adore the Altra Lone Peak Neoshell for winter and sloppy weather running. Now the brand is putting a high-top in the mix. We foresee this as a strong contender for light hiking and mountain use.