The Atomic Redster S9 Gen S soft-launched this winter with the goal of increasing efficiency for skate skiers through a radical new sidecut profile. Several expert cross-country skiers put them through the paces for this review.
Cross-country skiing is a game of micro-gains. Fast wax, a slightly more efficient stride, or minute binding adjustments can mean more speed (and fun) on the trail. So when a brand makes a bold redesign of a piece of gear as fundamental as ski shape, athletes sit up and take notice.
That's just what happened when Atomic launched the Redster S9 this year. This ski steps far outside the box of contemporary nordic skate ski design, with a much more drastic sidecut profile and shorter length. The intention is to translate more of the sideways skating stroke into forward momentum.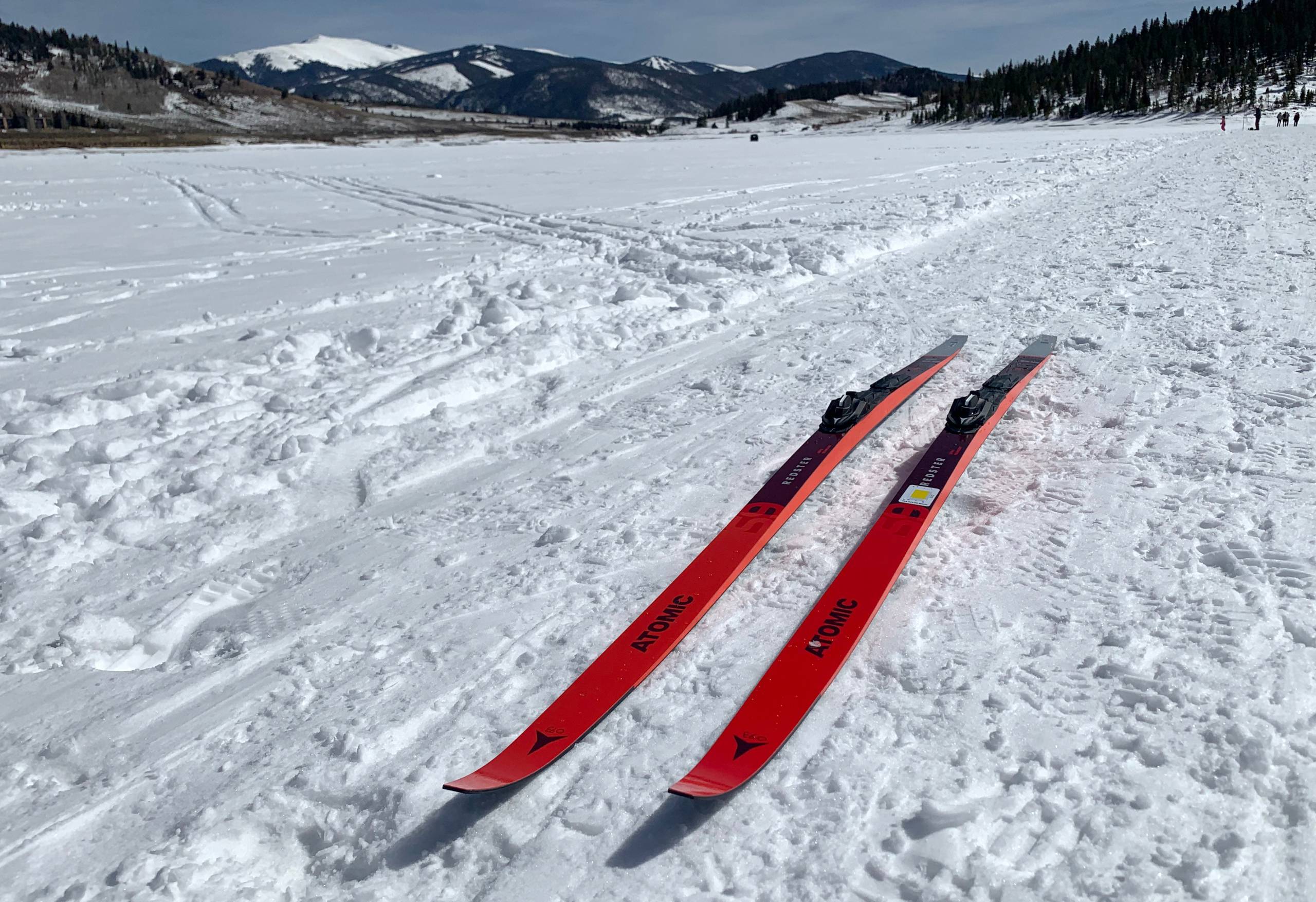 Before sending the skis, Atomic provided some information about its design. It claims that the dramatic sidecut (basically the variance in width of the ski as you move from end to end) forces the ski to push the skier forward more than other designs as skiers skate. It also claims that the shorter (and available in only one length) ski makes them more maneuverable in tight spaces.
After several hours of skiing by four experienced cross-country skiers (including my father Lowell "Mac" McCoy, a PSIA Level 3 nordic ski instructor in Breckenridge, Colo.), we have some overall positive thoughts about the ski. Read on for details!
In short: The Atomic Redster S9 ($960, including Prolink Shift-In bindings) is a very versatile skate ski for intermediate-to-advanced skiers who want one pair that will excel in most conditions. Elite racers will probably find more speed in a complete quiver of high-end skis. But for one ski that checks most boxes for many skiers, the Redster S9 is a strong choice.  After testing, the Next Gen proves to offer advantages for the "weekend warrior" citizen racer.
Atomic Redster S9 Gen S Cross-Country Skate Ski Review
To test the Redster S9 Gen S, I sent the skis, fitted with the Prolink Shift-In binding system, up to Breckenridge. There, several skiers put them to the test on local trails. We compiled notes from skiers to form this early review.
Most of the nordic skis produced by the major brands are more alike than they are different. Any competent skate skier can adapt to any of them quickly and easily. But the Atomic Redster S9 Gen S is a significant change in the length and sidecut of the ski when compared to the current designs. For a quick overview, check out the video below.
As noted, most cross-country skis are more similar than they are different, especially in the high-end realm. But this new model stands very far from the pack. Hopping on the ski, all our testers noticed a very unique feel to the skis. And while we tend to agree that a full quiver of skis will allow you more adaptability to differing trail conditions or skiing styles, the Redster S9 does a remarkably good job of addressing nearly everything you can expect to come across on the trail.
Atomic notes that the ski does not bow out at the end of the kick cycle, but instead travels straight down the trail. That's due to the deep sidecut in the ski (47-40-47). In real-world application, the result was a ski that felt capable on a wide variety of snow, from great groomed trails all the way to rutted trails across a lake.
Atomic describes its sidecut in the illustration below. The brand calls it "Speedline Tech."
How much difference does this really make for skiers? Well, it's not as pronounced as the illustration would claim. But the ski does seem to track more toward the center of the trail. And it does reward powerful strides with a lot of speed.
For the record, the ski weighs 535 grams per ski.
Atomic Redster S9 Gen S: Who's It For?
The Redster S9 is an interesting ski for other reasons as well.
First, it comes in only one length. This is very unusual for cross-country skis, which usually get longer and stiffer to accommodate heavier skiers. Instead, the Redster comes in two stiffnesses: 120-170 pounds (medium), and 170-plus pounds (hard). These all come in the same length.
And that length, for many skiers, is rather short: 183 cm. At 183 cm, many skiers will find the Redster S9 Gen S to be very nimble in tight spaces. Our testers noted confidence in steep descents or in side-stepping tight corners. We also tested them while skijoring behind a fast dog and found that the ski was quite stable yet quick while maneuvering behind the dog in quick turns.
That brings us to the big question: Should you buy this ski? Overall, we'd say this ski is a great choice for intermediate-to-advanced skiers who want to own only one or two pairs of skate skis. They're also a great choice for coaches who want a quick, easy-to-maneuver ski for working with students.
It's a strong all-around skate ski that will benefit many skiers. One truly elite-level skier who tested these for an hour to offer his feedback — a racer and coach who ski-teched for his brother on the World Cup circuit — called them "a guilty pleasure." But he agreed that these wouldn't replace his 192s on race day.
Atomic Prolink Shift-In Binding System
A final note on these skis: We tested them with the Atomic Prolink Shift-In Binding System and found that the easy adjustability really let this ski shine. With various testers, all were able to dial the binding forward or backward slightly to find a sweet spot for their weight, skills, and skiing conditions.
The binding works with an integrated system that allows skiers to adjust their position while still in the binding. You can move the binding forward or back up to six positions, allowing you to hone what works best in different conditions and terrains.
In essence, the Shift-In provides every skier the ability to find and lock in a custom position — forward for more grip, backward for more glide — without ever taking the ski off.
We really liked it and were able to quickly and easily adjust the bindings on the trail to find a perfect position for any given day.
So for those looking for a versatile, fast skate ski that can glide over anything, this one is definitely worth a try. The Atomic Redster S9 Gen S will hit the market in fall 2021.