Durable, slightly stretchy, and with pockets in all the right places, the brand LIVSN has nailed the design of an everyday and outdoor pant.
Over the last few years, we've enjoyed a bit of a pants Rennaissance. Lots of new brands have stepped up to the plate, building a nice variety of pants for use in the outdoors.
From indestructible workwear to hiking pants to pants for travel, it seems there's a tailor-made pair of pants specifically for that niche.
So when a newish brand with a quirky name pitched its pants, I was a little underwhelmed that they'd be just another pair of polyester-elastane trousers with a DWR coating and a few interesting design elements.
I was wrong. From Day One, I fell for the LIVSN Flex Canvas Pants. With an aesthetic of a slightly more fitted, athletic Carhartt, I've been pretty much living in LIVSN.
LIVSN Pants: No, It's Not Short for 'Lives In'
After wearing these for a few months, I called them "Lives In" pants, but slurred a bit. Then I started researching them for this article. I found out the name is short for "livsnjutare," a Swedish noun meaning "one who loves life deeply; an enjoyer of life."
That seemed fitting. The pants really lend themselves to a wide range of uses. And they have a strong environmental ethic, using many recycled and organic materials.
LIVSN starts with "EcoFlex" canvas — 7.3-ounce duck canvas made with 58% certified organic cotton, 40% recycled polyester, and 2% spandex. They definitely feel like cotton pants. Think canvas but a little softer. But they have enough polyester to strengthen the fabric and help it dry faster. And the spandex allows for a great range of motion.
From that materials foundation, the brand designed a pant that really hits the bullseye for a lot of uses, from camping to rock climbing.
LIVSN Pants Review
Pulling on the Flex Cotton Pants, you'll notice they're fairly substantial. I'd say they're just a tad lighter than an average denim pant. The material is soft against the skin but also has a rugged feel. My first impression was that the pants would hold up against bushwhacking or rock climbing without much trouble.
And in a couple of months of consistent use, they've proven themselves to be tough. I've worn them camping, around campfires, hiking through untracked forest, and playing with my rambunctious German shorthaired pointer. And at this point — probably three washes in — they still look pretty much new.
So these are durable pants that should last a good long while.
They're also comfortable. One great design element is the gusseted crotch. This makes the pants feel roomier and allows for unrestricted range of motion. But with these pants, you can't see the gussets, so they don't have a tactical or workwear look.
Finally, I absolutely love the pockets and a few other small details. The Flex Cotton Pants have two big front pockets, two small pockets on the thigh perfect for clipping an EDC knife, and two zippered back pockets. These all contribute to tons of utility.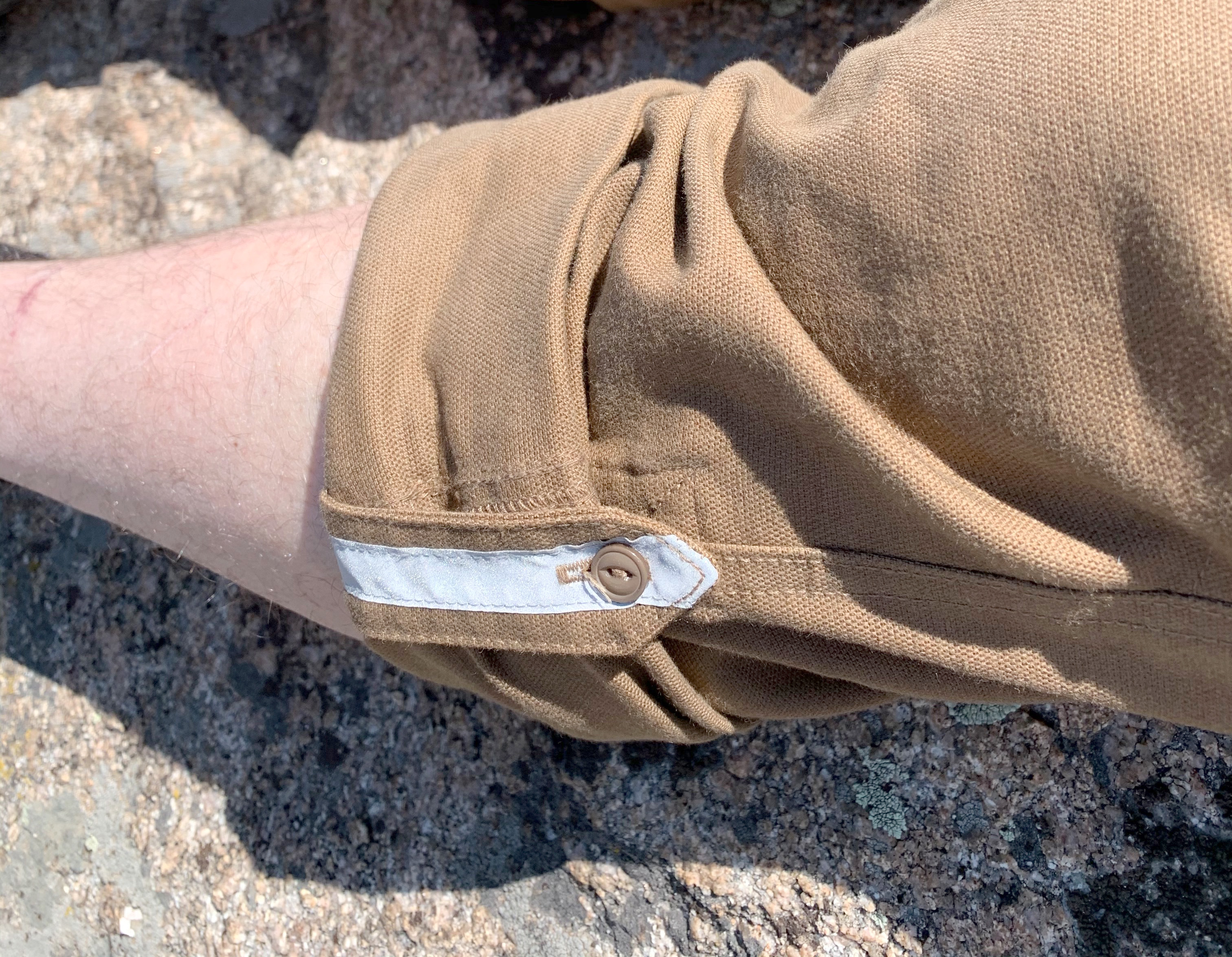 There's even a button on the calf where you can attach the cuff if you want to roll up the pant legs and wear them like knickers. This is super useful for biking, and the brand gives you a reflective attachment point to increase visibility for riding at night.
It's also a great feature for rock climbing, as it keeps your pant legs away from your shoes. I've even rolled them up just to stay cool in warmer weather.
The brand's video gives a good overview. And I'd have to concur with its messaging.
Overall, I've loved these pants. At $100 a pair, they're not cheap but stack up favorably against other good outdoor pants. I found them to fit true to size.
If you're looking for a pair of good, versatile outdoor pants that look good enough to wear with a button-down shirt, check these out. And if you're not convinced, check out the brand's nearly perfect five-star reviews here.