Pivot has long made it a priority to build lightweight bikes — and not just for cross-country racing models.
Pivot's Mach 5.5 Carbon weighs about 28 pounds (ultralight builds actually duck 27 pounds) while delivering 160 mm of front suspension and 140 mm in the rear. That's an impressive squish-to-weight ratio. It earned the Mach 5.5 legions of devotees who love its balance of uphill/downhill capability. It's trim enough to feel sprightly on climbs yet plush enough to buffer punches during technical descents.
With the Shadowcat, which replaced the Mach 5.5 for spring 2022, Pivot got even more ruthless about slashing grams. The lightest Shadowcat builds now approach 26 pounds, making it a contender for the lightest trail bike on the market. But does that weight loss compromise the bike's authority on descents?
The Mach 5.5's genius was its do-it-all balance. I questioned whether the featherweight Shadowcat would feel more like prey than predator during technical downhills.
I pushed the Shadowcat on a month-long test in Colorado and Utah, including a 5-day stint on the 140-mile Kokopelli Trail linking Fruita and Moab.
In short: The Shadowcat proved itself to be a true do-it-all trail bike. Its few tradeoffs aren't likely to dissuade riders looking for a light, leg-sparing rig that can conquer long-mileage rides over technical terrain.
Pivot Shadowcat Mountain Bike Review
Frame Build and Geometry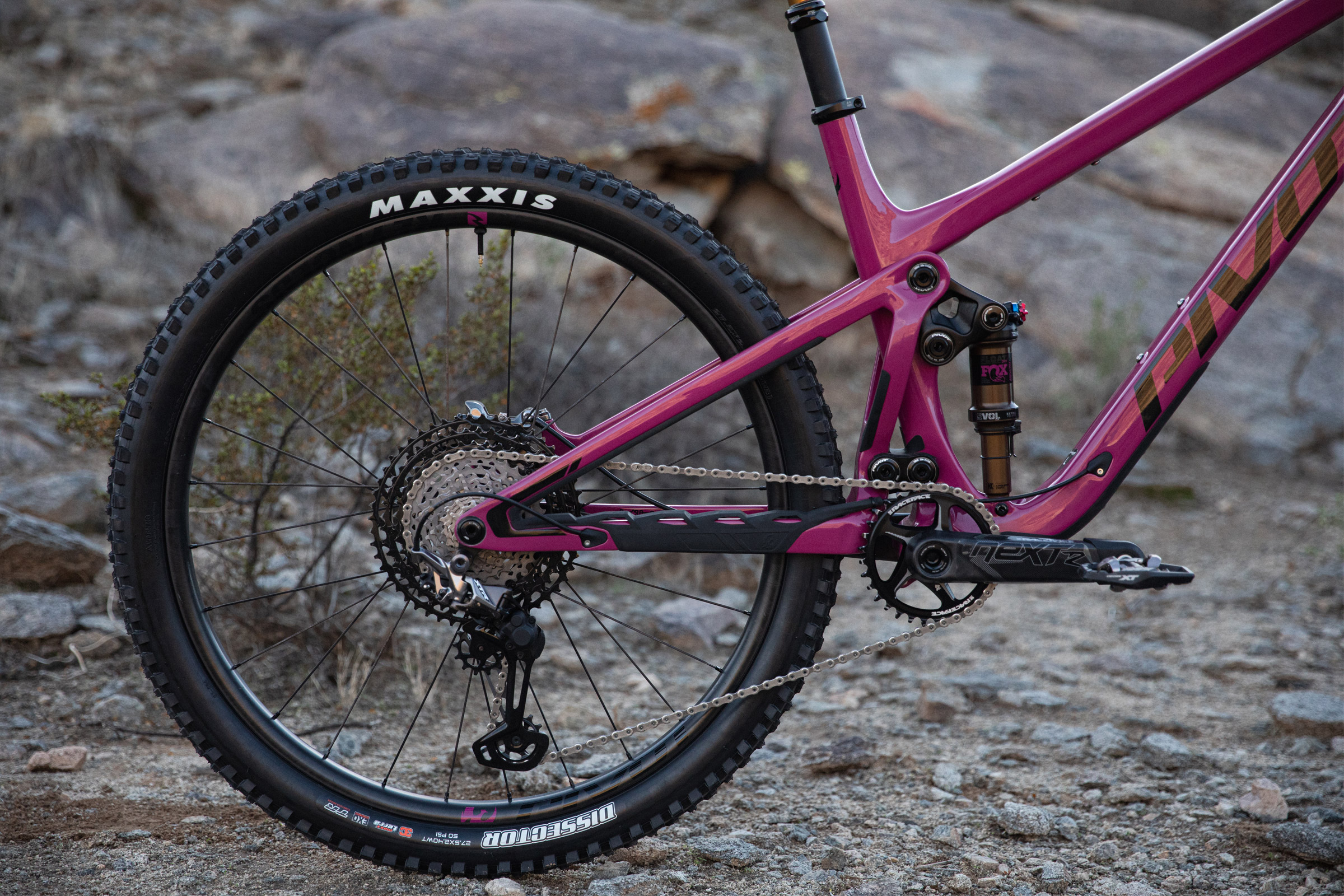 Using 27.5-inch wheels (rather than heavier 29-inch hoops) helps the Shadowcat stay lean.
But the biggest weight savings come from frame construction. Pivot had already invested plenty of R&D to create light-yet-strong frames for its Trail 429 and 100mm Mach 4 SL. The brand exploited what it learned through those projects to re-engineer the carbon layup on the Shadowcat.
Using Pivot's proprietary Hollow Core Carbon Molding construction method, engineers got meticulous about the placement and orientation of each intricately cut piece of fiber. Pivot says the technology lets it trim weight (Hollow Core molding prevents resin from pooling, for example) without sacrificing strength or stiffness.
Pivot also re-engineered each frame cross-section by size so that the X-Small that I tested felt appropriately light and lively. Meanwhile, the Large Shadowcat can still be stiff enough for Clydesdale-class riders.
And to make the Shadowcat a better climber than its Mach 5.5 predecessor, Pivot gave it a more compact front triangle that positions the rider closer to the front wheel.
The geometry performed as advertised. Getting into uphill mode didn't require me to make a significant commute with my body position. All it took to feel poised for takeoff was a slight weight shift forward. I appreciated that ease one day on Kokopelli when I tackled a 200-foot climb up rock ledges that appeared at mile 25.
By that point, my legs were no longer benefiting from the top half of my fuel tank. But the Pivot Shadowcat's light weight had spared me enough muscle to let me execute the explosive pedal cranks I needed to clean the squared-off sandstone, and the bike did the rest.
I didn't even experience the rear wheel breaking traction, partly because the Shadowcat kept its predecessor's short, 43-cm chainstays. The bike's zippy uphill handling compensated for my own sagging pep. My ego will be forever grateful.
Front and Rear Suspension
Not only did the geometry promote a snappy ride, but so did the suspension. Dave Weagle's DW-Link design appears on the rear, using a 140mm Fox Factory Float DPS shock. It's wildly efficient and seemed to translate every watt I generated into forward momentum.
During long, flat slogs over sand-topped hardpack, I detected no bobbing. I enjoyed a firm, stable platform that I felt grateful for when ticking off miles on dirt and paved roads.
The Pivot Shadowcat's front fork is a Fox Factory 36. It's worth noting that Pivot is one of the relatively few bike brands to offer Fox's Live Valve smart suspension technology, and that spec starts at $9,799. The fork's 160mm of travel ably buffered the jackhammer hits of Moab's notoriously punishing Porcupine Rim.
The 14-mile descent includes high-speed straightaways over sandstone rubble. The fork sucked up those blows, spared my arms, and generally kept me from feeling like Conor McGregor's sparring partner.
In fact, I credited the Shadowcat's ultra-capable suspension design for keeping this 26-pound bike (tested weight, with pedals) from getting batted around on rowdy descents. With sag on the front and rear set as suggested, the combo was just cushy enough to absorb punishment but not so indulgent that it sacrificed precision.
Dropping ledges on Lower Porcupine, where the route frequently hugs the edges of cliffs that plunge away for 20 to 100 feet, I felt confident in the Shadowcat's ability to stick my intended line or to execute a snappy redirect when I misjudged a feature.
Everything Else
The tested spec was first class, with Shimano XTR brakes that suited this bike's precision-loving personality. I quickly and reliably scrubbed speed on narrow ledges bordered by alarming exposure.
Reynolds carbon wheels complement the weight-trimming theme and helped me battle an energy-sucking headwind during a flat, 10-mile road section of the Kokopelli Trail. Heavy hoops might've made me stick out a thumb in defeat.
Industry Nine's high engagement hubs were characteristically loud — I snuck up on no one. But they added to the bike's overall efficiency with punchy pedaling power that helped the Pivot Shadowcat leap over rounded boulders and ledges.
With 2.4-inch Maxxis Dissectors on front and rear, rubber weight is relatively low. However, I missed the added stability of the Maxxis Minion DHF (spec'd on the Mach 5.5) and its ability to slice through loose chunk.
Still, the Dissectors managed to carry me through jumbly, high-speed straightaways and underscored the Shadowcat's premise that downhill capability doesn't have to be heavy.
As for the Shimano XTR drive train and 12-speed shifter, it was butter-smooth and fast — as you'd expect. It has a 51-tooth granny gear that eased the grunt factor on the steepest pitches.
Downsides
Price is one obvious drawback. The Team XTR build that I tested costs $9,899, and the starting spec is $6,299. Pivot's geekery over carbon construction and size optimization doesn't come cheap.
And about the Shadowcat's compact geometry: It was inarguably capable, but the cockpit took some getting used to. Cruising on the flats, my knees sometimes felt crunched toward the stem. This wasn't a fit issue — the standover and reach were just as they should be.
While climbing and descending, I felt natural and balanced on the bike. If this were my own rig, I'd probably try out shorter cranks to see if they'd complement the rest of the angles.
But I also noticed a few other riders discovering discomfort with their positioning on the Shadowcat. At Pivot's demo tent during Roam Fest in Sedona, I watched one cyclist opt to take out the size Small frame despite the reps' assurances that XS was her rightful size.
That borrower felt too compressed on the XS, too forward over the front wheel. Sizing up restored her to a comfortably familiar body position. Incidentally, she loved that ride so much that she bought a Small Shadowcat.
Pivot Shadowcat MTB: Closing Thoughts
Weight matters, especially when you're pedaling long distances. As the miles tick by, the cumulative effort of pushing extra poundage can leave you too gassed to conquer technical features. If you like routes that combine long mileage and technical challenge, the ultra-light Shadowcat can make you more likely to clean your lines.
Being light also makes the Pivot Shadowcat a compelling option for smaller, lighter-bodied jockeys. The ratio of body mass to bike weight doesn't calculate as an advantage when smaller riders pilot a heavy rig.
That might explain why Pivot's demo tent at Roam Fest was mobbed with women wanting to try the Shadowcat. Although Pivot isn't specifically a women's bike brand, the company's emphasis on lightweight builds appeals to folks that aren't proportioned like Paul Bunyan.
Finally, some riders won't love this bike's lean feel. We're talking Berber carpet, not plush shag, so anyone seeking a sumptuous ride should look elsewhere. But if you want something nimble and light enough for hours-long epics, the Shadowcat proved that less is more.