The wanderBOX Outpost 35 off-grid camper is a $400,000 home on wheels ready for some serious remote adventuring, living, and working.
When tech industry veteran Mike Barnwell couldn't find the camper he wanted, he decided to make one himself.
Barnwell, an avid camper passionate about off-grid living, wanted the amenities of a Class A motorhome — the tour buses that pack RV parks and rumble down the interstates — and the intrepid capability, dependability, and independence of an expedition vehicle, but with more capacity to stay off-grid longer.
wanderBOX Outpost 35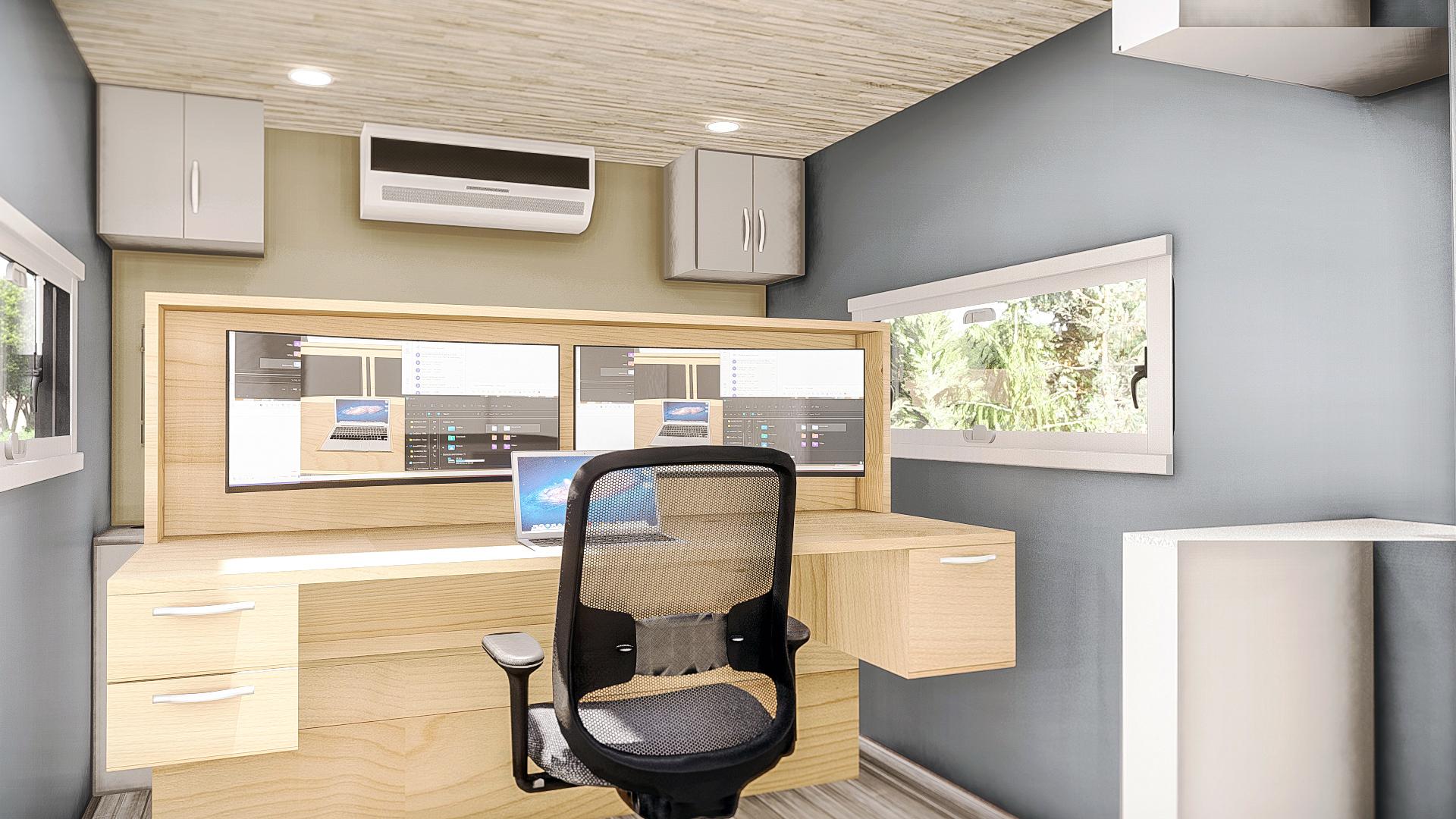 The wanderBOX Outpost 35 checks all those original design goals.
It's built on a reinforced Ford Super Duty F-600 4×4 chassis. The chassis has auto-adjusting, computer-controlled hydraulic suspension — the same system used in ambulances to smooth out the roughest roads. It runs on a 6.7L PowerStroke turbo-diesel engine that Barnwell says is powerful enough that you can tow with the Outpost even if you're crossing mountain passes.
Camper Construction
Before we get much farther, we want to call out the obvious comparison. No, the wanderBOX is not like an Earth Roamer. Sure, it uses a Ford chassis and has a large camper built on it. But the comparison should end there.
Where the Earth Roamer is an extremely capable expedition-grade overland vehicle, the wanderBOX is more RV- and office-oriented. The wanderBOX will work great off-grid, but probably won't handle the same serious off-road conditions that the Earth Roamer eats for breakfast. On the other hand, the wanderBOX is meant to serve as an off-grid base for work and living and can do so for much longer than most vehicles.
Most of the details that follow outline how this off-grid machine can become an off-grid oasis of technology.
WanderBOX builds the Outpost 35 at its 14,000-square-foot facility in Meade, Colorado. It fabricates the exoskeleton from strong, light, aerospace-grade aluminum honeycomb panels that are made by the same company that provided panels for the International Space Station. It lines those panels with 2 inches of the highest R-value composite panel insulation made.
The brand uses as much inorganic material, like fiberglass plywood called Coosa, as possible. Barnwell's personal pet peeve is crappy particleboard in expensive campers that starts to turn into sawdust on the first camping trip. Similarly, he uses fiberglass I-beams without structural wood in the Outpost.
Mobile Home and Office
Barnwell is clear about what the wanderBOX is, and what it's not. He designed the Outpost 35 for off-grid living and working for extended periods of time, with all the comforts of home.
These comforts include a full-size desk with dual 32-inch monitors that pop out from under the master bed and a four-person bar at the base of the queen-size cabover bed — the Outpost's second bedroom.
The kitchen has a trash compactor, oven, washer/dryer, a full-size induction cooktop, and a fridge that's the same size many of us have at home. Throughout the unit, there are 7-foot-high ceilings, which should make for quite a comfortable living space. There's even a full bath and loads of storage space.
A filtration system on the Outpost's water tanks turns water from a river or creek into water that's safe to drink. But, you'll only need to refill after you've sipped, cooked, washed, and showered through the 200-gallon freshwater tank you filled before you hit the road.
A 2,800-watt rooftop solar array feeds into a 24-kWh lithium battery bank to power the rig. An alternator-based diesel electricity generation that runs off the rig's 190-gallon diesel tank backs it up. Barnwell said it could easily last a month or two in many locations. Solar and diesel also run the heat and air conditioning, when needed. 
Outside, the Outpost 35 has a full kitchen and grill, as well as a large auto-retracting awning that closes itself when it gets too windy.
Remote Work
When the RV version of Starlink satellite internet service becomes widely available this year, wanderBOX will have it.
"My wife and I want to be able to unplug, but stay connected when we want to be connected," said Barnwell. "More people are working from home than ever before. But there's never been a vehicle that lets you work and play from anywhere. There's no more having to camp next to a cell tower or Wi-Fi signal in an RV park to work.
"Just point the satellite dish and you can be on a Zoom call in minutes. COVID has proven that workers can work from home and want to; it proved to employers that they can do it and want to do it. People want a better quality of life, want to be able to see our beautiful country and the world and still hold down a job, or check out and enjoy life."
Remote Adventures
And by anywhere, Barnwell means down any forest service road or deep in the desert, but don't expect it to go rock crawling or fitting down tight forested trails. The Outpost 35 doesn't fit into the mold of a typical overland vehicle, expedition vehicle, or RV, but bridges the gap between all three. Expect to use it to get the hell outta Dodge or to disappear in the woods for about as long as you might want.
Target Customers
Who needs one? Sprinter van lifers who want more room and the capacity to stay off-grid for extended periods of time. Class A RV operators who want to go off pavement and stay off-grid for long periods of time. Expedition vehicle fans who want a roomier, more functional floor plan, and longer stays off-grid. And, anyone who wants to be self-sufficient.
wanderBOX
When we first started talking with Barnwell about wanderBOX, the company was planning to release two models, the Outpost 35 and an even larger camper built on a Ford F-750 chassis. But, he's decided to exclusively focus the company's efforts on getting the Outpost 35 off the ground, for now.
The photos here were just shot yesterday, and you're seeing them here first. This is the first time the wanderBOX Outpost 35 has been out in the wild before making its official debut at Overland Expo West in Flagstaff, Ariz., later this week. We're looking forward to crawling around this big camper at the show, and hopefully getting some time in it out in the wilderness soon.
The Outpost 35 starts at $399,000, which is a lot of money. But, you have to consider what it offers and have a look around at the prices of the competition — Earthroamer, Global Expedition Vehicles, Prevost, etc. — to understand that the initial wanderBOX offering could be quite the value.
Outpost 35 Highlights
Strong, light aerospace aluminum honeycomb exoskeleton
R15-R25 composite panel wall construction for condensation-free, four-season use, and all-weather capability
Electric, solar, and diesel-powered systems — no propane or noisy generators.
2,800-watt rooftop solar array, 24 kWh lithium battery bank, 24VDC and 110/220VAC split-phase marine-grade electrical system
200-gallon fresh, 120-gallon gray, and 60-gallon black tanks for extended stay capability
Ford factory 4WD with computer-controlled air ride comfort drive system
6.7L PowerStroke diesel with 330 horsepower, 750 foot-pounds of torque, and 10,000-pound tow hitch
Flush-mount double-pane picture windows
7-foot ceilings in the master bedroom and bathroom, roomy kitchen, and den with convertible live/workspaces
Full-size three-burner induction cooktop, trash compactor, and washer/dryer
Standard 17-cubic-foot refrigerator with ice maker
Filtered water from all faucets
Solid-surface countertops and heavy-duty cabinets and drawers

 

Touch-screen digital display, touch and voice control of all systems

 

22-foot awning, outdoor entertainment system, and outdoor kitchen with an optional fully enclosed patio annex

 

Handmade in Mead, Colo.
Starts at $399,000
For all things wanderBOX, check out the company's website.