For many people, a good night's sleep in the outdoors is an elusive goal. Sleeping on the ground, even with the help of inflatable or foam sleeping pads, is still sleeping on the ground. For folks seeking a comfortable and elevated sleeping experience while camping, a cot is a great choice.
When car camping, cots can easily be stowed away with the rest of your gear and set up anywhere. Whether you prefer sleeping in a tent or under the stars, cots are a portable luxury that can fit into just about any vehicle.
Though the majority of camping cots are far too heavy for backpacking, certain models are impressively lightweight and relatively portable. On this list, the Helinox Lite Cot weighs just 2 pounds, 12 ounces.
You'll need to ask yourself if you are looking for the maximum in comfort, or if portability weighs heavier on your decision-making. Our detailed buyer's guide and comparison chart are chock full of information to guide your choice, and our frequently asked questions section will help to mop up any lingering queries. Wondering how we got our camping cot chops? Check out why you should trust us.
If you're looking for a versatile way to sleep comfortably outdoors, read on. You can scroll through to see all of our recommended buys, or jump to the camping cot you're looking for:
The Best Camping Cots of 2023
---
Camping Cot Comparison Chart
Why You Should Trust Us
The GearJunkie team includes a broad spectrum of outdoor enthusiasts. From hunters and anglers to overlanders and rock climbers, there is one characteristic that we all have in common: a multitude of nights spent sleeping outside. Over many years, we've tried just about every sleep system for camping, and cots remain a tried-and-true favorite.
Tester Meghan LaHatte is no stranger to the camping scene as she has lived in rural Colorado for the past 6 years. As an avid climber, hiker, and biker, Meghan knows the importance of a good night's rest under the stars before those action-packed days. She assisted in updating this guide by testing cots during a camping trip on Kebler Pass this past summer.
This list of recommendations is the result of thorough testing and careful comparison. When we test camping cots, we consider numerous factors, including durability, weight, value, and most of all — comfort. It's impossible to gauge the quality of a cot without actually sleeping on it. We did our due diligence and caught some Zs on numerous cots until we identified the best.
Buyer's Guide: How to Choose a Camping Cot
The question of camping cots versus sleeping pads depends on how you plan to travel. Consider how you plan to use your sleeping system and look at the options below.
Camping Cots vs. Sleeping Pads
Camping Cots
Camping cots elevate you off the ground, providing a softer night's sleep. They also help to prevent the cold ground from chilling you as you sleep.
They also provide a much larger sleeping space. This makes it less likely that you'll roll off of it in the middle of the night. However, cots tend to be heavy, and they're much bulkier than sleeping pads. This makes the majority of them less than ideal for portable use.
For people who only sleep a short distance from their cars, camping cots are a great choice. Since they won't be hauling their cots far, the added weight and bulk aren't as much of an issue.
In this case, comfort and ease of setup are generally the biggest concerns. Because camping cots are generally a closer approximation to the average bed, they are usually more comfortable than sleeping pads.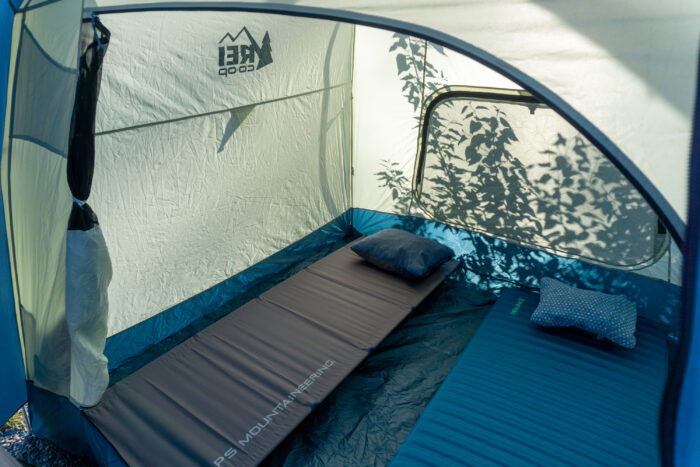 Sleeping Pads
Sleeping pads are much lighter and more compressible than cots. They are also generally softer than cots that don't have integrated cushioning.
However, they do require you to sleep on the ground. This exposes you to the ground's hardness and can let cold transfer from the ground into your sleeping bag.
Because backpackers have to carry all of their gear with them while they hike, weight and packed size are huge considerations. Many backpackers are willing to sacrifice the added comfort of a camping cot for lighter and more packable sleeping pads.
Many pads are also designed to add some of the amenities that cots provide. Insulated pads are built for cold-weather camping. The insulation within the pad absorbs some of the cold coming from the ground, preventing it from sapping heat from your sleeping bag.
Inflatable sleeping pads keep you off the ground and allow you to sleep on a cushion. These are softer than non-cushioned camping cots but are usually louder, as the lightweight material can make a crunching sound when you move on it. The most common description is that it's like sleeping on a bag of chips.
Intrigued by sleeping pads? Check out GearJunkie's full gear guide to learn more.
Camping Cots & Sleeping Pads
If luxury is the goal and weight isn't an option, a camping cot plus a sleeping pad is the way to go. A camping cot paired with a foam sleeping pad provides the best of both worlds.
The cot will elevate you off the ground and give you a bigger space to sleep on, while the pad adds a good amount of softness. It's similar to the function of the box springs and mattress of your bed at home.
If you want to combine a cot and a pad, check to see if the cot you're looking at has an add-on pad. Some companies offer pads designed specifically to work with certain cots. This ensures that your pad will fit perfectly with your cot. Some also have securing systems to attach the pad to the cot, which prevents it from moving around or sliding off while you sleep. For a cozy, all-in-one pad and cot option, check out the REI Kingdom Cot 3.
Ease of Setup
Any piece of gear is useless if you can't set it up. The bed of a cot is generally composed of a material that is stretched tight over a frame that supports your body.
Pulling the material tight enough to support your weight requires a good amount of tension. Many people find it challenging to pull the last section of material over the frame, often requiring help from another person to pull with enough strength.
In our experience testing these cots, we've found that the smaller a cot packs down, the more complicated it is to set up. Generally, there are more pieces to put together, and there are more parts that have to be secured to create and maintain tension. Also, there are often snap-together or folding sections that can pinch your fingers if you're not careful.
We've even had a tester make the mistake of trying to assemble a backpacking cot with his down sleeping bag lying on top of it. In the process, he snapped two pieces together over the sleeping bag material, causing a small tear in the bag.
The result was clouds of fine down puffing out and filling the air in the tent every time the bag moved, which led to a late-night search for duct tape (and a lot of swearing).
As is often the case when it comes to gear, there is always a tradeoff when it comes to how easy a camping cot is to set up. In general, the bigger and bulkier a cot is, the easier it is to set up. Smaller cots require more pieces to be broken down, but they weigh less and pack smaller. Larger cots are harder to carry around, but they usually require one or two steps to set up.
Some cots are engineered with state-of-the-art technologies that make them easier to assemble, especially for people needing more accessible designs and applications. These technologies include easy-lock mechanisms, adjustable springs, and pop-out assemblies.
Decide whether you prefer convenience or mobility, and choose the best cot for your needs. On this list, both the King Camp Folding Cot and the Coleman ComfortSmart Cot stand out for their quick and easy setup.
Comfort
Again, there's a tradeoff here. Larger camp cots with plenty of space and padding are universally more comfortable. However, they're all but impossible to pack with you on a long hike or backpacking trip. Although smaller camp cots are a lot more mobile, they lack the frills and creature comforts of a larger cot. Below are a few ways you can consider your first or next camping cot in terms of comfort.
Some cots require you to pair your sleeping pad with them for optimal use, while others even have integrated pads attached to the cot itself. Adding a sleeping pad to your camping cot setup can help increase the warmth and comfort of your setup — especially if you are used to sleeping on your pad alone anyway.
Cots that don't necessarily require an added sleeping pad tend to have the feel of laying in a hammock. The fabric should be stretchy enough that your body is comfortably supported, but not totally lacking in structure that you feel like you're sinking in. We felt that the Disc-O-Bed performed well in this instance.
When considering the comfort of a camping cot, it's also wise to think about its overall size. If you tend to toss and turn or sprawl out when sleeping, snagging a wider or double-size cot would probably be the best choice for you. King-size cots like the Teton Sports Outfitter XXL Camp Cot are crucial if you are planning on sharing your cot too.
Finally, it is easy to forget about height from the ground when shopping around for a camping cot. Because you're elevated off the ground, you won't feel any protruding rocks, sticks or lumps as you normally would sleeping on the tent floor.
The airflow under your cot even helps regulate body temperature by keeping you cool when it's warm and protecting you from the frosty ground during the winter. When considering height off the ground, keep in mind that a shorter cot would be better suited for camping in a car, whereas a taller one can work best inside of a taller dome-style tent.
If you're going backpacking, comfort is secondary to ease of transport. Ideally, you're going to want to go with a cot that is lightweight and packs down to a manageable size. If you're camping next to your car, comfort is a priority, so consider the additional details below.
From this list, we'd consider the Coleman Airbed Twin Cot among the most comfortable camp cots on the market due to its extra cushiony application.
Warmth
It's worth noting that sleeping on a camping cot is much like sleeping in a camping hammock. Without the insulation of the ground underneath, you're more likely to become cold. It's important to either bring an under quilt or pair your cot with an insulated sleeping pad.
Camping cots with integrated sleeping pads will typically be warmer than those without as the extra cushioning helps you insulate body temp. These thicker pads like the one found on the REI Co-op Kingdom Cot 3 paired with a warm sleeping pad would keep you plenty cozy during some winter camping action, but the thinner pad on the Coleman ComfortSmart Cot would be best for summer camping if you don't need the extra insulation.
Camping cots without attached sleeping pads are great for fully customizing your sleeping setup so you don't get too frigid or toasty while trying to catch those Z's. What we love about the ALPS Mountaineering ReadyLite Cot is the option to insert a sleeping pad into the platform, making for a secure fit that will keep your body plenty insulated without slipping out from under you.
Whatever you decide when considering warmth in a camping cot, it's always wise to bring extra sleeping bags, blankets and insulation, especially if you're winter car camping. You can always shed a few layers, but there's not much you can do if you haven't brought the correct provisions to stay cozy.
Sleep Area
Before buying a cot, you'll want to first ensure that the cot is big enough for you to sleep on without resting on the frame. Most cots are long enough to fit people as tall as 6 feet and run just over 2 feet wide.
If you're on the taller or wider side, many cots such as the Klymit Cedar Mesa Cot offer XL or XXL versions. These cots are generally longer and wider to accommodate larger people.
On this list, the Teton Sports Outfitter XXL Camp Cot offers a whopping 81 inches from head to toe. If you're not sure whether a cot will fit you, look for the specifications online. The specs page will show the cot's dimensions, so you'll be able to see whether it's a good fit for you.
Cushioning
Most cots don't have cushioning — the sleeping area is a piece of material like polyester fabric stretched tight to provide support. Many campers find these cots to be too firm, so they'll add a sleeping pad of some kind to provide cushioning.
If you'd prefer to sleep on something that feels like your bed at home or want an extra bed for visiting folks, look for a cot that comes with cushioning attached, such as the Coleman Airbed Twin Cot, or the REI Kingdom Cot 3.
Weight & Packed Size
Most of the camping cots on the market are designed for car camping, where pack size and weight are less of an issue. Camping cots tend to be on the larger side, weighing anywhere from 12 pounds on the lower end to around 30 pounds on the higher end.
Many elements such as material, fabric, and design factor into the weight of a camping cot. Camping cot frames made with heavier metals like steel will be heavier than those made of aluminum. Cot fabrics like canvas and polyester tend to add on weight compared to lighter nylon and mesh. Consider where you'll be using your camping cot and how the overall design may affect your ability to carry into your campsite or backpack with it across the wilderness.
Speaking of packing, some of these cots are better suited to just be tossed in a car rather than packed in a backpack or duffel. While we absolutely loved the Coleman ComfortSmart Cot, we found that its 20-pound packed size was quite cumbersome and really only ideal to throw in the trunk if there was room.
On the other end of the spectrum, some camping cots can pack as small as a camp chair or sleeping bag, making it worth it to throw in your backpack for a longer mileage excursion. The ultralight Helinox Lite Cot really soared on this front as it only weighs in at 2 pounds, 12 ounces and fit superbly in our backpacks without taking up too much real estate.
Car Camping
If you plan on camping next to your car, the main thing to consider is how much space you have available in your mode of transportation, and whether you'll have enough room for your cots and the rest of your gear. If you have ample space, comfort often becomes the first priority.
Choose the biggest, cushiest cot you can find, and don't worry about the weight. Just make sure you have enough room in your car for it.
Our go-to choice for cushy car camping? The ultra-adaptable REI Co-op Trailgate Vehicle Sleeping Platform. And if you're looking to shack up in the truck bed? Go for the set-and-forget ease of the FLATED Air-Deck.
Hike-In Camping
People who camp in spots that require a short hike from the car have additional considerations. If you have to hike to your campsite, make sure that your camping cot is light enough to carry to the site. Also, ensure that the cot isn't too bulky to carry alongside the other necessary gear.
Look for a camping cot that is stowed in a bag, preferably one with handles or a shoulder strap. You'll be thankful for details like this when it's time to hike your gear from your car to the campsite.
The Klymit Cedar Mesa Cot is a superb choice if you're looking for a camping cot that's light enough to carry without getting winded. The included handled carrying case made setting up camp super easy and convenient without too many trips hauling gear from the car.
Backpacking
In general, camping cots are not very compatible with backpacking. Cots are heavy and bulky — two words that backpackers avoid at all costs.
If backpacking is your primary style of camping, and you absolutely must sleep on a cot, consider one of the lightweight cots we profile above. The Helinox Lite Cot or ALPS Mountaineering ReadyLite cots are light enough to take into the backcountry, but are still comfortable enough to sleep on if you occasionally go car camping.
Durability
Durability varies widely with camping cots. We've found that there's a proportional relationship between weight and durability with this type of gear. Generally, the heavier a cot is, the tougher it is.
Heavy car camping cots are made up of sturdy frames composed of steel or steel alloys. These heavier metals give the cot an exceptionally durable build. This makes them more resistant to drops, exhausted campers flopping down on them, roughhousing kids, and whatever other vigorous activities a bed might face.
Lighter cots have frames that are built with aluminum or some other lightweight material. The lighter weight is great for trekking it into the woods, but they're often much more fragile.
Lightweight cot frames are sturdy enough to support campers' weight while they sleep but must be treated with more respect. In our testing, we've found that these lighter-weight cots are best eased into when it's time for bed.
If you're camping next to your car and weight is no issue, you can opt for a heavier cot and rough it up a bit. On this list, the Coleman Trailhead II Cot is supremely durable, but it weighs a hefty 21 pounds. If a lighter, more packable cot like the King Camp Folding Cot better suits you, make sure that you're more careful with it than you'd be with a 30-pound behemoth.
Accessories
If you want to elevate your camping experience and maximize the functionality of your cot, consider the accessories that come included or as add-ons for an extra price. These accessories can include side tables, storage compartments, pockets, sleeping pads and other functional elements.
We were impressed by the included side table and cup holder included with the Coleman's Camping Cot with Side Table. Being able to have your water bottle, book and headlamp at arm's length is a major plus.
Really want to go all out with the accessories? Consider the customizable bunk bed style Disc-O-Bed. You can order this puppy with extra fabric cabinets, organizers and sleeping pads that heighten camping to an extra level of luxury.
Price
The camping cots that we profile here represent an accurate sampling of the prices you'll see when shopping for a cot. They vary in price from $45 to $80 for simple, no-frills models, but cots can reach $300 and above at the higher end. When shopping for a camping cot, weigh the options you need against how much money you have to spend.
If you want a simple cot to keep you off the ground when you sleep next to your car, start with the lowest-end cot and think about what you'd like to add to it. A simple car camping cot consists of a folding frame with material stretched over it and should cost somewhere south of $100. On this list, the Coleman Trailhead II is our Best Budget pick at just $55.
Want added cushioning or organization options? Be prepared to spend a little bit more on an upgraded option, somewhere in the range of $150-250.
Looking for a cot that is light and easy to carry into a walk-in campsite? These options will cost a little bit more because of the lightweight materials and design that go into the construction. These generally cost around $200-250 and can reach $300 and above with add-ons like rain flies or integrated tents.
FAQ