It's not simply a matter of what it takes to win a 3,000-mile bike race. It's about what winning the Race Across America grants you in 'real life.'
Just as France has the Tour, the United States has the Race Across America (RAAM). While both events pose grueling 3,000-mile courses and demand extraordinary conditioning, RAAM is an entirely different animal.
Unlike the Tour de France, the annual RAAM is no stage race. Instead, individuals and teams pedal round the clock to cross the country, riding from southern California to the East Coast.
And this year Fat Chance, America's four-person, mixed-gender team won its category, officially finishing the 3,029.8-mile trek in 6 days, 9 hours, 33 minutes. How on Earth do you pedal across the U.S. in less than a week?! Fat Chance team member Patrick Sweeney told GearJunkie what he learned on his epic ride.
Race Across America: 7 Life Lessons Learned
A self-proclaimed "Fear Guru," Sweeney is an author, entrepreneur, and motivational speaker. He's made a career of adventure and storytelling.
According to him, he and team Fat Chance conquered "every challenging meteorological and vehicular phenomenon imaginable!" And along the way, he found seven lessons that helped him and his teammates excel — both on and off the race course.
1. Find More Fear and Cultivate It
Anxiety, stress, and fear are ever present in an adventure like RAAM. So you'll need to acquaint yourself early.
Fear peaks at the start or on 60-mph descents, when your front wheel suddenly develops the speed wobbles. Yet, every day when my shift came around, the butterflies awoke in my belly. I was afraid of the heat, the 18-wheelers blasting by my shoulder, the greasy, pitch-black roads with water running God knows how deep, and the flat I got speeding 46 mph downhill.
Each day I needed a second trip to the toilet just before I took off, as the butterflies came on in full force. The tummy-talking and bowel-bowling were sure signs my amygdala was actively sending me into a fight, flight, or freeze response.
When I felt my body change, I knew my central nervous system was refining a high-octane energy reserve we normally don't access. I love that feeling because the fear is fuel — I wrangled and tamed the butterflies into flying in the same direction and got pumped up.
After a few days, the fear's sharpness began to dull. But I brought it back to the razor's edge near the end of the race. I felt a renewed intensity on day six when I saw another team gaining on us. Despite deep-rooted fatigue and a foggy mind, the fear kicked in like a turbocharger; it cleared my head and powered my pulls.
I suddenly pushed several 24- to 25-mph stints over the last 30 minutes of an 11-hour shift — the latest in six grueling days. That fear — of losing, failure, and letting down my teammates — became my performance-enhancing drug.
2. Commit
Driving full force into a mission eliminates doubt, questioning, and decision fatigue. When it was pitch-dark, lashing rain and shivering blurred my vision. I knew as soon as my partner's light came into view for the handoff I would open the van's door and get back on the bike — even though my mind and body screamed at me not to.
I didn't waste any energy thinking, "I could do this later; maybe I could skip this leg; if I wait it might clear up; it's not my job," etc. I committed to doing my part no matter what.
When our crew was on the brink of falling asleep standing up and the crew chief wasn't giving clear direction, they took initiative because they were dedicated to the team. Even with a leadership void, if everyone else has commitment and dedication, people will take action for the team.
The more you show an unquestioning commitment to your job, the more trust it builds among your team, and the more you count on each other and create a safe environment where you know everyone is going to give their best.
3. Appreciate the Little Things
Part of this means not letting bad things set you back or consume your energy. Even at the height of suffering, pausing to notice a haunting crescent moon, laugh at a recalled moment, or marvel at the beauty of the scenery can give you a change of heart. That can positively affect your performance and mindset.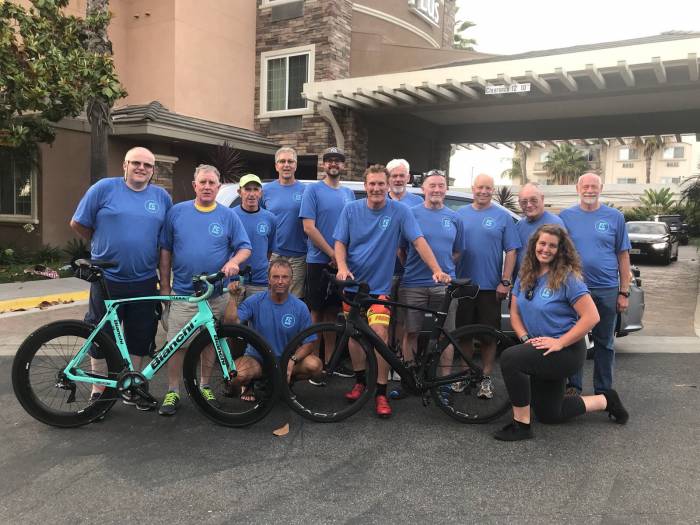 So can good samaritans. A woman standing alone under an umbrella at midnight, furiously ringing her cowbell as I navigated swiftly running water in a construction zone in Athens, Ohio, made me laugh for a good five minutes. I mean, really: How altruistic can you be?!
Murphy's Law applies to anything in life, so expect it and know that when things go haywire, it happens to everyone. How quickly and efficiently you deal with unforeseen issues will set the tone for your next stage of success.
4. Prioritize the Mission, Not a Position
An epic adventure is like a startup: Having a clear objective, a handful of prioritized metrics, and a defined mission will guide you to success. Step one is assigning crucial roles to specific people.
This ensures no one says, "Someone needs to pump up the tires." Everyone knows who checks the tires, but if someone misses their responsibility, the rest of the team is dedicated to the mission and can jump in to do other tasks. Anyone more concerned with protecting their ego is cancer to a team.
5. Desire and Practice Always Trump Talent
I was 210 pounds when we started the race. Even with a rower's body and the biggest bike frame I could find, I look like a gorilla riding a tricycle in a circus. As a former world-class rower, I'm sure I was never made for any athletic events longer than seven minutes. But here I was as part of a winning team that raced for more than six straight days.
Shawn, a retired financial planner who wanted to be part of a great adventure, signed on to the only open spot … as a cook. He had never been in a kitchen but did whatever he was asked with a smile on his face. The lesson: Don't let others — or yourself — put a limit on your accomplishments because you are not a "born talent."
6. Stay Ahead of the Bike
Being prepared ahead of time for any eventuality is critical for dealing with the unforeseen. The eight-man team that set the course record this year had over 500 rider-exchanges in just over five days.
The team knew that 15 minutes after they dropped someone off for a sprint, they had to find the next suitable spot on the side of the road, get a rider out, check the lights on the bike, put it in the right gear, squeeze the tire pressure, and communicate the next turns to the rider for their quarter-hour sprint.
But they also had backup plans in place when things didn't work. Being psychologically "ahead of the bike" gives ample room for quick decision making and contingency planning when old Mr. Murphy rears his head.
7. Embrace Multiple Perspectives, Then Adjust on the Fly
The other three riders and I suffered to get an extra half-minute every time we sat on the bike. The level of pain we endured for those few seconds was extreme, so it was infuriating when we committed a preventable mistake that cost precious minutes. The person causing the delay wasn't thinking of our pain and often wasn't ahead of the bike (see the previous point).
The crew's point of view was entirely different than the individual's because they were on 18-hour shifts every day. Some were even falling asleep for a few seconds while driving. The crew chief assigned 18-hour shifts for logistical convenience, but that was a mistake.
If we had put ourselves in the other team members' shoes and seen how hard this was on the crew, three eight-hour shifts would have been an easy and apparent solution to adapt on the fly.
---
Patrick Sweeney is the Fear Guru. His book 'Fear as Fuel' is coming out in 2019. Sweeney is a full-time adventurer, entrepreneur, and angel investor, and the first person to attempt to ride a bike up and down the Seven Summits — the highest peak on each continent. He has also started and sold three technology companies, is the Chairman of the Young Presidents' Organization (YPO) Entertainment Network, and sits on several corporate and university boards.