Off-road fans could be excused if they're feeling "raptorous" at the news that Ford will be adding yet another model to its rugged Raptor family. And it has confirmed that the 2024 Ranger Raptor will make its official debut on May 10.
A downsized version of the now-familiar F-150 Raptor, the 2024 Ford Ranger Raptor will be the most rugged version yet of Ford's midsize Ranger pickup.
The Detroit automaker isn't saying much about the new model beyond what's to be found in this 15-second teaser that just aired for the first time today. But, there's been a lot leaking out from the Blue Oval brand in recent months, and here's what we're expecting to find out officially when the covers are lifted off the newest Raptor on May 10.
Raptor: More Rugged Appearance, More Off-Road Capabilities
You won't have to think hard to distinguish the Raptor package from more mundane versions of the Ranger. As with the F-150, expect a beefier appearance starting with the front bumper which has been updated to allow for steeper approach angles. The grille has bold "FORD" lettering, and the wheel arches have been flared out to handle bigger tires.
Expect more robust breakover and departure angles and substantially more ground clearance than the current Ranger offers.
Ranger Raptor: More Muscle Than the European Version
Ford actually launched a version of the Ranger Raptor in Europe late last year. But the American version won't be identical. For one thing, EU buyers have to settle for a relatively mundane 3.0L twin-turbo V-6.
In the States, the Ranger Raptor is expected to share the same drivetrain found in the Bronco Raptor that debuted last year. The SUV's 3.0L twin-turbo V-6 is rated at a decidedly more sporty 392 horsepower and 430 pound-feet of torque. But there've been hints that the Ranger package might have slightly different numbers.
Either way, expectations are that the six-banger will be paired with a 10-speed automatic and send power to all four wheels. There will be locking front and rear differentials, as one would expect of a Raptor, as well.
While it remains to be seen what the final configuration will look like, it's been widely expected that the Ranger Raptor will feature 2.5-inch Fox Live Valve shocks using a Teflon-infused oil to smooth things out. The truck is also said to feature a new "Bottom-Out Control," system meant to maximize damping during the final 25% of shock travel. And if you do slam into a rock, the drivetrain is protected by thick new skid plates.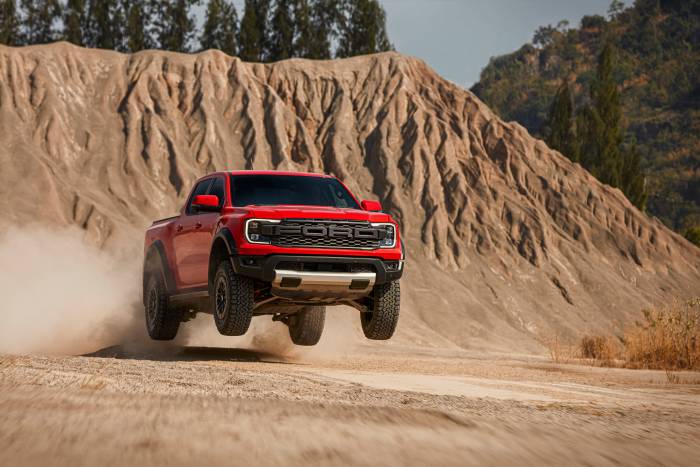 Raptor Special Off-Road Features
It's a certainty that the off-road-oriented pickup will include a Trail Control system that, with a turn of a rotary knob will let you switch between a variety of different drive modes, such as "Mud and Ruts" and "Rock Crawl." Each modifies the settings for vehicle functions such as throttle response, transmission shifts, damping, and more.
Trail Control, a sort of off-road cruise control system, is a certainty. So are Turn Assist and One-Pedal driving. The former locks up one of the rear brakes to make especially tight turns, and the latter lets you modulate the throttle to speed up or slow down, rather than jumping back and forth from throttle to brake.
Raptor Unique Cabin Features
As with the Bronco Raptor, expect to see a number of modifications to instrumentation — both the gauge cluster and infotainment screen — to assist when doing serious off-roading. Another likelihood: a variety of new switches that can be set up to handle things like exterior lighting.
There'll be plenty of technology onboard, including the latest version of the Sync infotainment system, Apple CarPlay, Android Auto, and a WiFi hotspot.
Based on what Ford has done with the European Ranger Raptor, look for heavily bolstered seats, upgraded cabin materials, aluminum paddle shifters, and more to distinguish it from a more mainstream version of the truck.
As with the Bronco Raptor, a special mounting system for smartphones is another likelihood.
Off-Road Trail App Could Follow
Earlier this month, Ford launched a new smartphone feature, the Bronco Trail App, which can help locate and navigate 1,200 "professionally curated" off-road trails covering about 18,000 miles of wilderness in the U.S., Canada, and Mexico. The app also allows drivers to mount their phones, shoot video, and have vehicle data overlaid on top of the images. Drivers then can share their pics, video, and notes through social media and other forums. Don't be surprised if Ranger Raptor owners will get access to the app, at least at some point in the near future.
2023 Ford Ranger Raptor: Pricing & Availability
We'll have to wait for pricing details but, as with Raptor versions of the F-150 and Bronco, expect a sizable premium over more mainstream versions of the midsize pickup. Expect to see the 2023 Ford Ranger Raptor roll into U.S. showrooms sometime during the second half of this year.