We expected big power, impressive shocks, and aggressive styling. Ford delivered with the 2023 Ranger Raptor.
Ford led the charge into the go-fast off-road pickup market with the F-150 Raptor all the way back in 2010. It recently teased us even more with the 2022 Bronco Raptor, and now it's promising a 2023 Ranger Raptor.
Ford unveiled the next-generation Ranger midsize pickup late last year to the Australian market, as a 2022 model-year vehicle. Of course, Ford told those of us in North America to patiently wait. Now, we know we're getting not only the new Ranger in 2023, but also the almighty Ranger Raptor.
It debuted on Ford's South Africa YouTube channel late last night, along with lots of details and photos on the Ford Australia website. Here's what we know so far.
2023 Ford Ranger Raptor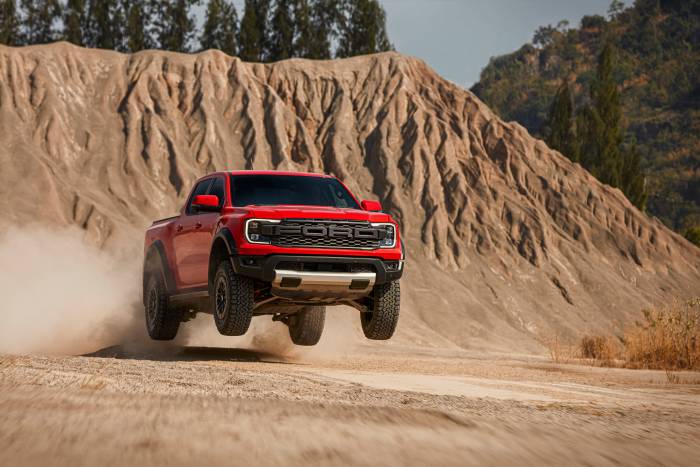 What we know so far is all from how the truck is sorted in Australia. So specs and included equipment could differ slightly when the truck arrives in North America — but we'd guess by very little.
The 2023 Ranger Raptor comes with a 3.0L V6 twin-turbo EcoBoost engine putting out 391 horsepower and 430 pound-feet of torque. That power runs through the 10-speed automatic transmission that we already know and love from the current Ranger.
That power also runs through a full-time four-wheel-drive system, which I'm honestly sad to see (it's my one gripe with the RAM TRX), as it means no two-wheel-drive smokey burnouts for us.
As with all Raptor models, we get big aggressive tires, small off-road capable wheels — so we can have lots of tire sidewall — and fancy super-capable Fox shocks. For the 2023 Ranger Raptor, we get 33-inch BFG KO2 AT tires wrapped around 17-inch beadlock-capable wheels.
We also get Fox 2.5-inch Live Valve internal bypass shocks, which look to offer impressive go-fast off-road capabilities from the release video. With 5,511 pounds of towing capacity, we'll at least be able to tow some small off-road trailers.
We also know that we'll get an impressive nearly 33-inch water fording depth capability, or about the height of the tires. Front and rear selectable e-lockers should also make getting truly stuck a real challenge. For even more off-road driving ease, the Ranger Raptor comes with Trail Control, which is basically off-road cruise control.
Seven driving modes are on offer: Normal, Sport, Slippery, Mud/Ruts, Sand, Baja, and Rock Crawl. You're also able to build your own driving mode with four steering modes, three damper settings, and four exhaust modes.
I think that's the most exhaust settings I've ever seen on a vehicle, and maybe a bit overkill. Usually, quiet and loud are all you really need.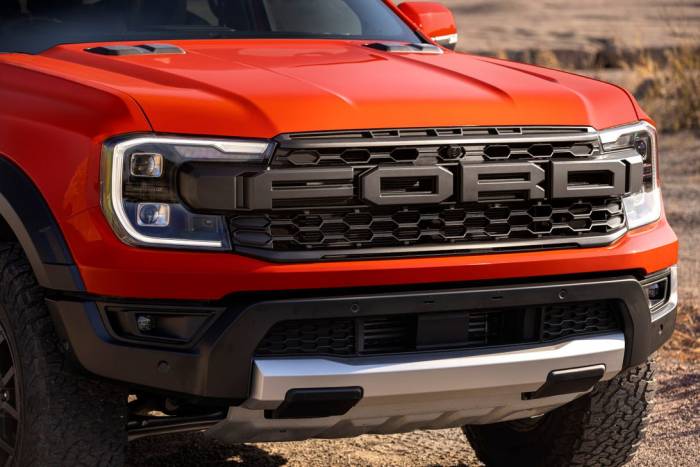 The new Ranger Raptor also delivers in the sporty, aggressive looks department. It has a unique "Ford" grille, LED headlamps and taillamps, LED front fog lights, aggressive gray fender flares, and fender vents.
Adding to the looks and functionality are dual front and rear tow hooks, steel front skid plate, black powder-coated aluminum side steps, a rear bumper with integrated step and towbar, and dual exhausts.
Inside the Ranger Raptor, we get a 12-inch, portrait-oriented infotainment touchscreen with the latest SYNC 4 system and a massive high res 12.4-inch digital driver's gauge cluster. Ford also gives us a sporty "Raptor"-logoed steering wheel with selectable drive mode buttons, paddle shifters, and an orange center locator ring at the top.
Ford Performance seats embossed with the Raptor logo should hold us in comfort while bombing down dirt roads. The Code Orange accent color on the black interior carries throughout with contrast stitching and trim pieces.
Of course, there's no word yet on pricing. A 2022 Ranger tops out right around $40,000, and an F-150 Raptor starts at around $65,000. Our best guess is that the 2023 Ranger Raptor will have a starting price of just under $50,000.
Yes, We're Getting It
Ford CEO Jim Farley confirmed via Twitter that the new off-road beast will come to North America:
The #NextGenRangerRaptor is here. Developed by @FordPerformance for pickup enthusiasts around the world. https://t.co/rEq3plBngf
Ranger is a truly global vehicle.
It's sold in 180+ countries around the world and will be coming to two more starting next year: 🇺🇸 & 🇨🇦 pic.twitter.com/AUjTq7eqA2

— Jim Farley (@jimfarley98) February 22, 2022
And Mike Levine, Ford's North America product communication director, announced via Instagram that the Ranger Raptor will be coming to the U.S. in 2023:
View this post on Instagram
If you just can't wait until 2023 for the Ranger Raptor, you can always buy a Hennessey Ranger VelociRaptor today — albeit at a steep price.