Telo Truck launches today, claiming "Toyota Tacoma capability, Tesla-like range and efficiency, in the footprint of a Mini Cooper (152 inches)." And, it makes those claims based on one of the founders currently owning a Tacoma and the other founder having worked on battery technology at Tesla.
Nevertheless, we'll see about those claims when we can get our hands on a Telo. But the most impressive feature of the new truck is its size. This is thanks to off-the-shelf EV technology and its efficient use of space to reconfigure to accommodate cargo or people. We have this option in many SUVs, even sedans, but rarely in a truck.
The Telo Truck brand was co-founded by Jason Marks and Forrest North. The goal was to reimagine vehicles for active urban lifestyles while being more efficient. The founders want the Telo Truck to be a compact, practical, and technically advanced vehicle for the comfort and safety of the occupants as well as safer for others on the outside of the vehicle.
Telo Truck Specs
Overall length: 152″
Truck bed length: 60″ standard, up to 96″ with tailgate closed & mid-partition open
Height: 66″
Width: 73″
Curb weight: 4,400 lbs.
Range: 350 mi.
Power: 500 horsepower / 380kW dual-motor AWD
Top speed: 125 mph
0-60: 4.0 sec.
Charging: 106kWH battery that can fast charge (20-80%) in 20 min.
Payload: 1,600 lbs.
Towing: 6,600 lbs.
MSRP (expected): Starting at $50,000
Availability: Early reservations in 2024 (handbuilt), mass production in 2025
Why Start a New EV Truck Brand?
"It feels like a burden to have a truck in the city," says Marks, a San Francisco resident and Toyota Tacoma owner. Marks likes to surf, snowboard, and has a large dog. He had to sacrifice ease of vehicle maneuverability in the city to have enough room in his vehicle for his lifestyle.
"It didn't feel like there was a good vehicle out there for me — I can't find a parking spot," he says.
His business partner, Forrest North, added, "We wanted to build a vehicle for urban adventurers. The established car manufacturers are making their existing products bigger and electric. We want to jumpstart this smaller vehicle category that's still utilitarian."
Why Smaller?
"Smaller is more efficient and safer," says Marks. The lighter the vehicle, the less power is needed to get it up to speed. And a smaller vehicle has less surface area, which means less air resistance to push against.
"Existing car manufacturers are simply electrifying their current models without taking into consideration how smaller components can make for smaller more efficient vehicles," adds North.
Telo Truck claims a 350-mile range, which will vary according to how the vehicle is used. But while the smaller size, lighter weight, and aerodynamic shape of the Telo Truck help, North put his battery experience (from Tesla and other work) to designing a battery pack that lays low and flat in the chassis.
Smaller is safer because a vehicle with less mass can stop faster to help avoid collisions. And if there is a collision, something smaller applies less force and can cause less harm or damage. Not only is a smaller vehicle safer simply because of physics, but modern radar and sensing technology contribute to the equation as well.
"We're building a 'Symphony of Safety' in the Telo where there is not only sensing technology to avoid a collision in the first place and collision safety components on the inside of the vehicle if there is a strike, but it includes safety components which can be deployed on the outside of the vehicle as well to minimize harm to others," Marks explains.
When pressed for details about safety components for the outside of the vehicle, the founders are keeping their cards close. They only said that they will have "additional releases showing that technology in the future. We want to do it by the book, ensuring the safety and regulation of each feature." So, some mystery remains.
Efficient Use of Space
Renderings of the Telo show a snub-nose design with front wheels exposed in the front, a bit like a Hummer, which could give the Telo an excellent approach angle. Without the need for a large engine, the nearly nonexistent hood connects to a long, low-angle windshield at the front of an otherwise boxy two-row cab with full-size doors for the front and second rows.
The back of the cab drops right into the 5-foot truck bed. The rear axle and wheels are right at the tailgate, and a tucked tail design looks to give the Telo an excellent departure angle to complement the front.
A key feature of the Telo Truck is to be versatile to suit a wide range of use from urban shuttling of cargo or people to adventures in the great outdoors. The Telo will have a "configurable mid-partition" to adjust from the standard five-passenger cab with a 5-foot truck bed to add another row of seating to accommodate eight passengers.
Or, the second row can fold down to extend the truck bed another three feet, albeit, under the rear window. Nevertheless, this will still allow the truck bed to fit a standard 8×4-foot sheet of plywood.
When converting to the three-row configuration, a hardshell top can be added to the whole bed. This effectively transforms the truck into an SUV. The third row of seats has to be added. The design uses the gear tunnel as the footwell for the third row.
On a Zoom call, the founders showed a scale replica of the interior and were able to sit two men over 6 feet tall in the driver's seat and right behind the driver to show each of them had plenty of room. The seating space in the third row could not be demonstrated at this time. But, a rendering makes it look like it should be reasonably roomy as well.
50-State Road Legal
Marks and North confirmed the build of the Telo Truck is currently in the U.S. Federal Homologation. That process ensures that the vehicle is fully road legal in all 50 states. They expect to have the certification by 2024.
Telo expects its trucks to hit the market in 2025, both for consumers and business fleet customers.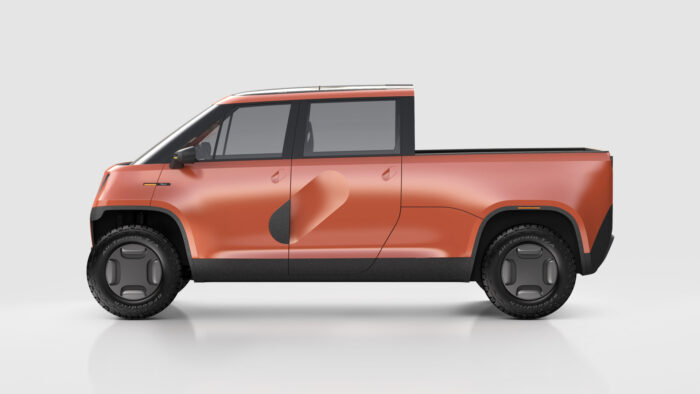 The Cost of a Telo Truck
The starting price of the Telo Truck is expected to be $50,000. That is quite a chunk of change for such a small vehicle!
When asked about the price point, Marks answered, "We looked at the vehicle purchasing habits of people in our core demographic, and on average, they are buying vehicles between $35k and $60k. These are cars like the Toyota Tacoma, Ford Bronco, Tesla Model Y, Subaru Crosstrek, Jeep Wrangler, Toyota RAV4, and Honda CR-V. We want to provide a purpose-built alternative for these options, for those that would prefer a vehicle with more utility and that takes up less space, that meets the needs of urban adventurers.
"We feel that in order to get to a sustainable future, we need to provide an electric vehicle at an accessible price point. Note that government incentives may dramatically lower the purchase price for many consumers and that on average, over a 5-year period, EV owners save $10k-15k on gas and maintenance over a gas car."
You can get your name on the list for your own Telo Truck today, for a $152 deposit. That preorder fee is fully refundable and simply gets you a spot in line to buy one of the first vehicles.
Marks and North say the first vehicles will be made by hand and are expected to ship in 2025. In the meantime, they will build the infrastructure to scale up manufacturing for mass deliveries in 2026.
Telo Truck: Conclusions
The Telo Truck brings a new category of vehicle to the U.S. market. Marks and North believe there is demand for smaller and more efficient vehicles, both in range efficiency and in use of space. The plan is to be a direct-to-consumer business.
They plan to contract with local shops across the country for servicing the vehicles. But, they will also start with a branded service center, likely to be in the San Francisco Bay Area. Learn more about Telo Trucks here.