Walk, hike, run — however you move, the HoverGlide Backpack appears to hover in place behind you.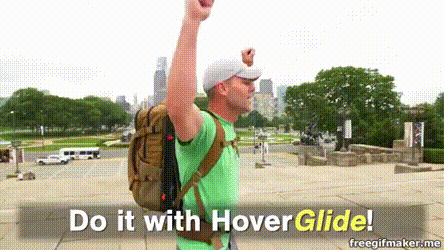 It's not often we encounter something we've never seen before. And when we do, it can be either a genius innovation or hair-brained contrivance.
The HoverGlide Floating Backpack from Lightning Packs falls smack in between the two. On the one hand, a backpack that basically floats behind as you jostle and rumble on a hike or run seems like an amazing idea!
On the other hand, watching this pack eerily slide up and down against the wearer has an odd Shake-Weight quality to it. And frankly, it's hard to tell how that would actually feel on your body while hiking.
Before we go any further, take a look at the video below for yourself.
HoverGlide Floating Backpack
Disclaimer: We haven't tried this pack. It's very unconventional. From what we see, it could be awesome or totally terrible. We're calling this out because it's super unique, but this is not an endorsement.
According to Lightning Packs, the HoverGlide uses a "patented double-frame and pulley system design." What the heck does that mean? From what we can see, the pack slides along rails while bungees and pulleys counteract the wearer's movements.
The brand claims this unorthodox movement has numerous benefits. Mainly, Lightning Packs asserts that the pack's motion translates to a reduction in the force experienced by the wearer.
Essentially, the claim is that the pack feels lighter than it is. Lightning Packs founder Lawrence Rome points to a study in the journal Nature, which found that using a similar bungee system reduced impact forces for the wearer up to 86 percent.
Interestingly, the author of that study was Dr. Lawerence Rome himself. And he and his colleagues went on to found Lightning Packs shortly after, according to Reuters. The brand also claims that less stress on the body will reduce the risk of pack-related injuries and increase the wearer's endurance compared to wearing a traditional pack.
If it works, it could be a major upside for weirdos like us who enjoy running to work. The less a pack jostles, the better it is for everything inside, especially a laptop.
Lightning Packs HoverGlide
While the HoverGlide is not on the market yet, the brand said a Kickstarter to fund the pack will launch in August. Currently, the Pennsylvania-based brand makes products for military applications.
In fact, not only does Lightning Packs make tactical rucksacks that are easier on soldiers, the brand also utilized the pack's motion to "harvest electricity." As yet, this isn't marketed for general outdoors use. But if the HoverGlide's Kickstarter is successful, who knows what we could see?
In advance of the Kickstarter launch, Lightning Packs teased four packs it will release.
The HoverGlide Trekker has a 55-pound capacity and sits on a 24-inch frame. It offers daisy chains, external mesh pockets, and a variety of compression straps. This will be the brand's largest offering for serious backpacking.
The 25-pound-capacity HoverGlide Commuter uses a 20-inch frame and offers more urban-focused features like a laptop sleeve and phone pocket.
For day trips, the HoverGlide Hiker has a 2-liter hydration reservoir, main storage compartment, and internal pockets for small items like keys and wallets.
Finally, Lightning Packs will launch the HoverGlide Tactical, developed for "first responders, military personnel, and anyone tackling long training runs." This 1,000-denier Cordura pack will support heavy loads, has a webbing grid to accept MOLLE units, and offers a 2-liter hydration compartment.