Whether you're gunning for gobblers or hitting the high slopes for mountain goats, these are the best hunting jackets for men.
A good hunting jacket fits into whatever system you're looking to build for your outdoor endeavors. Clearly, what works for folks in the Midwest won't always cut the mustard in the high mountains of the American West, or vice versa.
Really, what you're looking to build is a system that fits your activities. Initial baselayers will combine with your midlayer and outer layer jackets to keep you warm, dry, and comfortable in all sorts of weather conditions.
Luckily, there are hundreds of jackets to choose from. We've done the work and compiled our favorites here.
---
Editor's note: Most major brands have huge sales throughout the year. Black Friday, Memorial Day, and Labor Day are great times to look for men's hunting jackets. In our opinion, it's worth a few extra bucks for that coveted piece that's going to last for the foreseeable future.
---
The Best Hunting Jackets for Men in 2021
The Sawtooth Hybrid ($210) from First Lite is a favorite among GearJunkie staffers. And for good reason. The merino combo with DWR-treated nylon panels creates a jacket that's both forgiving of a lot of movement and tough when busting through brush or chopping wood.
It's also the best lightweight layering piece on the market. The body mapping of the jacket is intuitive and smart. A full merino back panel provides breathability where you need it most when packing out an animal or sitting against a tree.
It's comfortable, extremely light, and packable. You'll find yourself reaching for it on cool days on a run, or layering up against a winter elk hunt.
It's just a damn good coat that's gonna work for everyone, no matter what you need it for.
What customers say: "This jacket was perfect straight out of the gates. For the first hunt, I used it in Ohio as the second layer of three. Then, I went on a hunt down in Louisiana and it was a perfect outer layer for duck hunting and deer stand sitting! Highly recommended." — Michael Powell
Check Price at AmazonCheck Price at First Lite
The Carhartt Stormy Woods Camo Jacket ($120-130) is a very affordable and waterproof option for hunters who might not want to drop $300+ on high-tech rain gear. But, high tech is still built into this tough and rugged jacket.
Built with Carhartt's Storm Defender technology, the polyester shell is flexible, breathable, and waterproof. The break-up Mossy Oak camo helps hunters maintain a low profile. And classic Carhartt tailoring means ample pockets and space for layering.
The jacket smartly stuffs into its own front pocket for ease of storage, meaning it can live in your pack until you need it. And at the price, it's a win-win for hunters who need a durable, versatile, and waterproof layer available at any time.
What customers say: "I really like this suit. It performed extremely well in an absolute downpour while out bowhunting. I love the fact that it rolls up nicely and is super packable if rain is in the forecast and you're on the way to your stand. It's a little loud but overall it's a great suit and I highly recommend it." — J.S.
Check Price at AmazonCheck Price at Carhartt
KUIU's Guide DCS Jacket is one of the bestselling in the biz. And with over 5,000 reviews landing it 4.8 stars, it's an easy pick for best softshell. Wind-, water-, and rip-resistant, this shell is built as a power outer layer to take on nearly any circumstance.
The Toray Primeflex fabric adds flexibility without loss of breathability, and it's backed with a soft microfleece for added insulation. Tons of pockets make storage easy, and a plethora of camo and solid options offer one of the widest color varieties in the industry.
The cut is athletic, and reviewers do say that if you're looking to substantially layer, you'll want to go one size up.
What customers say: "Wore this on a late-season elk hunt in NV, temps ranged from single digits to mid-40s. This jacket with an insulating layer underneath and a base was all that was needed even during periods of high wind and scattered precipitation. Pit zips help cool down quickly if needed. My new favorite hunting and outdoor jacket." — Trent D.
Sitka's Fanatic Line ($449) is the most innovative when it comes to sitting in a tree stand, staying warm, and keeping quiet. And through using sound science, the team at Sitka Gear fashioned this coat with a Berber fleece that drops sound from movement in the stand to less than half what it would be in normal gear.
This fleece is also wildly warm and windproof. Make no mistake, this is a late-season coat. The diagonal zip allowed for a hand muff to be built directly into the jacket, and body mapping allows for a smooth draw cycle for archers.
A safety harness port also allows for adding or pulling layers without disconnecting from your safety system, eliminating unnecessary risks while up high.
This is the most expensive jacket on the list, but not by far. And it's certainly suited to a specific hunter with specific needs. You'll likely not be wearing this coat daily, but it just might keep you in the tree long enough to add more success to your season.
What customers say: "I hunt all over Wisconsin and sat in negative temps with winds over 20 mph and was not cold at all. Combined with the Fanatic bibs, doesn't get any better. Should last a lifetime. I wear my base layer and Fanatic hoody under it and I'm good to go. My only regret is not buying it sooner. Can't say enough about this set." — Joe Kop
Check Price at AmazonCheck Price at Scheels
Why aren't reversible jackets a thing in hunting? Well, they should be.
And it's an outlier brand that figured this out. Beyond Clothing is a badass brand built by special ops military folks who wanted to create legendary systems for folks doing cool stuff outside. That they did.
The Prima Lochi K3 Jacket ($185) is available in a few color combos, but what's unique is that you have two options for blending into your environment in one coat. It's so utilitarian, it's hard to believe it's not a norm in the industry.
The jacket itself is more of a midlayer. Made of 70-denier quilted micro ripstop with a durable water repellent finish, the jacket is an everyday-wear kinda coat. And 60 g of Polartec Alpha Insulation offers warmth when needed.
What customers say: "This Prima Lochi is my second Beyond jacket, following a K7 Cetra earlier in the season. While ultimately not as warm as the Cetra, I may actually prefer the Prima Lochi for its overall fit/form and flexibility (in terms of utility). I bought the lighter colorway, and wear it white camo side out.
"Perfect by itself for doing outdoor chores, with enough room to layer a sweater or fleece underneath in colder temps. Highly recommend — if you're looking for a first piece to try, start here." — Al N.
Check Price at Beyond ClothingCheck Price at Huckberry
This jacket is the Valhalla of down jackets, and you'll certainly feel you're in a hall of warmth once you throw it on. Stone Glacier's down continues to impress all of us at GearJunkie. Their sleeping bags are primetime, and the jacket follows as the best of the year.
Extremely light and packable, the Grumman ($329) weighs in at 11.7 ounces. Then, it packs down into an 8"x4"x3.5" stuff sack. But, where a lot of down jackets can feel light in both weight and warmth, the Grumman shows up with 850+ fill of DWR-treated, traceable, and certified down.
It's like wearing the most comfortable cloud that might also save your life on a very cold day. This is the down jacket of jackets. If cold is your nemesis, the Grumman is your go-to.
What customers say: "This jacket is extremely warm for its weight. The fit is perfect. The Grumman will always be in my pack, and I like how it comes with its own stuff sack. I've learned to spend a little more money and buy quality. Stone Glacier will not disappoint!" — Scott M.
Check Price at Stone GlacierCheck Price at Scheels
While the Stone Glacier Grumman, listed above, may be our top choice for lightweight warmth, the Sitka Kelvin Lite Down Jacket offers similar warmth, but more durability at a slightly heavier weight.
We tested the Sitka Kelvin Lite Down Jacket through burly elk rifle hunts and a spring turkey hunt in Colorado. And, we were consistently impressed by the rugged warmth of this jacket, which is still remarkably light at just 17 ounces for a size large. The result is a jacket that's ideal for cold-weather hunting and camping, which can handle the modest abrasion of a rough mountain hunt.
Thanks to 900-fill PrimaLoft Gold Down Blend coupled with high-end PrimaLoft synthetic insulation in the arms and back, the jacket both packs down smaller and resists moisture where you're most likely to encounter it. Having spent many cold mornings and late evenings in this jacket, we also love the hood, which snugs well around the face, offering a great mix of warmth and visibility.
The only con in this jacket is that the outer fabric is somewhat crinkly. While it's not particularly loud, it could be an issue at closer ranges, so bow hunters in particular should be aware. We didn't notice the noise much when we brushed against objects, but we did sometimes when the jacket was in motion.
What customers say: "This is probably my favorite jacket for any cold weather conditions. After hunting in snow and low single digits coupled with the wind chill, it kept my core warm all morning long." — Jack Borcherding
Check Price at ScheelsCheck Price at Sitka
New to the scene, FORLOH brings impressive technology to the forefront of high-end hunting gear. And interestingly enough, it's the first time we're seeing RECCO integrated into pieces built for mountain hunting. For the goat or sheep hunter that might head into snowy territory often, it's a helluva addition for safety's sake.
That said, the coat features some extremely impressive stats on breathability and waterproofing, using FORLOH's Airadigm Pulse Plasma Tech. The fabric is soft to the touch, built to minimize sound, and forgiving as hunters move their bodies through landscape and challenge.
At $379, it's costly. But it's on par with the high-end hunting industry. And the RECCO adds a bonus of safety that, for some high-mountain hunters, might be worth the extra cash.
What customers say: "So far the performance and quality of the AllClima Rain Jacket has been really impressive. I have some upcoming trips out west and plan to put it to an even greater test." — Michael S.
Storms can roll in fast in the autumn and early winter hunting seasons. So I was happy to be carrying the KUIU Chugach TR Rain Jacket through the Colorado elk archery and first rifle seasons. The lightweight (14 ounces) jacket took up very little space in his pack. But when the weather went bad quickly in a few circumstances high in the mountains, this jacket was worth every gram.
This jacket uses the brand Toray's durable but light Torain Waterproof Technology. Unlike many waterproof fabrics, Torain combines spandex-free, stretchy fabrics with a highly breathable Dermizax HDM microporous hydrophobic membrane. The result is excellent breathability, lower water retention, increased hydrolysis resistance, and great long-term durability.
In the field, this meant it kept our editor dry when evening rainstorms rolled through. And when a blizzard struck unexpectedly during his remote rifle hunt in the Flattop Mountains, McCoy was able to layer the shell over his puffy down jacket for added weather protection when he needed it badly.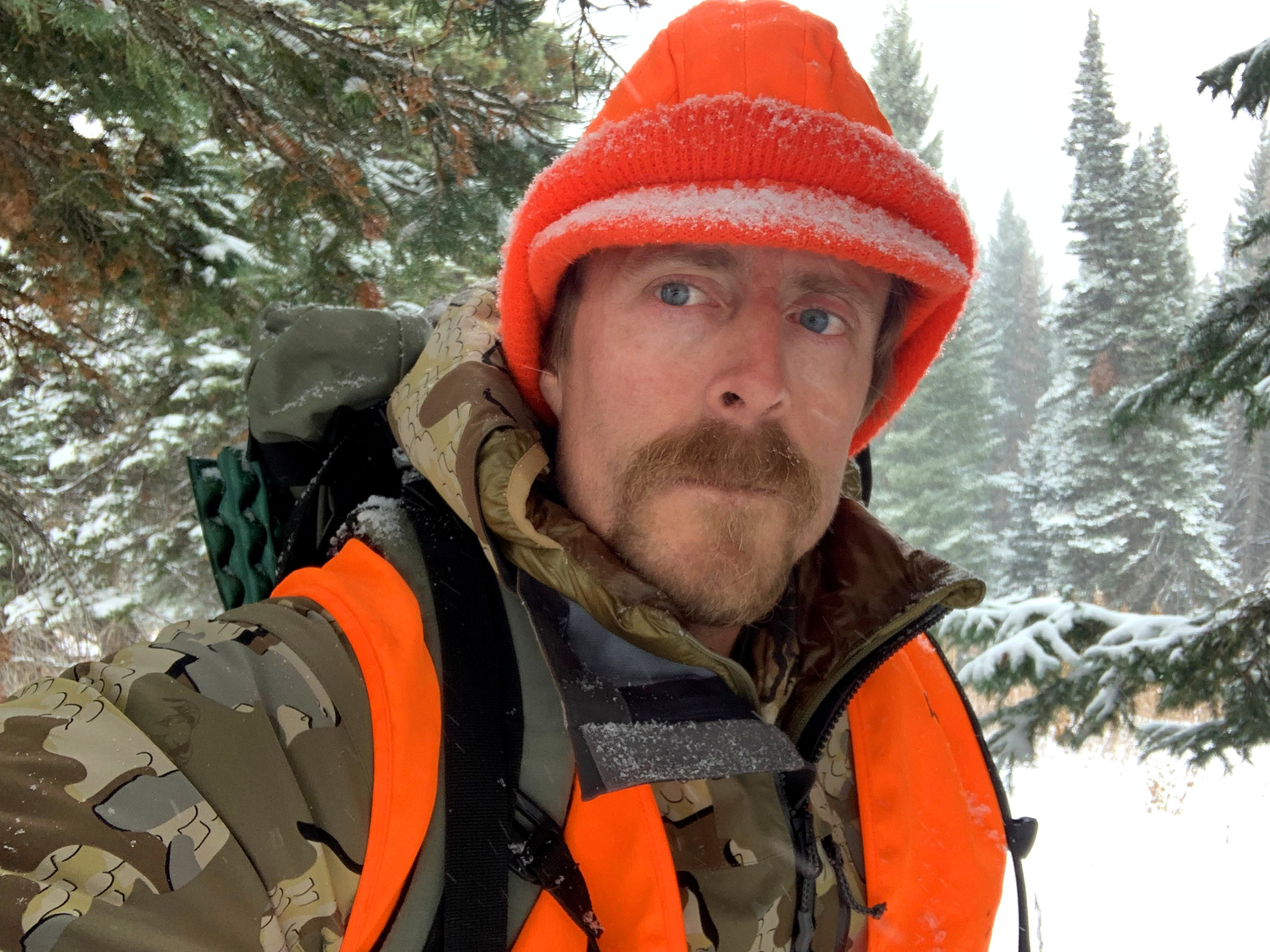 What customers say: Tested the jacket in mountain rain when hunting and it works great. Water beads and just falls off. I do quite a bit of salmon fishing here in the Pacific Northwest, and I fit the jacket over my waders. Keeps me 100% dry and lets me fish when everyone else has gone home. Definitely recommend this product for anyone looking for serious rain apparel. — Daniel F.
That review aligns with our experience testing. If you're looking for a very light, durable, waterproof/breathable shell, this one is hard to beat.
Your grandpa's favorite outdoor brand continues to make waves in hunting gear, all these years later. While many of Filson's jackets fit a wide variety of use cases, it's the 3-Layer Field Jacket ($395) that continues to be the go-to on days we need a reliable, kickass shell.
You honestly cannot ruin this thing. And you can't look bad in it. It's the most rugged jacket we've ever worn, and it beats back briars, thorns, branches, and the occasional puppy teeth.
The 7.5-ounce 100% nylon with waterproof membrane, plus 100% polyester brushed tricot backing, combines for a bombproof coat that beats out the durability of every jacket we've ever worn.
That is not an understatement. Additionally, the pockets are both generous and classic in cut and style. A built-in game bag holds a few pheasants or a limit of smaller birds.
The microfleece hand-warming pockets are a godsend when working outside or taking a moment in the field. The hood construction is legit.
We can't say enough good things. So, we'll leave it to Jim.
What customers say: "Waterproof, weatherproof, durable, versatile." — Jim H.
'Nuff said.
Check Price at AmazonCheck Price at Filson
Best of the Rest
This all-season softshell ($210) is a favorite among users of the SKRE hunting systems. Water- and wind-resistant, the Hardscrabble is an outer shell that can be worn with layers or on its own, weather depending.
Lined with microfleece, the face of the fabric is designed to keep sound down while maximizing protection from the elements. Pockets and closures have YKK zippers, and a storm hood provides optimal and adjustable protection when needed.
SKRE also offers complete hunting systems at bargain rates. Through their bundle offers, hunters can save money by purchasing anywhere from three to 16 items as complete kits with major discounts. This is one of the smartest moves we've seen in the hunting industry, and it offers a unique way to get a full kit at a discounted price.
What customers say: "Based on my first few outings with this product, I am in awe of how well it works. I have shopped around for a while looking for the best quality on the market and have ended up sending back some competitive brands because I was not wowed. That is not the case with this jacket. The fit is fantastic and it is comfortable and warm." — Ryan Robb
Check Price at AmazonCheck Price at SKRE Gear
Made from synthetic insulation, the Lykos II ($200) provides an affordable alternative to an 800-fill power down coat. One thing we like about synthetics is their ability to beat back the elements a bit better than down, and this jacket purports to do that in spades.
Water-resistant and lightweight, it works as both a lifestyle or hunting piece with a plethora of color and camo options. Reviewers use this as both a layering piece or an outer layer. But, be warned that the athletic cut means you'll want to size up from your usual in this particular coat.
What customers say: "Love this jacket. Have taken it on a few hunts. Bought it in November so have only hunted chukar and ducks in it so far, but wore it on a day where my truck said it was 10 degrees, and I had a sweatshirt underneath it and sat in the duck blind without ever feeling a chill." — Corey
How to Create a Good Layering System
Hunting jackets are really the final layering piece of an overall system designed to keep you temperature-regulated in any scenario. So, it's important to consider what your personal layering system consists of and which hunting jackets will fit your kit best.
Base Layers & Softshell Coats
Don't be fooled into thinking you need to stick with one brand to build a layering system. Starting with your base layers, focus on buying wicking materials that will keep you warm even if they get wet. Wool still reigns, and we have a full breakdown of the best base layers to help you here.
Although a softshell coat can often have water-repellent qualities, think of it like your early-season jacket for September evenings or summer backpacking trips. The ideal softshell is a windbreaking in-between coat that is easily stashable and durable.
Insulating Jackets
These are your lightweight, insulating layers between base layers and your shell in a complete layering system. Insulated with either down or synthetics like Polartec, pay attention to either down counts or synthetic weights. An 800-fill down coat is extremely warm, whereas 80 g of synthetic insulation is more of a midweight jacket.
Down has its upsides. Its warmth-to-weight ratio is phenomenal. But if down gets wet, it loses both loft and warming qualities. And it's often much more expensive.
You'll see that downs are beginning to be treated and marketed as hydrophobic. However, synthetics tend to outperform down in water-repellent qualities. That being said, a shell is your final layer and can protect your down from getting soaked.
Shells
The final bastion of protection against the elements, your shell is your waterproof, windproof, batten-down-the-hatches jacket. For me, a true shell has an adjustable hood and cuffs, some sort of drawstring at the waist, and a full zip nearly to your nose to truly snug yourself in.
It can be a raincoat in the summer months. Or it can have mapped insulation for winter months. But it can truly mean the difference between cold and wet misery (and possible hypothermia) and staying comfortable in crappy conditions. Some sort of shell should always be in your pack no matter the season.
Like its name, you'll often shell out extra bucks for the technology of a quality hunting jacket. Where you might be able to skimp a bit on base layers and insulation, my thought is to drop a bit more cash on a quality shell that won't fail when you need it.
---