Randy Newberg is known far and wide as an expert in the realm of public land hunting.
If you ask any hunter to name another well-known hunter they respect, you'll likely hear the name Randy Newberg. And he's not just an incredibly skilled hunter who finds success every season hunter, but also a dedicated conservationist and steward for wild game and wild places.
Whether you follow his adventures on Fresh Tracks, Instagram, or YouTube, there's no denying that Randy knows what he's doing when it comes to chasing elk.
When Randy was asked if there was anything in particular that people should know about what he does or how he hunts, he answered in the typical "Uncle Randy" fashion. "If an aging CPA can kill an elk on public land, anyone can," he said with a bit of self-deprecating humor. "Elk hunting is a mental game more than anything."
But what gear does Randy (or his llamas) carry into the field to find that success? Well, that's what we're here to tackle.
---
Editor's note: As with most professionals and experts in their field, many of the products on this list are likely connected via endorsement, sponsorship, or ambassadorship. Though it does not negate the value of the product, it is absolutely worth noting.
---
OK, no more talk, no more fluff. Here is Randy Newberg's hunting kit.
Randy Newberg's 2022 Hunting Gear List
Hunting Pack
Randy carries either the Mystery Ranch Metcalf (above left) or the Mystery Ranch Beartooth 80 (above right). The Metcalf is capable of most hunting scenarios, but if you're looking to go out longer and pack out heavier, moving up to the Beartooth 80 is a solid choice.
Mystery Ranch Metcalf, Beartooth 80 Specs
Metcalf ($525)
Weight: 5.7 lbs.
Volume: 4,335 cu. in.
Dimensions: 30.8″ x 14″ x 12.3″
Frame System: Guide Light MT Frame
Harnessing Style: Framed
Beartooth 80 ($575)
Weight: 6.7 lbs.
Volume: 5,185 cu. in.
Dimensions: 30.25″ x 15″ x 16.5″
Frame System: Guide Light MT Frame
Harnessing Style: Framed
For more hunting pack options, check out our list of Best Hunting Packs.
Check Metcalf Price at ScheelsCheck Beartooth Price at Scheels
Hunting Rifle
It shouldn't surprise you that Randy carries a rifle that bears his name. The Howa "Randy Newberg" Series Model 1500 ($1,510) isn't just cool because of its namesake. The Model 1500 is available in just about every caliber you could possibly need to get the job done.
Howa Randy Newberg Series Model 1500 Specs
Capacity: 4+1
Barrel Length: 22 in.
LOP: 13.25 in.
Weight: 7.4 lbs.
Action: Bolt action
Stock Material: Fiberglass
Twist: 1:10 in.
Type: Centerfire
Check Price at Howa Guns
Ammunition
When it comes to deer hunting, it doesn't get much better than the Nosler .308 Win 165 grain Partition ($79), which is a big reason it's one of Randy's go-to rounds.
Nosler .308 Win 165gr. Partition Specs
Cartridge: 308 Winchester
Use: Deer-sized game
Profile: Spitzer
Type: Partition
Weight: 165 gr.
Lead-Free: No
Test Barrel Length: 24 in.
Test Barrel Twist: 1:10 in.
Check Price at Nosler
For a bit bigger bang, Mr. Newberg moves on up to the Nosler .300 Win mag 180-grain E-tip ($79), capable of taking down some seriously hefty critters.
Nosler .300 Win Mag 180gr. Expansion Tip Specs
Cartridge: 300 Winchester Magnum
Use: Elk/Moose-sized game
Profile: Spitzer
Type: Expansion tip
Weight: 180gr
Lead-Free: Yes
Test Barrel Length: 24 in.
Test Barrel Twist: 1:10 in.
Check Price at Nosler
Rifle Scope
Leupold is an industry leader when it comes to optics. The VX5-HD 3-15x44mm Rifle Scope($1,010) is what Randy trusts to ensure his target is dialed.
Leupold VX5-HD Rifle Scope Specs
Adjustable Parallax: Side focus
Elevation Adjustment Type: CDS-ZL2
Locking Dial: Yes
Custom Dial Compatible: Yes
Reticle Type: Second focal plane
Reticle HTMR Magnification Type: Variable
Weight: 19.7 oz.
Elevation Adjustment Value per Click: 0.1Mil
Windage Adjustment Value per Click 0.1Mil
Magnification Max: 15
Magnification Min: 3
Objective Lens Diameter: 44 mm
Check Price at AmazonCheck Price at Scheels
Hunting Knife
The Gerber Exchange Blade System ($68) is a one-stop shop for every blade you could possibly need, all in one knife.
It's no surprise that it's what you find in Randy's hunting gear pile. It's a sweet setup with easily changeable blades in a variety of shapes and purposes. It also doesn't hurt that it has his name emblazoned on the opposite side.
Gerber Exchange Blade Knife Specs
440C exchangeable blade shapes for backstrap, caping/breakdown, and multipurpose
Handle nests to box for minimal footprint
Improved Split Sec Tech
Retroflective material for night locating
Lightweight skeletonized construction
Hand-hugging ergonomics
Quiet carry box
Limited lifetime warranty
Check Price at AmazonCheck Price at Gerber
Game Bags
Game bags are a modern necessity when big game hunting, and Caribou Game Bags ($79) are Randy's sack-o-preference for 2022. Things have come a long way since the pillowcases of my youth.
Caribou Game Bags - The Wapiti Game Bags Specs
4 – 23″ Wide x 40″ Tall Quarter Game Bags
1 – 16″ Wide x 30″ Tall Meat Parts Bag
1 – Vented storage bag with rubber coated mesh lower and logoed Nylon Upper
Package Size: 6.75 x 5.5 in.
Total Weight: 21 oz.
Check Price at AmazonCheck Price at Scheels
Binoculars
The Leupold BX-5 Binos ($580-1,400) would have been a dream for me growing up, and they're what Randy carries in his harness on hunts.
Leupold BX-5 Binocular Specs
Length: 5.9 in.
Weight: 24.3 oz.
Magnification: 8-15
Objective Lens Diameter: 32-56 mm
Linear FOV: 341 ft. @ 1,000 yds.
Angular FOV: 6.5 degrees
Eye Relief: 16.6 mm
Exit Pupil: 4.2 mm
Close Focus Distance: 5 ft.
Interpupillary Distance Max: 74 mm
Interpupillary Distance Min: 58 mm
Check Price at AmazonCheck Price at Scheels
Bino Harness
Bino harnesses have become all the rage. I don't know anyone who doesn't wear one now. The Sitka Mountain Optics Harness ($159) is a popular choice. It's one of the larger binocular harnesses and has ample storage room for anything you need to have easily accessible. It makes sense that Randy recently made the change to the Sitka option.
Sitka Mountain Optics Bino Harness Specs
Magnetic front binocular flap opening
Quiet brushed polyester face textile
Modular side pockets along with zippered and stash pockets on the back
Molle compatible chassis
Internal lens cloth
Quick-detach binocular attachment
Check Price at AmazonCheck Price at Sitka
Spotting Scope
Eye strain when glassing for long periods of time is brutal. If you're going to spend hours staring through a spotter, it's worth going with quality. The Leupold SX-5 Spotting Scope ($1,500) isn't cheap, but it's worth it. If you're sitting on a hillside, public land hunting, as much as Randy does, it makes sense to invest in quality glass.
Leupold SX-5 Spotting Scope Specs
Eyepiece Style: Angled
Length: 15 in.
Weight: 68.7 oz.
Magnification Max: 55
Magnification Min: 27
Objective Diameter: 80 mm
Close Focus Distance: 11 ft.
Check Price at AmazonCheck Price at Scheels
Hunting Boots
With Kenetrek being right in Randy's backyard, it makes sense that he'd choose the Mountain Guide Boot ($535). These boots are one of the best rated in the game, and they've got the oomph to get you pretty much anywhere you need to be.
Kenetrek Mountain Guide Boots Specs
10-in. tall, 2.8mm thick premium full grain leather uppers with one piece vamp construction with no seams down the tongue for abrasion resistance and waterproofness
Reinforced double and triple stitching in high wear areas
7mm nylon midsoles for extra support with pack loads
Boot hardware that swivels instead of breaking
Reinforced rubber toe cap for extra abrasion resistance
400 g Thinsulate for comfort in cold weather
Windtex waterproof breathable flexible membrane
Custom K-73 outsoles provide excellent traction and durability
Check Price at AmazonCheck Price at Scheels
Hunting Pants
The Sitka Timberline Pant ($259) is the hunting pant these days, so it makes sense that they'd be Randy's go-to pant in his hunting gear pile. These pants are also available in women's versions, and my pair have been nearly worn to death. They really are the hardiest hunting pants out there.
Sitka Timberline Pant Specs
Weight: 29.6 oz. / Size L
Fabric: 4-Way Stretch Woven Polyester Shell, Nylon Ripstop Seat & Knees
Durable Water Repellent finish resists light precipitation and prevents the face fabric from wetting out
Reinforced Seat and Knees: The seat and knees are reinforced with a waterproof nylon ripstop fabric, so a long slog on a wet saddle or a quick seat in the snow won't leave you cold and wet
Removable Knee Pads: Removable knee pads offer additional protection whether you're scrambling through talus in the Northern Rockies, picking your way through cactus in the Sonoran Desert, or field dressing an animal
Articulated Patterning: The fit is athletic with tapered legs and a low-profile waist that won't bunch or chafe under a pack
Check Men's Price at AmazonCheck Women's Price at Amazon
Hunting Jacket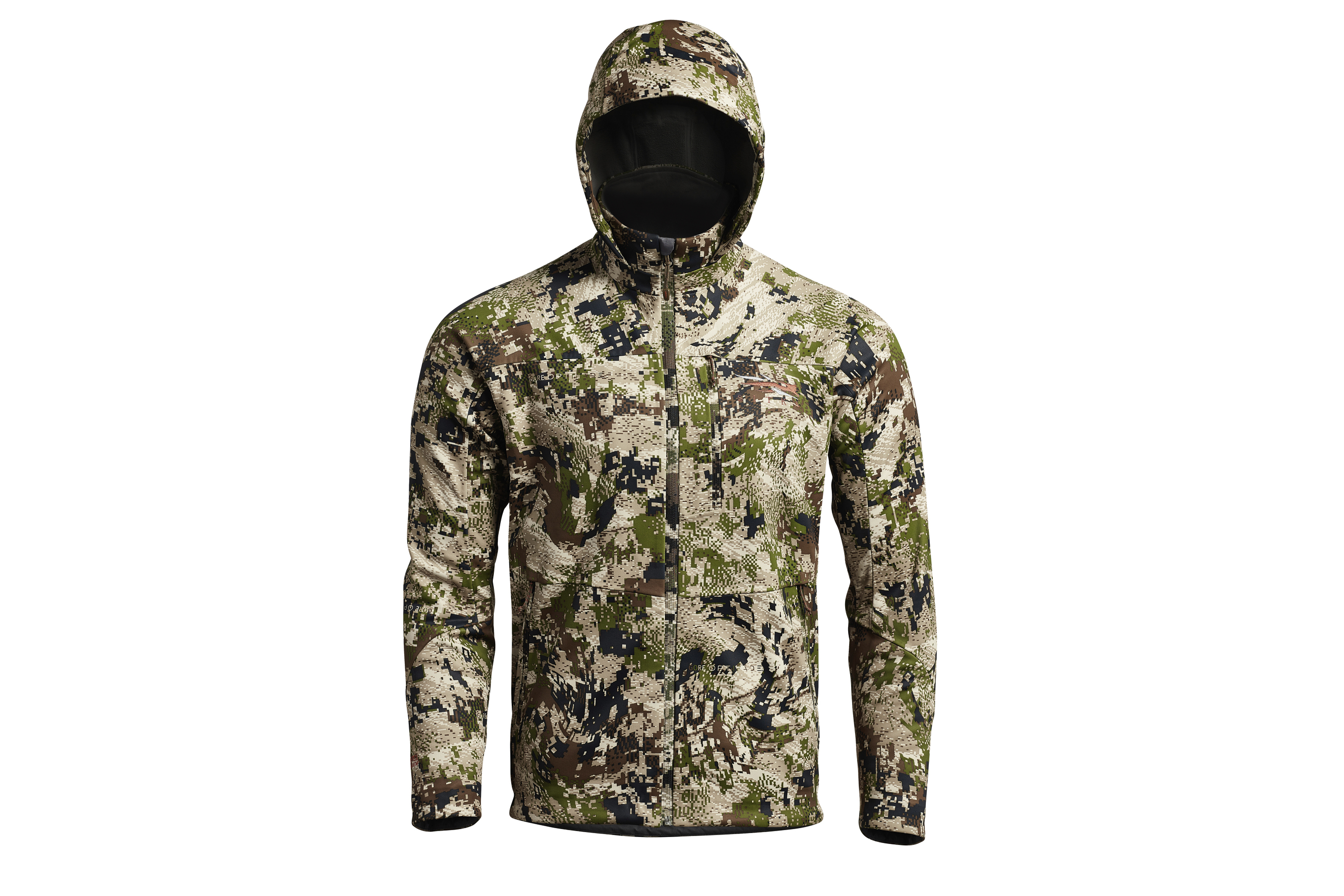 The Sitka Jetstream Jacket ($379) got an upgrade this year, though it was a stellar choice before the improvements. Also available in women's (camo patterns and solid colors!), it's an excellent outer layer for both cutting early-season evening chill and layering for the later parts of the year.
Sitka Jetstream Jacket Specs
Recycled polyester fabric with polyester micro-grid fleece interior
GORE WINDSTOPPER product technology makes the jacket 100% windproof
Durable water-repellent finish sheds light precipitation and keeps fabric from wetting out
Taped and skived seams for added weather protection without added bulk
Zippered hand and chest pockets provide secure storage
Pit zips allow you to dump heat when you're on the move
Updated fit for a relaxed, comfortable feel with plenty of mobility
Total Weight: 26 oz.
Check Price at SitkaCheck Price at Scheels
Hunting Base Layer
Wool baselayers are the way to go, and the Sitka Merino Core Lightweight Half Zip ($149) is what Randy chooses for his next-to-skin layer. It's lightweight and breathable when exposed to air, yet super insulating if layered under solid outerwear.
Sitka Merino Core Lightweight Half Zip Specs
GORE OPTIFADE Concealment Subalpine is designed for stalking and ambushing ungulates from ground level in tree-covered and vegetated terrain
Weight: 5.8 oz. / Size: L
Fabric: 85% 120g 17.5 Micron Merino / 15% Nylon Core-Spun Blend
Check Price at AmazonCheck Price at Sitka
Hunting App
GOHUNT ($20-150/year) is more than just a mapping system. It's more like an all-encompassing hunting organization, with a gear shop, mapping software, hunting news, a hunt planner, and more. It really isn't like anything else out there, and it's Randy's choice for mapping software to determine where those public land boundaries are. Though you can't really put GOHUNT in your hunting gear pile, you can use it to buy things for the pile.
GOHUNT Specs
Mapping tools
Planning tools
Gear shop
Outdoor news
If you're interested in learning more about how to hunt from Randy, he's also one of the pro instructors at GOHUNT's OutdoorClass.
Learn More at GOHUNT
Hunting Call
The Rocky Mountain Hunting Calls Wapiti Whacker Bugle Tube ($52) is a pretty common choice when it comes to elk call aids. You can use it with any of your preferred diaphragm calls, it's lightweight, and I see this tube in the truck of most of my hunting buddies. It also happens to be the preferred tube for many of the pros, Randy included.
Rocky Mountain Hunting Calls Wapiti Whacker Specs
Total length: 20 in.
Camouflage cover for concealment
Comes with a lanyard for easy carrying over your shoulder
Warranty: Manufacturer defects for the life of the product
Check Price at AmazonCheck Price at Scheels
Hunting Snacks
Not just Gastro Gnome, but specifically Sausage Rigatoni ($17). That is Randy's backpacking food guilty pleasure. I mean, take a look at the ingredients. It's made of real food:
Roasted Tomatoes (tomatoes, citric acid, calcium chloride), Onion, Roasted Red Peppers, Ground Pork, Heavy Cream, Pasta (semolina, durum flour, vitamin B3, iron, vitamin B1, vitamin B2, folic acid), Fennel, Spinach, Chicken Broth (onions, carrots, celery, spices), Garlic, Parsley, Butter, Basil, Salt, Black Peppercorn, Fennel Seed, Chili Flake, Rosemary Extract. Contains: wheat, milk.
When a company is inspired by you so much that they name a coffee after an iconic bull that your grandfather told stories about … you drink that coffee. Since Randy is constantly after Big Hank, he obviously chooses to carry Elk Horn Coffee Roasters Big Hank Coffee ($15) in his pack.
Check Sausage Rigatoni Price at Gastro GnomeCheck Coffee Price at Elk Horn
Randy Newberg's Most Important Hunting Gear
Randy loves hunting with pack llamas. He often wanders into the wild with Beau Baty of Wilderness Ridge Trail Llamas. He even took the leap and bought one of his own a few years back, initiating a heated llama naming contest.
To be honest, I'm still sore that he didn't choose The Dilly Llama, in honor of his love of Dairy Queen.