Built for young riders with big talent, these carbon-fiber downhill bikes are downright drool-worthy. We took them for a test ride to see if they're worth the money.
I wanted to buy a bike from Steve Meek after talking with him for only a few minutes. It was his passion — a simple and genuine desire to build the absolute best downhill bikes — along with a charismatic blend of confidence and humility that I found so infectious.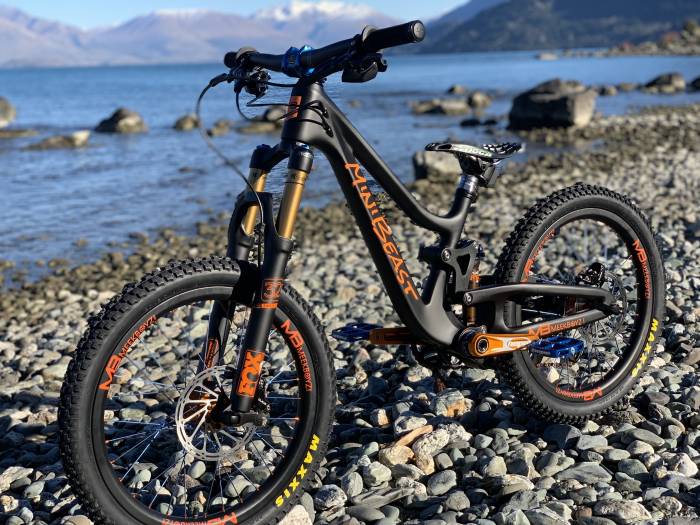 The combination was so compelling that I found myself seriously considering how to tell my wife that I'd just spent more than a quarter of my annual earnings on a bike that my son would outgrow in 2-3 years.
The MeekBoyz brand is not yet a household name and, truth be told, it may never be. A $7,350 bike for an 8-year-old simply won't appeal to many, even if it is the best 8-year-old's bike on the planet (which it probably is). But for Meek, that's just fine.
He's realistic about how many people will look past the price tag and see what he's building. But indeed the number who do is growing. Last year, MeekBoyz only made a couple dozen bikes. This year promises to double that number, with Meek currently building more than one bike per week.
The Bikes
MeekBoyz currently sells three full-build bikes. The smallest is the aptly named Mini Beast ($7,350), with 20-inch wheels. Next is the 24-inch Beast ($7,850). Topping out the range is the Mega Beast ($8,650), a 26'er made for preteens to young teens.
According to MeekBoyz's sizing guide, the Mini Beast is designed for riders up to 32 kg (a hair over 70 pounds), the Beast for those between 32 and 55 kg (70 and 120 pounds), and the Mega Beast has a range of 42-62 kg (93-137 pounds). The brand's website also provides a "recommended age range" for each model, indicating that the Mega Beast is suitable for riders up to about age 16.
In addition to fully built bikes, MeekBoyz also offers each frame and wheelset as a standalone purchase.
The frames are all made of UD carbon, reinforced at stress points, and painted matte black. The wheelsets, too, are carbon, with titanium spokes and top-end Hope Pro-4 hubs. The only bright color on the bike is the model name — 'MegaBeast' on our demo bikes — slashed out in molten script, as if Zorro took up fire writing. The whole package feels visually understated, uninterested in shouting for attention on the trails.
MeekBoyz Bikes
Mini Beast: $7,350, 20″ wheels
Beast: $7,850, 24″ wheels
Mega Beast: $8,650, 26″ wheels
Origins
The company is named after Meek's two sons, Rory and Toby.
When Steve and his wife, Donna, became parents, they did what good parents do and encouraged their kids to pursue their interests. Initially, those interests involved bike riding and BMX racing, an area in which both boys showed tremendous talent early on.
The interests evolved and soon included bigger jumps and more gravity-driven trail riding. Their local downhill scene at the time was dominated not by the smooth, flowy trails that are popular in the U.S. but by gnarly, rocky, off-camber stuff. It demanded technical riding.
By the time Toby was 8, he was riding at a level where he was limited not by skill but by equipment. Every bike that fit him was either broken by the terrain or performed so poorly that he had problems progressing. Simply put, there were no bikes good enough for the Meek children.
Luckily, Meek had experience working with carbon as a boat builder. So he decided to build them a better bike from scratch. He made a prototype, the boys tested it, and then he made it better. He worked out the kinks over several years, and the MeekBoyz brand was born.
The MeekBoyz Difference
Existing bike suspension is designed to work at pressures that respond to riders of an adult weight range. Simply dialing down the pressure to accommodate kid-size riders leads to underperformance. MeekBoyz's unique geometry increases the rear wheel leverage to let an off-the-shelf shock work accurately for lightweight riders over even the smallest bumps. This allows the rider to maintain high traction and control.
Furthermore, the geometry provides a low standover height while still providing maximum travel. Add to this a reinforced, full-carbon frame and all the other bells and whistles you'd expect at the price point, and you've got a lightweight and fully-featured downhill mountain bike. It's entirely capable of providing the "authentic downhill riding experience to children" that MeekBoyz promises.
Comparing MeekBoyz bikes with other downhill-oriented bikes marketed at kids proved a bit tricky, mainly because there aren't many. Most kids end up riding extra-small versions of normal adult mountain bikes.
And although a thorough internet search will reveal a handful of kid-specific full-suspension rigs, many seem to be designed more for "all-mountain" or enduro-style riding. These offer somewhere in the neighborhood of 100-120 mm of travel in the front and rear, compared to the whopping 180 mm provided by the Beast.
And while there are a couple of other youth bikes out there catering to the downhill crowd (most notably Slater Bikes and Lil Shredder, both of which are single-product, tiny family companies like MeekBoyz), The Beast weighs pounds less. This puts it in a class of its own, which is probably where it needs to be because it costs almost twice as much as the next most expensive kids bike out there.
Do Kids Need a $7,000 Bike?
I'll be honest, most kids are probably riding bikes that perform well enough given their skill level. Flow tracks, jumps, rock gardens, you name it, kids learn how to ride this stuff on bikes of even middling quality. As they progress, however, they'll notice deficiencies. And if they're like my boys, they'll start clamoring for an upgrade. Old bikes will be sold and new ones bought.
Often, the need for a pro-quality downhill bike (if it ever comes) will coincide with something resembling a more adult-size body — and (hopefully) a more adult level of financial independence on the part of the rider. So most parents are off the hook.
But this won't be the case for everyone. Some parents will have kids that just get better faster. Others will have the desire and the means to help the kids progress more quickly by putting the technology cart before the horse. And for those who find themselves in this basket, a MeekBoyz bike is like the ultimate upgrade.
Firsthand Testing
The whole day was a dream for the local crew of test riders. Not only did they get a full 6 hours at the bike park, but they got to rub shoulders with two of the best under-14 riders in the world and follow them down epic flow trails on $8,000 bikes.
With four riders and two demo bikes, the testing conditions were perfect. The boys rode multiple laps of the same run, using their normal bikes for one and the Mega Beasts for the other. These "normal" bikes were all quality enduro-style bikes that retailed for around $3,000.
The test crew was made of capable riders wanting to progress in their skill and tackle increasingly difficult terrain. They could all already challenge the intermediate trails with confidence — hitting the berms, jumps, drops, and rough sections at speed. In other words, they were testing the bike on the terrain it was designed for. And it most certainly stood up to the challenge.
Here's a sampling of their feedback:
"Best bike I've ever ridden." — Keegan Magness
"It made me feel like a pro, even though I'm not." — Hamish Mann
"It [the Mega Beast] could handle anything I could ride and made me feel like I could ride just about anything." — Harry Excel
"There was no comparison. The Mega Beast made my other bike feel like a hardtail, even though it was way lighter." — Jack White
Final Thoughts
In penning this review, I realized that I felt like writing as much about the people behind the bikes as I did about the bikes themselves. But with an uber high-end, micro-niche product like hand-built $8,000 kids' downhill bikes, maybe the people behind the product are just as important as what they're selling.
That, at least, is the impression that our day with the MeekBoyz and their amazing pieces of machinery made on me. I drove away from that afternoon not just with a car full of kids who were stoked beyond belief that they'd had such an opportunity, but also with a son who couldn't stop talking about how friendly and down to earth the brand owners, Toby and Rory, were.
"Did you know he [Toby] is ranked No. 1 in the world? But he's sooo cool. We just kept chatting on all the gondola rides up. It's like he's just a regular kid — and a really nice one!"
And Steve Meek is just that too. Just a regular guy (and a hell of a nice one) who just happens to have made it his passion to build the best damn downhill mountain bike for kids in the world. And that's the kind of guy I'd want to buy a bike from.
If only I could afford it!
---
Andy Magness is an expat Midwesterner who now lives in small-town New Zealand with his wife and two boys. He is a seasoned adventurer and man of many hats. He has recently found a new hat to wear as a spectator to his boys, who have begun flying fearlessly through the air on their mountain bikes.
---