From boulderers to trad dads, every climber needs a reliable pair of climbing shoes.
A few major players dominate the climbing shoe market. However, plenty of smaller brands also make top-notch footwear. La Sportiva and Five Ten may be the Nike and adidas of the climbing shoe world (well, Five Ten is literally owned by adidas), but those aren't the only qualified players in the game.
Climbing shoes have come a long way since the dark ages of hobnail boots and high-top EBs. While the technology has improved, the challenge of finding the perfect fit remains. And many climbers choose to settle for a popular shoe model, even when it doesn't fit properly.
In recent decades, many lesser-known shoemakers created major innovations in climbing shoe technology. Today, these smaller brands are riding the wave of climbing's popularity boom and expanding their distribution across the globe.
On this list, we feature three slightly under-the-radar climbing shoe companies: Red Chili, Ocún, and Acopa. All three brands have a growing presence in the United States, and all three make excellent products that rank among the best of the best.
For more information about climbing shoes, be sure to check out our guide to the best climbing shoes of 2022.
Red Chili: More Comfort
History
In the mid-1990s, high-performance climbing shoes were synonymous with intolerable foot pain. Though climbing shoe design was actively improving, brands struggled to develop a model that offered both cutting-edge capability and general comfort.
In 1996, Stefan Glowacz and Uwe Hofstadter had just completed an arduous single-day ascent of El Capitan. Soaking up the satisfaction of their shared adventure, the pair agreed that only one factor hampered the experience: sore feet. Over the shared burden of tender tootsies, Red Chili was born.
Two years on from the fateful campfire in Yosemite, the combined experience of the founders had Red Chili up and running.
Two Brands Unite
The European climbing scene is well aware of Red Chili, but American climbers are less likely to be familiar with the brand. For most of the Red Chili's existence, distribution in the U.S. has been sporadic.
In 2017, fellow German climbing company Edelrid agreed to form a brand alliance with Red Chili, with the specific aim to increase awareness of the brand in the U.S. climbing market.
"We looked at the Red Chili shoes and asked ourselves, 'how can we make this product more sustainable?'" Edelrid sales rep Tyler Gates told us.
Where toxic glues and brief lifespans have long defined climbing shoes as a high-impact product category, many of Red Chili's lower-end and rental models have hemp soles. And multiple models feature uppers partially made from recycled yarns.
One 2022 model, the Ventic Air Lace, has a fully recycled polyester upper, a hemp footbed, and a 3D-molded outsole that minimizes waste material.
Ergonomics First
Many Red Chili shoes have a sporty, colorful, and aggressive appearance, and many climbers are skeptical to try them on for fear that they won't be comfortable or beginner-friendly.
According to Gates, Red Chili's head cobbler has a background in podiatry, which allows the brand to deeply consider the dynamics of the human foot during the design process.
Gates, who has toured widely as an Edelrid and Red Chili brand representative, has noticed that most climbers have a similar reaction when they first try on Red Chilis. "They always say 'wow, I can't believe how comfortable these are," he says.
Red Chili Climbing Shoes
In 2022, Red Chili introduces several new models. Two of these — The Ventic Air and the Fusion — are redesigns of long-popular Red Chili standards.
The new Ventic Air is an all-around intermediate lace-up, with a fully recycled polyester "knit sock" upper. The Fusion, another Red Chili staple — now carries a design specifically targeted at maximum comfort.
With a moderately downturned profile and a non-asymmetrical last, the latest rendition of the Fusion marks a worthy option for intermediate to advanced climbers looking for a do-it-all climbing shoe that won't cause pain.
But the real headliner of Red Chili's 2022 climbing shoes is the Sensor. According to Gates, this wildly modern high-performance model will mark Red Chili's "softest shoe, ever." In recent years, mega-soft shoes such as the Scarpa Drago and the La Sportiva Solution Comp have been at the forefront of the climbing shoe market.
Unlike many of the new soft climbing shoes rolling out this year, the Sensor has a midsole, but it's very thin and has a large cutout under the forefoot for extra flex. And while Red Chili indeed designed the Sensor for softness and pliability, Gates said the brand is confident it will be versatile enough to do a lot more than just smear on gym volumes.
"While the Sensor is certainly in the mold of a soft comp climbing shoe, it edges well too," Gates said. "Red Chili is rooted in climbing on rock, and most outdoor routes feature a variety of foothold types."
With the introduction of the Sensor, Red Chili is simultaneously joining the soft shoe revolution and pushing back against its overly specialized tendencies.
Many of the brand's most popular models are available in low- and high-volume options, though Gates has found that most of the shoes in the lineup tend to work best for those with a wider and higher volume foot shape. Not all Red Chili shoes are available in the U.S., but the brand's distribution is actively expanding.
Ocún
History
Many standard features of today's climbing shoes can be traced back to innovations that Czech rock climber Pavel Hendrych pioneered under the Rock Pillars name. In the mid-1980s, the Czech Republic (then Czechoslovakia) was a part of the Soviet Union, under Communist Party rule, and imports were limited.
Armed with his grandmother's sewing machine, Hendrych's first creation was a climbing harness built from decommissioned parachute fabric. After a few years of honing his craft and supplying his core group of climbing buddies with homemade gear, Hendrych focused his attention on climbing shoe design.
By 1992, Rock Pillars matured and introduced a pair of shoes with rubber stretched over the heel cup — a concept that is widely utilized by most producers of climbing shoes to this day.
More Familiar Than You Think
As the Soviet Union fell, Rock Pillars funneled all of its rock climbing products into a new sub-brand called Ocún. That brand began distributing cutting-edge innovations that serve as mainstays in today's climbing market — crash pads in 1998 and crack gloves in 2001.
Today, with Hendrych still at the helm, Ocún sells in the U.S., and in 2019 instated professional climber Jenny Fischer as CEO of Ocún North America. The brand even graced the feet of pro climber Kyra Condie at the 2020 Olympics in Tokyo.
Ocún designs its shoes on the premise that there are three common foot shapes: Greek, Egyptian, and Cube. On an Egyptian foot, the big toe is the largest and the rest of the toes taper down by length in a relatively straight line.
On a Greek foot, the second toe is the longest, and a Cube foot features a more blunted arrangement, without any significantly long single toe. Ocún's website suggests specific shoes for all three foot shapes.
Ocún Shoes
As Ocún spearheads new footwear models and fine-tunes the older ones, many of Hendrych's innovations reverberate across the brand's lineup. The brand's patented 3-Force Technology transfers power to the toebox and improves stability on tiny footholds.
And Ocún also boasts its own stick rubber compound with Climbing Adhesion Technology (CAT). This compound comes in a soft version with a friction coefficient of 1.5, or a slightly harder 1.1.
The CAT 1.5 targets steep routes, smearing, and competition climbing, while the harder compound is designed for vertical edging and footwork-intensive technical climbing. Though the CAT 1.5 rubber is among the softest climbing rubbers on the market, Fischer says it's still plenty durable to use on a daily basis in the gym or at the crag.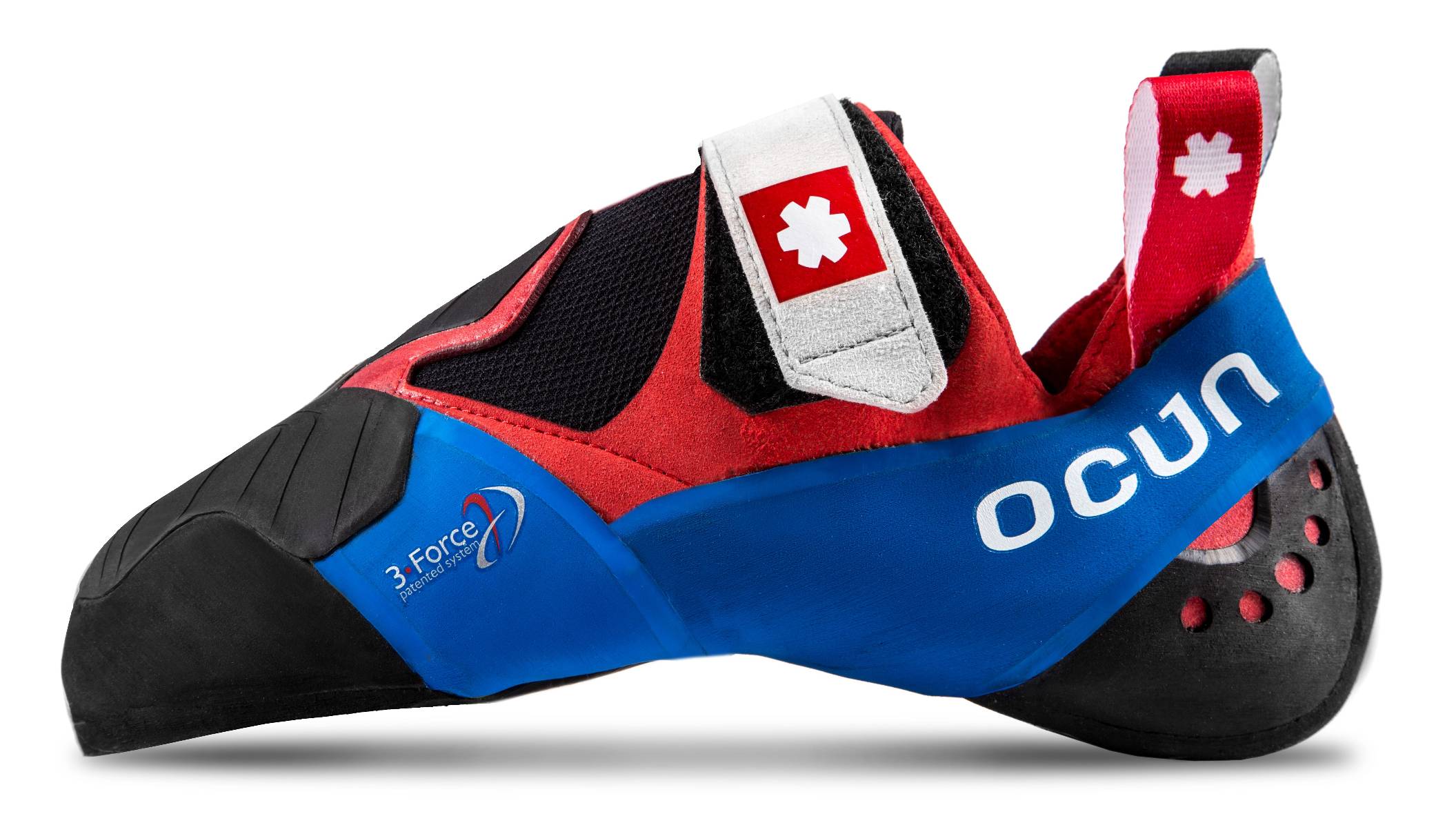 The Nitro, an Ocún model worn by Condie at the Olympics, features both 3-Force Technology and Cat 1.5 rubber. Of her decision to wear these shoes in Tokyo, Condie said, "I love the toe hooking panel. No other shoe comes close."
Many Ocún climbing shoes are vegan, and the brand plans to fully phase out all animal products in the coming years.
"We're in the midst of significantly decreasing our environmental impact," Fischer said. "But we want to make sure our decisions actually mean something long before the product actually makes it to market."
She noted that Ocún will ensure that scientific data supports its environmental promises to prevent the perception of greenwashing.
Climbing Shoes for Every Body
As of 2022, all Ocún climbing shoes are unisex. The brand used to sell men's and women's models, but recently changed its strategy after asking themselves whether women's climbing shoes should be any different.
"From a design standpoint, most women's climbing shoes on the market are identical to the men's," Fischer pointed out. "The only difference is that the women's models tend to be softer — based on the assumption that women are lighter and smaller."
Instead of sticking with this industry standard, Ocún restructured its entire shoe lineup with a softness gradient that changes with size.
"The smallest sizes are the softest, and the largest sizes are stiffer," Fischer said. "Someone with a smaller foot is likely lighter, so our shoes can maintain their intended performance regardless of the climber's body size."
For climbers interested in purchasing a pair of Ocún climbing shoes, it is important to note that the brand generally caters to fairly narrow and low-volume foot shapes. Aside from the Ozone High Volume, Ocún climbing shoes are not the best choice for those of the more duck-footed persuasion.
An Ocún sighting at an American crag or climbing gym is still a rarity, but that may not be the case for long. For evidence of the brand's growing prestige, just check out its roster of absolute world-beater athlete representatives. Remember, out of all the shoes on the market, an Olympian chose Ocún.
Acopa
Strong Start
Build the best climbing shoes in the world: That was the mission of Mexican climbers Ernesto Vazquez and Dario Piana when they founded Acopa in 1997.
Shortly after the brand's founding, Piana had a chance encounter with legendary climber John Bachar at a trade show in Salt Lake City. Impressed with the performance and build quality of the shoes, Bachar signed on as a founding partner of Acopa USA in 2003.
With Bachar's influence on its side, Acopa became the go-to shoe for many elite climbers. Acopa models including the JB — a Bachar pro model and granite big wall workhorse — were renowned for their supremely sticky RS Rubber and rare combination of comfort and performance.
Bachar believed that a climbing shoe should support the strengths and capabilities of the human foot, rather than restrict them. Acopa's anatomical last shapes are just one of the brand's many influential innovations that have since become industry standards.
La Sportiva's ever-popular TC Pro, released in 2010, drew inspiration from the original JB.
Tragedy, a New Focus
When Bachar died free solo climbing in 2009, Acopa was already reeling from the tragic death of Steve Allen Karafa Jr., another Acopa USA co-founder. The grief of losing their close friends and key company partners led Piana and Vazquez to close up shop and put Acopa on indefinite hiatus in 2010.
After a 10-year break and endless speculation in online climbing forums, Acopa returned in January 2020. Recently, we spoke with Piana about the brand's comeback, identity, and current shoe lineup.
"While we were away, we'd get calls and emails: 'How can I get a pair of Aztecs? How can we help get the brand up and running again?'" Piana remembered. "We felt such a love of the brand that we eventually decided 'okay, it's time to get people their shoes.'"
He was deeply energized by the lingering brand loyalty that remained alive and well during Acopa's decade-long absence.
"We constantly run into people that have a connection with the brand that goes beyond what I would expect from a product," he noted.
In one case, a climber sent Piana a photo of his collection of every Acopa shoe from the brand's 2010 lineup. Another time, he recalled, a climber showed up to a demo event with a pair of shoes that were still going strong after 15 years and five resoles.
"It's more than just a product to them, and it's more than that to us," Piana said.
With a relatively small team based out of a single factory in Guadalajara, Mexico, Acopa is able to maintain a clear brand ethos. "We have an artisanal process," says Piana. "There is a sense of pride at the factory and we aim to foster that."
Acopa has a "no gimmicks" philosophy that is reflected in its understated design aesthetic. "To us, it's all about the climbing," says Piana. "We consciously avoid putting things on the shoes that may look cool, but won't actually help in any way."
Acopa Climbing Shoes
Compared to many of the flashy sports car-esque shoe models that dominate today's market, Acopas have an old-school appearance. We had a chance to climb in three different models of the new Acopas, and all of them climbed like a dream.
Currently, Acopa offers 11 different models — eight redesigned originals and three fresh styles. The three new models feature synthetic material uppers and have been designed with gym climbing in mind (though Piana said he's confident that they work just as well outdoors).
In September 2021, Acopa rolled out a shoe customization program where climbers can go online and select the colors and materials that best suit their personality preferences.
Acopa does not possess the manufacturing or marketing capability of many of the larger shoe brands. Instead, Piana plans to allow the quality of the product to speak for itself.
As this plays out, climbers can expect to see lots of Acopas at the crag in the future. In addition to the brand's website, Acopa shoes can be purchased at various small mountain shops and climbing gyms.
One common trend in the realm of climbing shoe marketing is extreme specialization. You'll likely see advertisements for an "edging powerhouse" or "comp climbing specialist." But Acopa is hesitant to buy into what Piana believes is a design mistake.
"A shoe that's so specialized that it can't smear, edge, or jam well when called upon just isn't a complete climbing shoe to us," he told us.
Acopa wants its product to be effective for all styles of climbing. "John's [Bachar] favorite style of climbing was onsight soloing," Piana said. "Our shoes reflect our sense of adventure. There aren't many routes out there with the same kind of hold over and over anyway. And if they did exist, how much fun would they be?"