We put the Hypervolt Plus to the test to see if it could improve recovery, sleep, and even our relationship.
As an endurance racer, acrobat, climber, and mother to a toddler and a newborn, I do a lot with my body. And as time-crunched parents, my husband/race partner and I are always on the lookout for efficient and effective self-care tools.
A percussion massage tool (aka massage gun) caught our eye at our local rock gym one day. A climber was using it to warm up his forearms before a climb, and later he used it after he was done with his workout. My curiosity was piqued.
A few weeks later, the newest massager from Hyperice, the Hypervolt Plus, came in the mail. And we've been using it constantly ever since we opened up the box.
Hypervolt Plus Review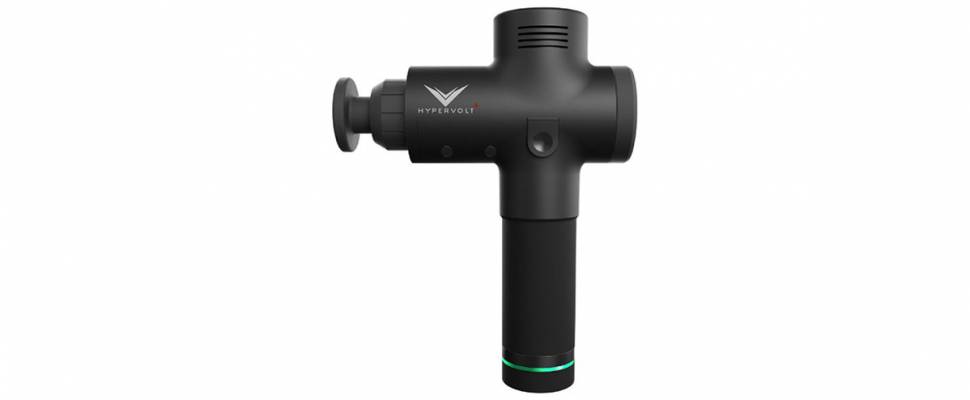 I've been testing the Hypervolt Plus two to three times a day for 4 weeks. And I noticed the benefits almost immediately, especially after big efforts such as a 3-hour mountain bike ride or a hard climbing session at the gym.
Usually, after big training days, I have to take the next day completely off. But with the addition of the Hypervolt Plus into my post-recovery routine, I wake up the next day ready to tackle another ride, run, or climb.
What Is It?
The Hypervolt Plus is the newest percussion massager from Hyperice. It boasts a stronger motor than the original yet is still quiet.
It also has a pressure sensor. Three white lights show the user how hard they're pressing. One light means light pressure, two lights equal medium, and three lights are firm.
It comes with five different attachments that are good for different areas of the body. And for ease of charging and travel purposes, it has a removable battery. The battery lasts for around 2 hours, which breaks down to an average of 12 10-minute uses in a day.
Who Should Use It?
This tool is for those who are looking for an effective and efficient massage tool to maximize training time and recovery.
It's a hefty price tag at $299. However, if you compare it to getting a few massages at $100 a pop, it pays for itself within the first week of constant use.
Easy Massage, Fast Recovery
Since using the Hypervolt Plus religiously for the past few weeks, I have no pain or tightness in my usual spots. And that's saying a lot considering I spend hours training each day and the rest of the time breastfeeding an infant and wrangling a toddler.
My favorite part about the Hypervolt Plus is that it's easy to use on both yourself and someone else. My partner and I now swap back massages every night.
Previously, we never did this because it was both time-consuming and taxing on our bodies. But with the Hypervolt Plus, it takes all of 5-10 minutes and requires no effort for the giver. Not only is it good for our bodies, but it's been good for our relationship. Total win.
While the larger motor does come with the drawback of being heavier, I actually really enjoyed the weight of it, as it allowed for more force and pressure. The device has three different speed settings, which I've used extensively depending on which body part I'm working on.
Our favorite is the first setting, which is best on arms, traps, and shoulders, and the third setting, which feels great on the butt, hips, and quads. And it could be a placebo effect, but every time I use it before bed, I swear I have a more restful, non-fidgety night of sleep.
All in all, I'm a big fan of the Hyperice Hypervolt Plus. Yes, it's a major investment at $299. But if you regularly get massages or need an efficient way to ease muscle tension and speed up recovery, it's totally worth it.
---