For large vehicles that spend lots of time off road, the Cooper Tires Discoverer AT3 XLTs give great all-season traction. And they do so while maintaining good manners on the highway.
The blizzard was somewhat unexpected. I woke in Breckenridge, Colorado, to 8 inches of fresh snow and more in the air.
I'd planned to go skiing, but a stomach bug and a pending chore stymied my plans. I needed to get up to Leadville to grab some gear for a buddy, and the roads would be horrible. "Oh well," I thought. "At least I have good tires."
An hour and a half later, I found myself rolling up an unplowed street in Leadville. The drive had been uneventful, which is remarkable given the nasty, snowcovered roads. Sure, having an F-150 with four-wheel drive helps. But when it gets down to brass tacks, what matters in bad conditions is where the rubber meets the road.
And in my case, it was on a set of Cooper Discoverer AT3 XLT tires with 10,000 miles. This is my impression of driving on them for 6 months.
For complete transparency, Cooper sent me this set of tires for testing. But I'm going to do my best to talk about them neutrally for those shopping for tires.
In short: The Cooper Discoverer AT3 XLT is a rugged all-terrain tire that should stand up to anything most people throw at it. While there are more aggressive tires, these provide good on- and off-road traction while remaining quiet at highway speeds. My only negative is that they are heavy, cutting fuel efficiency significantly, even in my F-150.
Cooper Discoverer AT3 XLT Snow Performance
As a Colorado resident who spends a ton of time in the mountains, winter performance in tires is a high priority. I got stuck on a set of stock all-weather tires on shallow but slick snow on my first day with my new truck, and I didn't want that to become the norm.
These tires are "severe weather rated," meaning they perform at least 10% better than standard all-season tires. They carry a "mountain-snowflake" symbol as proof. For me, the proof was on the road.
The Discoverer AT3 has proven very capable in the snow. I've driven on snowy, icy roads about a dozen times so far this winter. In deep snow, and even hardpacked snow, the truck grips the ground well. Things get a little trickier on ice, but for an all-season tire, it still inspires good confidence.
It does this thanks to rugged lug design and significant siping that helps it grip, even on slick surfaces. I've had a few instances of tires spinning from a dead stop on an icy hill, though, so they aren't perfect.
Obviously, a winter tire could probably perform better. But I, for one, can't afford another set of 33-inch tires for the season, so these will suffice nicely.
Discoverer AT3 Off Road
I think this is where most people will really like this tire. I used it over a fall of hunting in the Rocky Mountains on a mix of gravel roads, muddy trails, and modest rock trails. The tire was never a weak link.
I want to qualify this section with my goals for an off-road tire. My truck is a 2010 FX4 with just 30,000 miles on it. It's in amazing condition for a 10-year-old vehicle. And as such, I'm not taking it rock crawling on super-sketchy terrain.
That said, it's no pavement princess. I get it in some pretty weird, remote places on roads that for sure will instill white knuckles in most drivers.
One such slightly challenging drive was up to South Colony Lakes in the Sangre de Cristo mountains. It's a modest trail, and most 4×4 vehicles should make it fine, but it does require some attentive driving.
These tires ate it up like it was flat ground. Clawing over some steep rocks and lots of baby-head rocks, they performed wonderfully. They showed no signs of wear even though there were lots of rocks poking at them over the 8-mile round trip.
I haven't run these tires aired down yet and haven't needed to lower the tire pressure. If you're looking to rock crawl in a Jeep or take them on super-serious trails, well, sorry. I just don't have the vehicle for that kind of testing. My guess is that they'd work great, but I can't be sure.
Discoverer AT3 on the Highway
Let's be honest: This is where your tires are going to get the most use. Even those of us who get after it as much as possible will probably have to drive across states from time to time. And there you'll put on 1,000 miles in the blink of an eye.
I have loved these tires on the highway. They are incredibly quiet thanks to the tires' Whisper Grooves made to reduce road noise, and they handle more or less like an all-season tire. They haven't affected the performance of my truck much other than one big factor: mileage.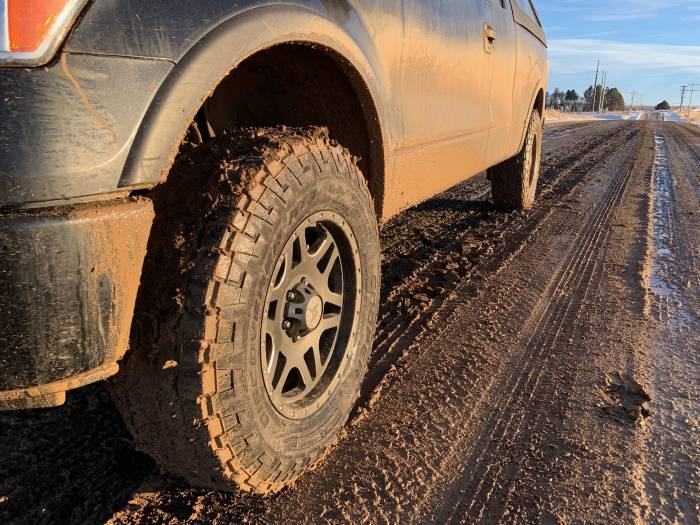 To be clear, when I switched to the Discoverer, I also upsized from 31-inch tires to 33-inch tires. So the extra size adds a fair bit of weight and radius to the tire, which alone probably hurts my efficiency.
But frankly, this is a burly, heavy tire. I'm running size LT275/70R18, and they weigh in at a hefty 57 pounds each. That means every time I mash on the gas, I have to spin up 228 pounds of rubber to speed. No wonder I'm lucky to see 15 mpg. And it's also no wonder that I drive a beater Toyota Corolla to work instead of my truck.
But for the vehicle that I use mostly for recreation, it's a sacrifice I'm willing to make. Cooper designed these tires to be extremely rugged and warranties them for 60,000 miles. So far, so good.
Cooper Tires: Great on My Truck
The only thing I haven't done is towed with these. So I can't speak to their performance for towing, although Cooper claims this to be a strong point.
It's worth noting that the few negative reviews I've seen on these tires claim they're hard to balance. I had mine mounted at Les Schwab Tires in Denver, and they had no problem. After about 10,000 miles, I really like these tires. They have a pretty rugged appearance, perform well, and I think also look good on my truck.
If you're in the market, they have a 4.5/5-star rating on Cooper's website. I would personally give these five stars so far, with the only possible ding being on fuel efficiency. But for an all-terrain tire that tackles everything I need my truck to do, I'm very happy with the Discoverer AT3 XLT.