The Hennessey Mammoth isn't more truck — it's the most truck.
What beast can conquer the TRX? The Mammoth. The Hennessey Mammoth 6×6 is fitted with a modified supercharged Hellcat V8 under the hood, giving it more than 1,000 horsepower. It's bigger, badder, and a whole lot more expensive than anything that has ever left a Ram factory.
Texas tuner John Hennessey got his start building Dodge Vipers with obscene levels of horsepower. When that venom dried out, the company changed focus. Hennessey Performance is now known for building more powerful Ford F-150 Raptors, Cadillac V models, Chevrolet Corvettes and, now, the Ram TRX.
Hennessey Asks: Six Wheels Means More Fun?
It's not the company's first 6×6 truck, but it is Hennessey's biggest. A massive 88 inches wide and almost 7 feet tall, this is a truck that you're not going to fit in the average parking garage.
That's before the Hennessey Mammoth's real trick: that second rear axle. Fitting an extra pair of wheels to the back of the Mammoth required more than 4 feet of stretch, with new bedsides to go with it.
The new pickup box is long enough that you could maybe, almost, if you found someone gullible enough, convince them that you bought this truck for the extra cargo space and utility.
Hennessey has modified the Mammoth to go off road, starting with locking rear axles for traction. The truck gets Bilstein shocks and a front leveling kit to make it sit right. Plus, 37-inch off-road tires are mounted on six 37-inch wheels that are designed to take the pounding that this truck can deliver.
50% More Tires Needs 50% More Power
This much truck, of course, needs more power — 702 horses from the stock 6.2L supercharged V8 is simply not enough when you're building something this extreme.
Hennessey engineers took the 6.2L Hellcat engine and added a larger 2.65L supercharger system to flow more air and build more boost pressure. New supercharger pulleys help the blower spin even faster to make even more boost.
A high-flow air filtration system lets the supercharger breathe. High-flow fuel injectors make sure there is enough go-juice to keep everything happy. Then, the entire new assembly is tuned to make sure everything is working together in harmony.
Net result: 1,012 horsepower, a 305-pony increase from stock. It also makes 969 pound-feet of torque, 319 more than a factory-fresh TRX.
Hennessey Delivers Even More Power If You Want
Hennessey can build an even faster version of the truck. In the company's glamour reel YouTube video, the Hennessey Mammoth 6×6 getting used and abused has a 1,200-horse Mopar Hellephant crate engine installed.
Other upgrades to the Mammoth 6×6 include embroidered headrests, for more speed, as well as numbered plaques and custom bumpers front and rear. Oh, and the whole package has a 2-year, 24,000-mile warranty, which seems pretty generous for a beast like this.
Half a Mill for All of the Thrill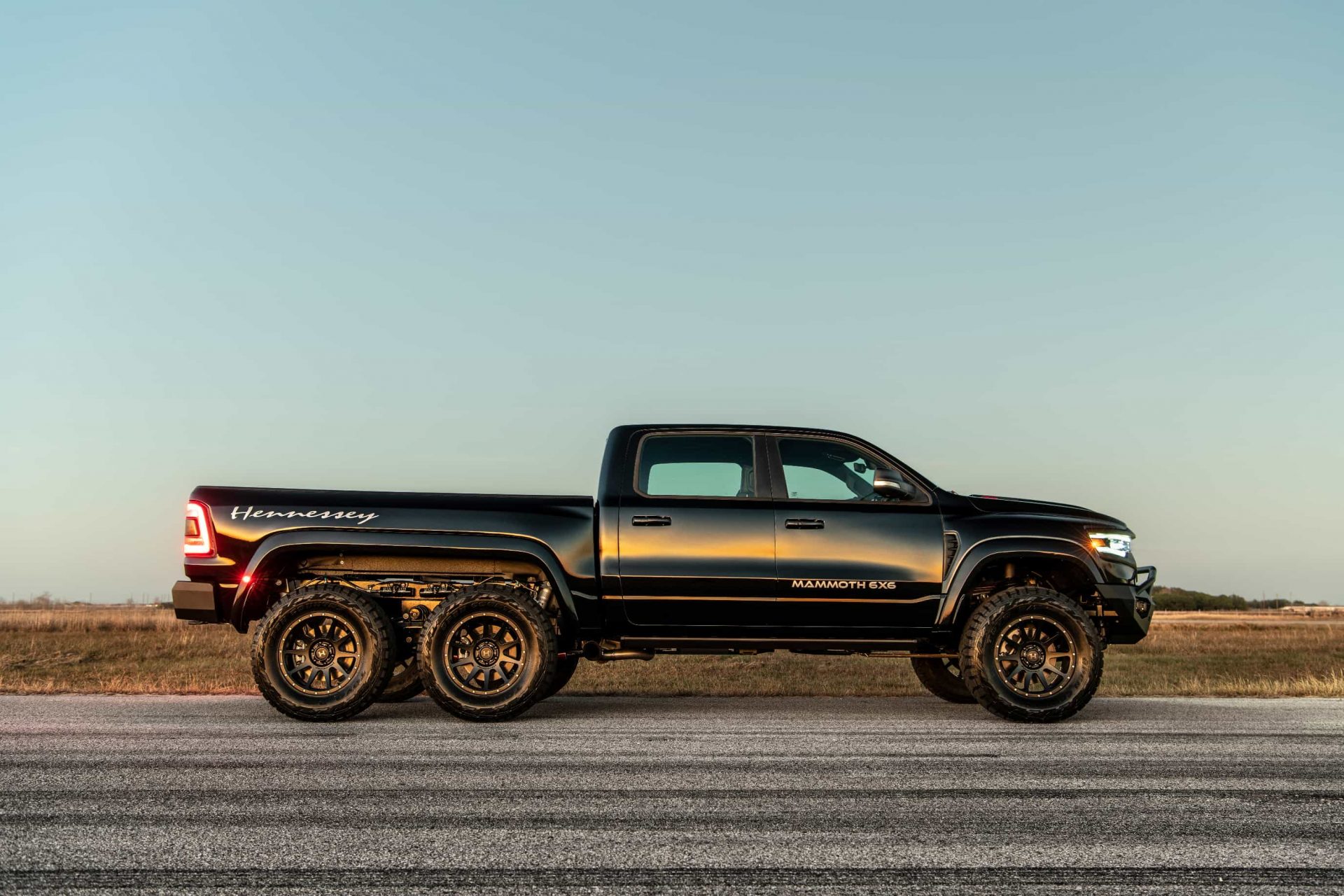 The Hennessey Mammoth 6×6 will start from $449,500, though that does include the Ram TRX donor vehicle as a starting point. The company says it will only build 12 a year. This number seems optimistic, as it has only sold around 20 copies of its VelociRaptor 6×6 and Goliath 6×6 Silverado models in the several years it has been building those.
Hennessey will ship it worldwide, or you can order it directly through authorized Ram dealers.