With the Apex Awards, Polartec recognizes its favorite garment designs in 2021. The 12 winners run a diverse spectrum, mostly along the bleeding edge of textile tech.
A bathrobe made with 100% recyclable, nonshedding microfiber in honor of The Dude himself? That'd be the "All-Day Abider." A fashion tracksuit built with the world's most breathable waterproof fabric? That's the "Runway Trekker."
They're entries in Polartec's Apex Awards lineup, which spotlights clothes for both high performance and high fashion. Brands from all over the world fill the roster, like the UK's ABSNT and Milan, Italy-based Moncler (authors of the garments mentioned).
As per usual, Polartec sends up the Apex Awards with much flair and pomp. Each winner gets a handmade "Malden trophy," in the shape of a wizard. The no-two-alike statue symbolizes the fusion of "modern technology and ancient craft," and celebrates the brand's birthplace.
Of course, each one also leans heavily on Polartec's array of patented materials. Without further ado, the 2021 Apex Awards go to …
66°North Kría Neoshell Power Fill Parka: 'The Perma Culturalist'
The harsh conditions of Iceland inspired 66°North's classic parka, which combines a 10,000mm waterproof rating with positive stretchability. To pull it off, the brand uses Polartec Power Fill (the first 100% post-consumer recycled PCR fill insulation) and NeoShell, its most breathable waterproof fabric.
The hood is insulated and removable, and the coat comes in black or orange (with black shoulder accents). It retails for $666.
ABSNT theROBE: 'The All-Day Abider'
Pour yourself another caucasian and kick back in Polartec with theROBE from ABSNT. theROBE checks many of the boxes — made from "approximately" 38 single-use plastic bottles, 100% recyclable microfiber that's also 25% lighter (Polartec's Power Air), and somehow optimized for "theRCVRY," which seems to be ABSNT's word for CHILL.
The science behind Power Air involves just that — air. Fibers arranged in layers both trap air for insulation, and trap loose bits for decreased shedding.
It's not Vietnam, Walter — it's a bathrobe. theROBE is not yet for sale.
And Wander Alpha AIR T: 'The Grand Master'
The And Wander Alpha AIR T (shirt) leverages karate cool to sell Polartec Alpha, an active insulation product developed for the U.S. special forces. The idea is — surprise! — heat retention without sacrificing breathability. And 100% nylon fills out the rest of the And Wander Alpha AIR T. A kangaroo pocket holds all your martial arts goodies, and zippered sides help you feel the flow.
The unisex shirt comes in five sizes and two colors (we highly recommend black — a khaki ninja just ain't a vibe). MSRP: $273.
Ariat Rebar Polartec Elite Series: 'The Avid Arborist'
Ariat uses a three-pronged Polartec attack to make its Rebar work shirts warm and waterproof. Polartec Power Grid makes the base layer warm but breathable.
Power Stretch technical fleece gives the midlayer stretch and rebound — and a Hardface coating adds extra durability and water repellency. The out layer gets Power Fill, the first 100% post-consumer recycled (PCR) fill insulation.
As I write this, only men's and women's Ariat Rebar baselayers are available. Each build has thumb loops, a (clever) watch window, and Ariat's proprietary wicking treatment. They come in a staggering array of sizes, at both regular and tall heights. MSRP: $70.
Haglöfs High Loft Wool Jacket: 'The Peak Alpinist'
Haglöfs optimizes its high loft wool jacket with two distinct material choices. Polartec's ("evolved!") High Loft fleece gives the jacket warmth and comfort on the shoulders and torso. Meanwhile, the jacket's hips, sleeves, and sides get Polartec Power Wool for stretch and mobility.
The jacket indeed looks like an ideal base layer for climbing. The limited release comes in three sizes for $230.
Hikerkind Midlayer_01: 'The Hop, Skip & Hiker'
The lederhosen-chic Hikerkind Midlayer_01 looks cool, in a certain way, with its "bubbles" knit pattern and cheeky collar. Pockets and a waist drawstring, plus three buttons, help you shut out the chilly breeze in whatever quaint city sidewalk or Dutch meadow you're frolicking through. Attentive sizing information helps you get the right fit at the chest and hips.
Polartec Power Air insulates the pullover and reduces microfiber shedding. Interestingly, women-owned Hikerkind also runs a free-to-join hiking club, which organizes outings around New York City. Get the Midlayer_01 for $183.
Moncler Grenoble Collection Softshell Jacket & Pants: 'The Runway Trekker'
Italian fashion house Moncler delivers the dark horse of the 2021 Apex Awards lineup with the Grenoble Collection. Mostly known for its ski wear, the brand leads with mega-lofty down jackets, obnoxiously patterned sweaters, and Mugatu-worthy ski goggles.
The Grenoble waterproof gear is part tracksuit, part matching ski midlayer set. It won't be out until January 2022, and until then, we know little about it.
MSRP: no telling.
Nike ACG AOP Wolf Tree: 'The Fly Birder'
The ACG AOP Wolf Tree is the result of Nike's trip to Iceland. We're not sure we would have made the connection without being led to it, but the glacier/moraine pattern does seem to fall into Icelandic place.
Polartec says the sweatsuit is "feathery light" and surprisingly durable. It uses Polartec Classic 200 Fleece, which is now made from 100% post-consumer recycled (PCR) polyester. The 200 series lands in the middle of the road of Polartec's original fleece knits, which launched in 1981.
You can't vibe in the Wolf Tree yet — Nike says the collection is coming soon. MSRP for the pants is $110.
Norrøna falketind Alpha120 Zip Hood: 'The Rock Fighter'
The Norrøna falketind women's hoodie combines Polartec Alpha insulation with Power Grid fleece, for a build the brand calls its best warmth-to-weight, wicking midlayer.
It's built to be breathable and lightweight — take it into harsh conditions, and you'd be best served to pack a shell. Then again, if you get the Day-Glo orange and hot pink version, you'll stand out like a traffic cone if you ever need a rescue.
Five sizes, measured in four dimensions, are available for $190.
Orvis PRO Sun Hoodie: 'The Casting Agent'
The Orvis PRO Sun Hoodie fights off splashes of both water and sun, with a lightweight version of Polartec Power Grid. The geometric-patterned fabric helps disperse moisture and stays lightweight despite its UPF 50+ rating.
Gusseted armpits add to the breathable effect and aid mobility. Polygiene treatment boosts odor control, and thumb loops help keep sunburn off the backs of your hands.
Five sizes are available in two colors at $98.
P.A.M. Liveable Recycled Shearling Coat: 'The Comfy Commuter'
Australian fashion brand P.A.M.'s floral coat may be the most aptly named out of any in the 2021 Apex Awards lineup. (Which is saying something, considering the All-Day Abider.)
But the Livable coat, with its cozy oversized appeal, loose cuffs, and two buttons, looks blanket-like in terms of snuggle factor. The collar button and big pockets promise plenty of extra warmth, as does Polartec's heavy Shearling Fleece.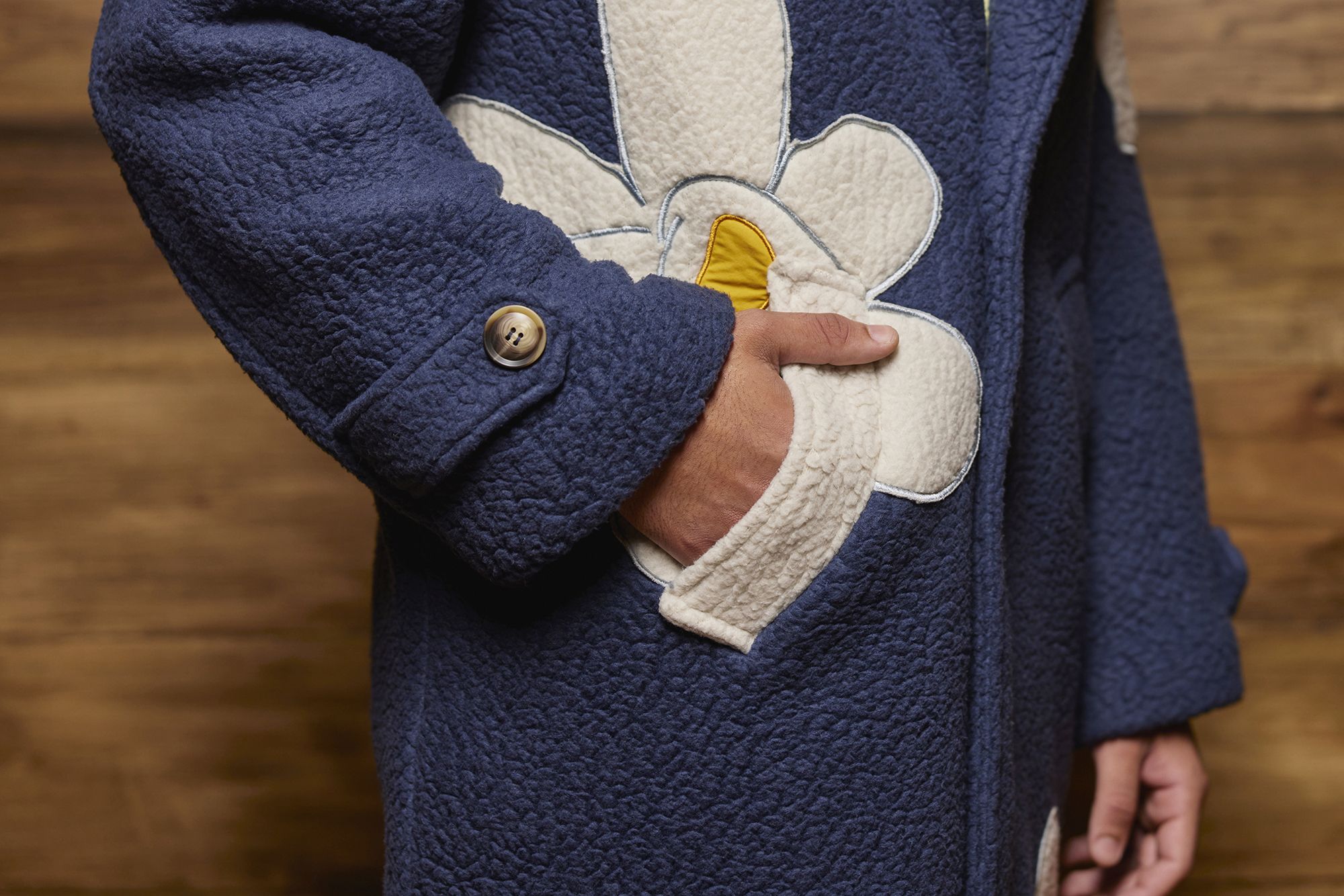 Unfortunately, the coat brings up a discrepancy of claims between brands. P.A.M. (and the Apex Awards page) say the coat is 100% recycled, but Polartec says Shearling Fleece is only available with up to 75% post-consumer recycled content.
But who's counting? Get cozy on your commute with the P.A.M. Livable coat for MSRP $748.
Sportful Total Comfort Jacket: 'The Tour D'Guide'
Versatility for athletes is the name of the game for the Sportful Total Comfort jacket. The outer layer is Polartec Neoshell, the brand's most breathable waterproof fabric.
Inside, Polartec Alpha Direct provides insulation and eliminates a backing layer, saving weight. Stretch cuffs and waist keep the Total Comfort snug against the elements.
Sizes from small to 3XL come in four colors, from muted taupe to loud yellow, and you can own this jacket for $260.