The First Lite Specter camo design takes multiple approaches to obscure a hunter's form in the eyes of whitetail deer.
After 3 years of research and field testing, First Lite dialed in its Specter camo specifically to deceive the eyes of whitetail deer. The brand says the pattern disrupts the depth perception and peripheral vision of deer to obscure the human shape in a field or treestand.
We talked with Gregg Farrell, First Lite's whitetail product line manager, about how the brand developed the pattern and used it in hunting apparel.
And, of course, we got a rundown of the latest Specter apparel.
Shop First Lite Specter Camo Apparel
First Lite Specter: Making Whitetail Camo
Research on how whitetail deer see is still nascent, but there's strong evidence that deer see better at night than the day (and best at dusk and dawn).
They also see in a more limited spectrum of color — blues are great, but red, orange, and green are bad — and they're basically farsighted. This prioritization likely comes from detecting the movement of predators, especially at night, in wooded areas.
Effective camo doesn't need to look good to the human eye. It needs to break up the human outline. In recent years, hunters have learned to move away from sticks-and-leaves patterns that trick the human eye to more contrasting patterns and tones that work at different distances.
Before the Specter camo pattern, First Lite created the proprietary patterns of Fusion and Cipher based on a nature-based algorithm. Those laid the foundation for what the brand knew and how it measured effectiveness.
Farrell added more inputs to that algorithm to include the wider array of tones and patterns that reflected the different environments and seasonal backdrops where whitetail deer live. He pointed out that whitetail hunting usually happens at closer distances than Western hunting. Likewise, treestand hunting adds another element of hunting and disguise.
"It changes the angle of engagement," Farrell said. "And you always have a lighter background behind you, regardless of the time of season."
Partly because they tend to live in more wooded areas, whitetail deer see a bit differently than mule deer and elk.
"I've killed a lot of deer using Cipher and Fusion, and so have others," Farrell said. "Specter is optimized for the whitetail hunter and the situations in which they find themselves hunting game."
To meet that optimization, Farrell described four visual elements at play, with a fifth element being how those work in conjunction and in different geographies.
First Lite Specter Pattern Camo
First Lite's Specter explainer page has a great summary with visualizations we won't try to replicate here. However, we'll run through the "five major elements" Farrell had to balance to develop a camouflage that works across seasons and terrain.
Large shape disruption: Specter has two veins of distinct colors throughout the pattern. The darker background, large shape disruption kicks in more (macro) from longer distances. This is for edge-of-field hunting when the deer is 100-300 yards away.
Micro breakups: When the deer is within bow range, that's the close-range pattern breakup. These are the shapes that confuse the eye in the kill zone (about 50 yards), so the ratio of micro to small to medium is needed.
Disruptive coloration: Old-school sticks-and-leaves camo patterns tend to blob from farther away. Specter uses tones that won't do that, using a ratio of tones that maintain distinct patterns at various distances. This breaks up the human shape from different ranges throughout hunting seasons.
Disguising slight movement: They have a wide field of view that excels at detecting movement. When deer are looking through you, that's them looking for motion. Specter adds more depth so the deer can't focus on you, giving cover to basic motions like getting into a shooting position or drawing a bow.
Whitetail range agnostic: This fifth element tested all of the above through all seasons in different landscapes. This is where the 2 years of field testing went well in one area and not another, sending early designs back to the drawing board.
"Each time you change the coloration, you have to change the ratios again," Farrel explained.
Specter met these demands from Alberta, Canada, to Texas in a variety of hunting scenarios (field and stand).
First Lite Specter Apparel
Beyond the Specter camo pattern, First Lite built its apparel with stealth in mind by choosing quiet outer fabrics that could resist light rain and snow.
First Lite also incorporates 37.5 technology into its whitetail outwear and base layers. The technology traps odors, wicks moisture, and keeps the body close to 37.5 degrees Celsius temperatures, which is considered the ideal body temperature.
The Sanctuary, Solitude, and Catalyst Bib and Jackets have KitLink integration that lets hunters reach into the bib chest muff through side zips as well as a treestand harness pass-thru.
The Sanctuary 2.0 Insulated Bib Pant is windproof and updates its predecessor with new fabrics, fit, and feel. As part of the Sanctuary System, these bibs are made for the coldest days in the stand.
A seven-layer combo of protective fabric and insulation, the outer is windproof and water-resistant, while the seat gets a fully waterproof layer. More whitetail hunter designs include treestand-friendly pockets, full leg zips, and KitLink system compatibility.
Shop Now
Solitude Bibs are made for the depth of the season, from wearing them on their own or as part of the overall Solitude System. These use a pass-thru harness and the KitLink system that allows hunters to warm their hands inside a chest muff pocket and the gear inside it.
For warmth, First Lite uses 37.5 technology in its synthetic insulation and a brushed two-layer softshell exterior for quiet weather protection.
Shop Now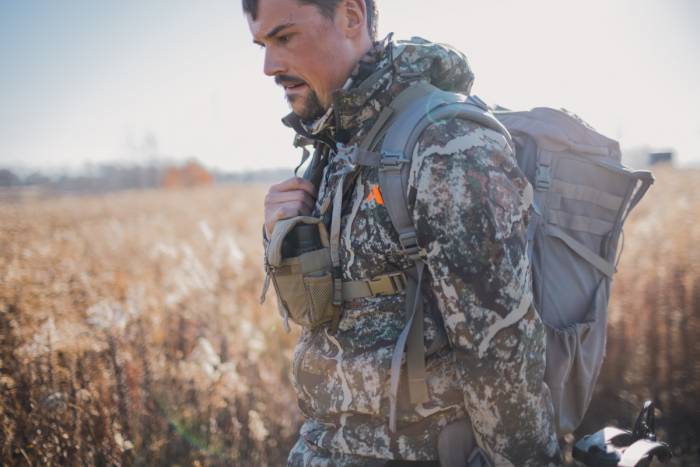 The Whitetail Catalyst Bib Pant early-season and midseason outer layer has quiet, breathable, and water-resistant outer fabric. This two-layer softshell has full-length leg zips, an adjustable waistband, and is compatible with the KitLink system for use in a treestand or blind.
Shop Now
An early-season warmer for treestand hunters, the Men's Solitude Insulated Vest puts 100g insulation around your core. The design is made with treestand-minded features like accessible pockets while sitting, a harness pass-thru, and KitLink system compatibility.
Shop Now
The Insulated Hand Muff is the latest addition to the Sanctuary System. It combines seven layers of fabric and insulation designed to keep your hands toasty. The outer fabric was chosen for being quiet, durable, windproof, and water-resistant.
Shop Now
The Men's Wick Hoody uses 150g Aerowool for a light, airy layer for hunting in hot weather. Note the loose-fitting hood for sun protection and adding more Specter camo. Parts of the Hoody use 125g Aerowool mesh panels for even more ventilation in hot spots during active hunts.
Shop Now
More Whitetail Hunting Layers
These are just some examples of this season's apparel with the Specter camo.
First Lite has also made the pattern available on some perennial favorites like its merino wool base layers and its new Foundry Collection.
If you're a whitetail hunter, check out the wide array of apparel and accessories First Lite makes with this new pattern. Worn as a system, the clothes could keep you comfortable, warm, and harder to see.
Shop First Lite Specter Camo Apparel
---
This article is sponsored by First Lite. Find out more about apparel with Specter camo here.